News
Star Trek: Lower Decks — Jonathan Frakes' Riker To Return in Season 2
Jonathan Frakes will return as Riker in Star Trek: Lower Decks Season 2.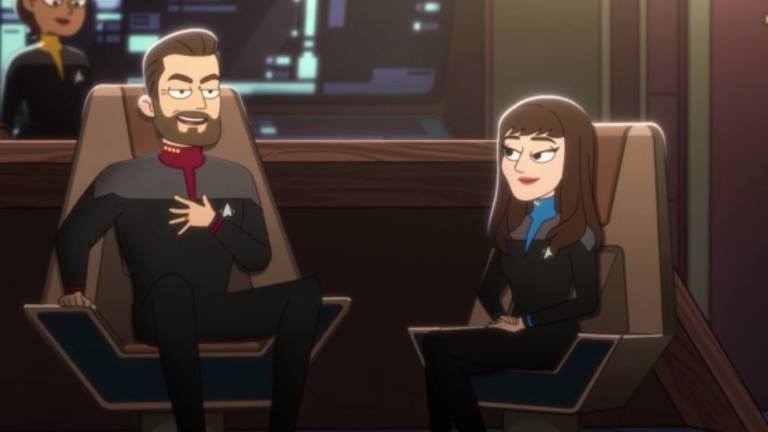 This article contains spoilers for the Star Trek: Lower Decks season finale.
The Star Trek universe is not only expanding, but reinvesting in beloved characters from Trek series past in some wonderfully integrated ways. What started with Spock's role on Discovery and the launch of the Picard series, has now extended into the universe's animated world. In the Lower Decks season finale, the USS Titan warps in to save the day, led by none other than Captain William T. Riker (Jonathan Frakes) and Commander Deanna Troi (Marina Sirtis). Now, as confirmed by showrunner Mike McMahan during today's "Star Trek Universe" panel at NYCC, we know Riker will be back in Star Trek: Lower Decks Season 2.
"You'll be seeing Riker again at the beginning of next season, for sure," McMahan said during the panel, something he expanded on to Inverse in a Q&A.
"You will be seeing Riker and the Titan, because Boimler is on the Titan." Mike McMahan told the entertainment website. "That's where he serves now. I mean, it's Boimler's dream to serve there, and we play that out. We see how that works out for him."
Frakes joined the regular cast of Season 1 during the "Star Trek Universe" panel to make/hear the announcement, discussing how he was first asked to make a Lower Decks appearance over sushi in Toronto when he was in town to direct an episode of Discovery and McMahan was on the Discovery set to work on his Short Trek episode.
Frakes raved about the opportunity to "let Riker be a wild, insane character" on the show that is much more comedic than The Next Generation was. "Riker's a lot more serious [than I am in real life], so this has been a blast."
"Lower Decks is an enhancement of things that have always existed in Star Trek," said McMahan, calling Lower Decks' Riker "a comedic version of it that still remains true," before adding: "Our Riker is the Riker who is expressing joy all the time."
Lower Decks takes place a year following the events of Nemesis, which led to Data's death, and 19 years before we see Riker and Troi during their retirement on Nepenthe in Picard. At this point in Riker's career, he is only a year into being the Titan's captain, which is a cool period of time for the show to explore in Riker and Troi's life. (As of right now, there has been no official announcement on if Sirtis will return for Lower Decks Season 2, but it's hard to imagine telling a Riker story at this point in his life without Troi.)
With his appearance on Lower Decks, Frakes has now appeared on more Star Trek TV series than any other person.
For McMahan, this is all a dream come true. The showrunner mentioned that he has a cat named Riker, before saying: "You don't name your cat after someone you actually think you're going to be able to work with in real life."