Features
Top New Fantasy Anthologies in 2020
Looking for a short fantasy read during quarantine? Why not try one of these fantasy short story anthologies released in 2020...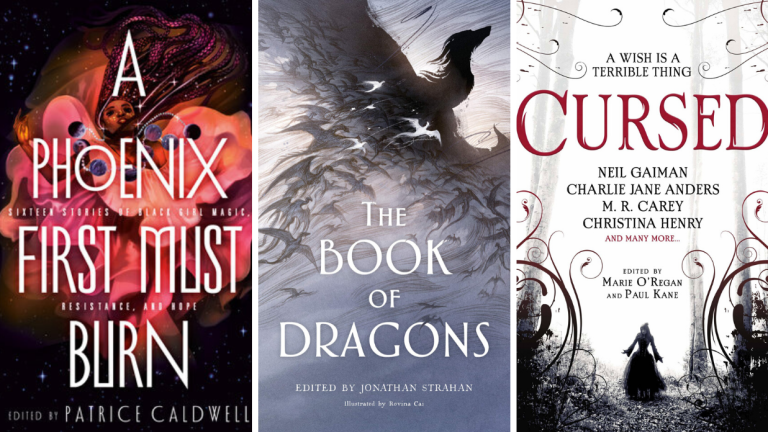 Sometimes, it can be hard to sit down and commit to a long novel or series—especially in times where the stresses of the outside world (or the constant interruptions of your children's distance learning) can keep you from really focusing on the page. One of the ways to still delve into fiction when you attention span is shot is by following serials. Another is by picking up a really excellent fantasy anthology, such as The Starlit Wood (2016) or The Mythic Dream (2019). Anthologies can also be a fantastic way to introduce you to the works of writers you haven't previously read—or to follow the world of a favorite author through a different venue.
There are a number of great fantasy anthologies out this year, some of which I've already picked up, and some of which are yet to come. Here are some you should keep your eyes out for between novels (or just because short fiction is fantastic).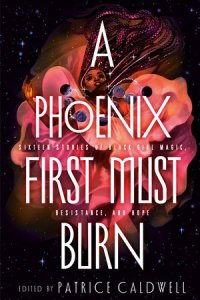 A Phoenix First Must Burn, edited by Patrice Caldwell
The gorgeous cover on this anthology caught my eye before its publication, and the promise of "Sixteen Stories of Black Girl Magic, Resistance, and Hope" drew me right in. Editor and author Caldwell has compiled stories that are different in topic, setting, and tone, but all of them have a note of hope at the end. Opening with a futuristic story of alien invasion and time travel ("When Life Hands You a Lemon Fruitbomb" by Amerie), the anthology also roams through history, high fantasy, and modern magic.
All the stories in the anthology are solid, and the collection of authors includes both big names, like Rebecca Roanhorse, and relative newcomers. In "Gilded," Elizabeth Acevedo follows the point of view of a magically-gifted plantation slave who intends to purchase her own freedom—but whose plans are derailed when newcomers arrive from Africa; Acevedo's worldbuilding and navigation of the complexity of her main character's emotions make this a beautiful tale that hopes for a better future.
Alaya Dawn Johnson and Karen Strong both play with traditional creatures of folklore in their tales; Johnson's is a tale of a mercreature-turned-human unwilling to return to the sea until her daughter takes fate into her own hands, and Strong's post-apocalyptic protagonist confronts the boo hag who killed her love. Dhionelle Clayton and Danny Lore both stick a little closer to home with their magic; Clayton's literally heart-broken protagonist has to seek out a conjure woman after a break up, and in Lore's a brash young hair-braider confronts the witch stealing her clients, only to learn hard truths about herself.
Caldwell and Danielle Page both poke fun—with some clear, fannish love—and modern vampire YA, in their own charming teen romances. Others reveal the wills of gods and goddesses in ancient fantasy settings, or allow spirits in human form to enact vengeance on those who defy justice.
But my favorite of the collection is "Melie" by Justina Ireland, the story of a sorcerer's apprentice not getting the training she'd been promised when she signed up for her apprenticeship; she's gifted with magic, and she's adept at winning over magical creatures by—shock of shocks—treating them like people. When Melie unravels a conspiracy against the kingdom, she steps up and takes matters into her own hands, proving her own worth—and deciding maybe she never needed approval from others in the first place.
The stories don't shy away from themes of justice and prejudice, and there's a really lovely range of romantic relationships and gender representation included for an anthology focused on girls. This may be geared toward young adult readers, but while the stories occasionally embrace YA themes and tropes, they work tremendously well for an adult audience, too.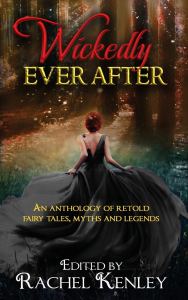 Wickedly Ever After, edited by Rachel Kenley
It's not immediately obvious that this anthology of tales where the villians win is also a collection of love stories, but every tale is about finding a happily ever after with a lover—even if that lover is not the person the "villain" of the tale expected. The way the writers spin their versions of mythological or fairy tale characters is engaging and fun, with scenes of physical affection in each one would expect from a steamy romance novel.
A couple of the stories in the collection rely a little too much on the Disney versions of the tale; editor Kenley's own "Part of Her World" spins an Ursula/Arielle slash-fic, here as Maris and Alani, that feels more like fan service than an independent story, while Susan Hawes's "Stygian Nights" uses Disney's Hercules to fun effect, capturing the voice of the villainous Hades and trading Megara in for the god of death's own love interest. But others draw more heavily on the older versions of their folk tales, or, in the case of Divya Sood's "A Lover's Tale," create something wholly original.
Two fairy tales and a myth get contemporary retellings—Sara Marks's "The Prince Without a Throne" reimagines "Beauty and the Beast" in a way that feels a bit less Stockholm-syndrome than that tale normally appears; "Rumpled" by Trevann Rogers introduces a gender-swapped Rumplestiltskin—a troll only barely surviving, lonely, in a modern world until, by chance, she encounters the daughter of a record company producer, and their bargain saves them both; and the unabashedly erotic "Kink Midas" from Barbra Campbell draws on the original King Midas legend as a thief breaks his curse. "Breadcrumbs" by M. Reed gives a naughty Hansel and Gretel their just desserts, and Kenley's excellent "Seeing Red" shows Red Riding Hood as a capable young woman determined to catch a werewolf for her husband.
My favorite of the stories, however, draws on the legends of men stealing a selkie's skin to win a wife; in Julie Behren's "Sea and Hearth," an otherwise gentle and kind, but lonely, widower happens upon bathing selkies and dares take a skin. Instead of a wife, however, he finds himself with a husband—one whose daughter had her skin stolen years before. Behren's immersive world, where neighbors accept all sorts of eccentricities because that's what happens when you live next to fairies, is a delight, and the story of two fathers finding happiness together, and the sacrifices they are willing to make for their children, is heart wrenching in all the right ways.
This anthology will particularly appeal to fantasy readers who also enjoy romance, and it's fun that the traditional villains have their own chance to shine.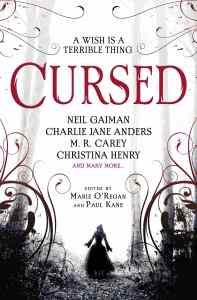 Cursed: An Anthology, edited by Marie O'Regan and Paul Kane
This collection of twenty folktales, retold (or invented) by contemporary fantasy pros, has more headliners on its author list than you can shake a spindle at. Led by Neil Gaiman, Jane Yolen, Charlie Jane Anders, and Margo Lanagan, the pieces in this anthology promise to twist the stories of curses from fairy tales you've known since childhood into something new and different—yet familiar all the same. This anthology came out just before the quarantine, and Den of Geek covered it here.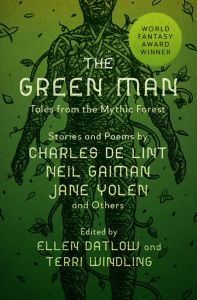 The Green Man: Tales from the Mythic Forest, edited by Ellen Datlow and Terri Windling
As anthology editors go, Ellen Datlow and Terri Windling are stars. Datlow's annual The Best Horror of the Year is an industry standard, and several of Windling's anthologies have been nominated for or won World Fantasy Awards. One of those was the 2001 anthology The Green Man: Tales from the Mythic Forest, which was rereleased as an ebook from Open Road Media Sci-Fi & Fantasy in late March. The collection features well-known fantasy names including Delia Sherman, Gregory Maguire, Charles deLint, and Patricia A. McKillip. (Neil Gaiman and Jane Yolen appear in this one as well.) Given that bookstores are currently closed, picking up this classic as an ebook (especially through one of the ebook retailers that supports indie bookstores) is a sure hit.
Latinx Rising: An Anthology of Latinx Science Fiction and Fantasy, edited by Matthew David Goodwin
This anthology, coming out in June 2020, bills itself as the first science fiction and fantasy anthology written by Latinx people living in the United States. Readers expecting the magic realism made famous by Latin American writers will see how these modern authors, including Junot Díaz, Kathleen Alcalá, Carmen Maria Machado, Daniel José Older, and Ernest Hogan, push beyond that tradition and into something altogether new and exciting. The stories include ghosts and space aliens, grandmothers with magical cooking and robots. Older's story is a tie-in to his popular "Bone Street Rumba" series, and is not to be missed for fans of those novels. All of them push the idea of what Latinx SFF can be.
The Book of Dragons: An Anthology, edited by Jonathan Strahan
This doorstopper of an anthology focuses on everyone's favorite mythological creature: the dragon. But rather than settle for just the monstrous, fire-breathing variety, the collection gathers stories inspired by dragons around the world. While the theme is a sure hit, the author list is an even bigger draw, with authors like R.F. Kuang, Anne Leckie, Rachel Swrisky, Peter S. Beagle, Zen Cho, C. S. E Cooney, Aliette de Bodard, Sarah Gailey, and J. Y. Yang contributing to the twenty-nine stories and poems within these pages. The anthology also features black and white line art from Rovina Cai, which may ordering a hard copy for your book shelf the best bet.
Dominion: An Anthology of Speculative Fiction from Africa and the African Diaspora edited by Zelda Knight
This anthology from publisher Aurelia Leo exceeded its funding goal on Kickstarter by more than double, and it should hit bookstore shelves and e-readers in August 2020. The collection contains twelve short stories and poems from authors Marian Denise Moore, Dilman Dila, Eugen Bacon, Nicole Givens Kurtz, Fareeat Aliyu, Michael Boatman, Marian Denise Moore, Odida Nyabundi, Dare Segun Falowo, Mame Gougouma Diene, Nuzo Onoh, Ekpeki Oghenechovwe Donald.
Several stories have been previously published in places like Selene Quarterly Magazine and Backstory Magazine; Onoh's novella, the longest piece, was originally published in Unhallowed Graves. The stories range in length and setting, including colonial Yorubaland and post-apocalyptic settings, and are peopled by gods and goddesses, tricksters, magicians, and middle managers. I'm excited to see just where this anthology transports me!
Whether you're looking for villains or dragons, tales from lesser-known writers or big-name stars, this year's fantasy anthologies are filled with diverse voices telling original stories, drawing on the long tradition of fantastic short fiction.
What fantasy anthologies feature your favorite stories?