Features
Binti & The Wonders of Nnedi Okorafor
A look at the exciting speculative fiction work of Nnedi Okorafor.
Note: This article was originally posted in January 2018. It is being re-run in honor of Nnedi Okorafor's win for Best YA Novel for Akata Witch at the 2018 Hugo Awards.
This month's Den of Geek Book Club pick is Binti, the first installment in a novella series about a young African woman, the eponymous Binti, who leaves her home on Earth for the first time to attend an intergalactic university on another planet. (Yes, Binti is a total badass.)
"My tribe is obsessed with innovation and technology," Okorafor writes in Binti, "but it is small, private, and, as I said, we don't like to leave Earth. We prefer to explore the universe by traveling inward, as opposed to outward. No Himba has ever gone to Oomza Uni. So me being the only one on the ship was not that surprising. However, just because something isn't surprising doesn't mean it's easy to deal with."
I don't want to ruin any of the narrative progressions that occur in the less than 100 pages of this novella, but I will say what was already a scary choice for Binti becomes much scarier when the ship she and her fellow incoming students are traveling on is boarded by a hostile group of jellyfish-like aliens.
In the pages that follow, Binti must rely on her mathematical prowess and the tools of the Himba culture to survive. It is a story that deals with issues like trauma, communication, and the complications of leaving home in a wondrous space adventure format that will leave you ready to jump on the next spaceship, despite the dangers.
The story continues on in Binti: Home, which was released last year, and Binti: The Night Masquerade, which was released just this week, expanded the world and this character in satisfying directions. I chose Binti as the Den of Geek Book Club pick for this month because it is a speculative fiction unlike anything I have ever read before, an Afrofuturist space voyage with an incredibly relatable protagonist. It adds some much-needed diversity—in protagonist, in setting, in theme—to our speculative fiction.
I also chose Binti because it is a quick read for those who are feeling too overwhelmed to complete a full novel, but one that expands onward for those who want to stay in this world (as most of you surely will). Perhaps most of all, I chose Binti because it is a great introduction to the wondrous work of Nnedi Okorafor, if you've yet to encounter the Nigerian-American author.
Odds are, you've probably seen the name Nnedi Okorafor before. If you didn't catch the publicity around Binti, which won both the Hugo Award and the Nebula Award for Best Novella, then maybe you saw her Ted Talk? Or perhaps you took notice when HBO announced it would be developing Okorafor's Who Fears Death into a TV series with George R.R. Martin as a producer and Okorafor herself heavily involved?
Or maybe you were intrigued when, in 2017, Okorafor made her first foray into comic book fiction, contributing a short story to Edge of Venomverse: War Stories before moving on to an ongoing series with Black Panther: Long Live The King. Illustrated by André Lima Araújo, the book sees Wakanda's capital city in a state of panic after losing power, and T'Challa facing off against a massive monster only he can see.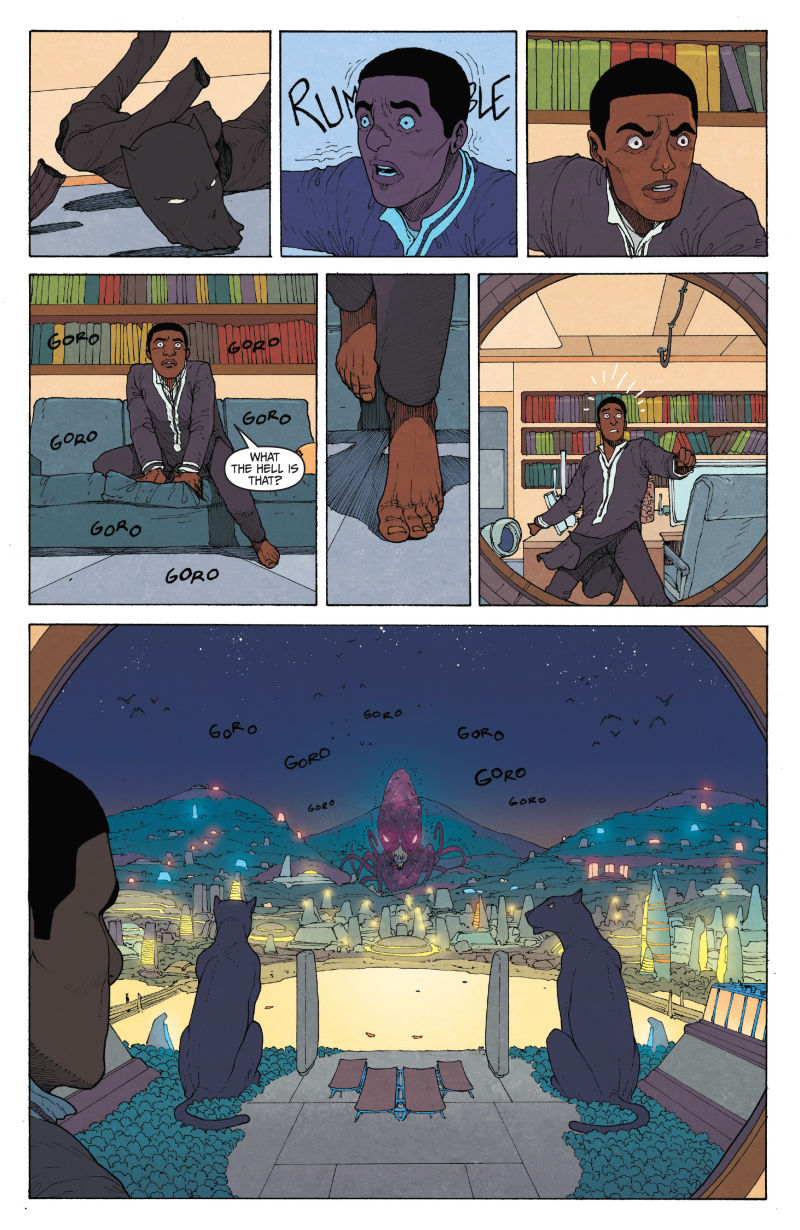 Okorafor is one of the most intriguing speculative fiction authors working right now, across all mediums and formats. Her identity as a "Nigamerican," as she terms it, infuses her stories with a unique perspective that isn't often explored in mainstream speculative fiction—a reminder of how many kinds of stories are out there for all of us, no matter our own identities, to enjoy and learn from.
"As far as my own mission, I wouldn't say that I have a mission," Okorafor told NPR in a 2016 interview. "I know that I was writing these stories because, one, I enjoyed writing stories. Two, I had all of these stories to tell. Like, I'd look around at my relatives, and I listened. And I wasn't seeing these stories that I wanted to see being told. It's not so much a mission. It's just that I love stories, and so I write them and so I produce them."
Come talk all things books, Binti, and Nnedi Okorafor with us at the Den of Geek Book Club on Goodreads.
Kayti Burt serves as a staff editor covering books, TV, movies, and fan culture at Den of Geek. A long-term lover of all things science fiction and fantasy, she is an unabashed defender of the power of speculative storytelling and a proponent of sentimental TV. Read more of her work here or follow her on Twitter @kaytiburt.