Reviews
Young Wallander Review (Spoiler-Free): Netflix Prequel is a Very Serviceable Thriller
Netflix's Modern-Set Kurt Wallander prequel is a noir crime thriller with modern politics at its core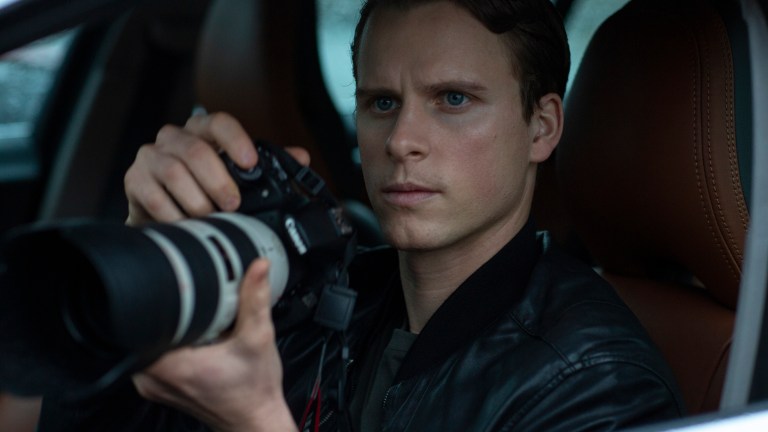 They say you know you're getting old when policemen start getting younger. By shaving decades off grizzled veteran Inspector Wallander, Netflix's latest will age us all. This six-part crime drama transforms Sweden's most famous detective into a fresh-faced junior officer. Confusingly for fans of Henning Mankell's hit crime novels and the previous screen adaptations, Young Wallander is young now. This isn't a period prequel delving back into the character's past, but a reimagining taking him back to day one, in the present.
Present-day Malmo isn't a safe place to be. At least, not for the residents of the Rosengard estate, a place ruled over by drug dealers and gang violence. When we meet Wallander (Adam Pålsson), he's living a solitary life there in a small apartment and keeping his job quiet from the locals who don't exactly hold the police in esteem. His pre-Ystad career's still in his infancy, revolving more around noise violations than solving murders. That is, until an act of extreme violence happens on his doorstep that propels him to the centre of his first murder investigation, one that sows the seeds of the man he'll become.
Young Wallander is an origin story then, about how an ambitious, naive young cop with an innate sense of right and wrong and a fastidious regard for the letter of the law becomes the cynical, hot-headed, maverick loner we already know. 
Knowing what we know, Young Wallander should be depressing viewing, like watching the air wheeze gradually out of a punctured soufflé or a big-pawed puppy become a growly junkyard dog. Pålsson though, has the presence and quiet reserve to make the character's transformation a curiosity instead of a bummer. 
Some of that transformation (it doesn't all happen in six episodes. Even though this first case wraps up properly, Netflix is clearly aiming for a returning series) is down to the influence of hard-nosed Hemberg (Richard Dillane). He's the Superintendent who recruits young Kurt and sees him as a chip off the old block. More of it is down to Wallander's experience on his first case, which brings him into contact with gang warfare, race-violence, illegal arms dealers, the super-rich and some old-fashioned evil – things that change a man.
There are lighter threads too. We also meet Wallander's partner and best friend Reza (Yasen Atour), whom he describes as the closest thing he has to family. And, after deciding casual hook-ups aren't for him, Kurt also runs into a passionate human rights campaigner named Mona (Poldark's Elise Chappell).
Elements of the character's background as established by the Mankell books are referenced. Wallander's later characteristics, including his love of opera and objection to coincidence become the basis of in-jokes. One established part of canon is rewritten entirely, though in such a way that it contradicts nothing we know from later on. There are flashes of his detective brilliance, as the wunderkind makes all the right connections and tracks down the leads everybody else has missed. Every so often, there's a flash of that famous short temper too. It's a sensitive reimagining, on the whole. Fans shouldn't feel the need to cry travesty, and newcomers shouldn't feel at all excluded.
Newcomers won't notice the difference, in fact. If this is the first time you've met Kurt Wallander, it's easy to imagine this series as an entirely new thing. That's not to say it feels especially fresh or innovative. It's a competent police thriller with a neatly packaged ongoing case spread across six forty-five minute episodes, but a mould-breaker it isn't. Fans of The Bridge – also set partly in Sweden's Malmo – will recognise its political context and the style of grotesque party piece that kicks things off.
What does set Young Wallander apart is its political conscience. More than anything, this is a series about modern politics and the breed of people who exploit bigotry and fear for their own ends. It's set in a Sweden fractured by race-hate, where anti-immigrant sentiment from far-right groups has made the city of Malmo a dangerous place. In one memorable but understated scene, Wallander attends the police interview of a man charged with committing a racially motivated violent attack. The Neo-Nazi perpetrator happens to also be an estate agent and a father of three, prompting Wallander to wonder aloud 'He looks so normal' and a colleague to answer 'What is normal these days?'
That's the tone of this sombre series. More than once, the shirked responsibility of the state to protect the vulnerable is bemoaned, by our man and others. The murder under investigation takes place in a world of homeless asylum seekers and terrorist paranoia, in a Sweden riven by fierce disagreements on immigration policy. On a background television set, the country's (fictional) prime minister is heard to insist 'This country belongs to Swedes'.
Wallander's natural sense of justice and equality puts him on the compassionate side of the debate – necessary for a hero but leaning at times into White Saviour territory. His golden-heart makes him the sole protector of some of Malmo's most vulnerable citizens of colour.
Overall, the result is a very watchable urban noir that doesn't break new ground but keeps the cheese to a minimum (There's one moment in a gun shop where a salesman asks Wallander what he's hunting and is told, 'Just the truth' but largely, it's all played very straight.) At six episodes, it's satisfyingly compact with functional cliff-hangers making it a very easy binge.
It's fairly chaste – perhaps as a result of being a British-made show set in Sweden rather than a Swedish production. Most of the supporting cast is British and English is spoken at almost all times, which does feel odd, and shows that Netflix is after a subtitle-free hit with this one. There's violence but it's not gratuitous, and there's very little nudity or sex, though Adam Pålsson's shirt does have a habit of falling off in the early episodes. Make the most of that metabolism, kid. Like your optimism, it won't last forever.
Young Wallander arrives on Netflix on the 3rd of September.