Features
Yellowjackets Season 2 Episode 3 Release Time: When and Where to Watch the Next Episode
Anxious to see how The Yellowjackets deal with eating one of their own? Here's what to expect from episode 3 and when you'll be able to watch it.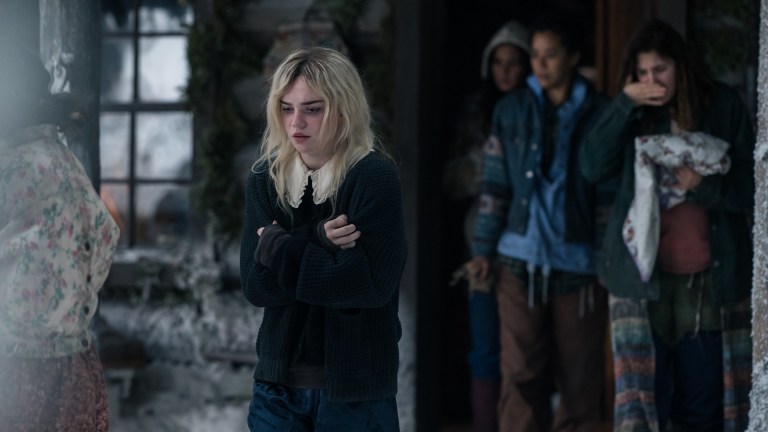 This article contains spoilers through the latest episode of Yellowjackets season 2 episode 2.
Yellowjackets season 2 isn't pulling its punches thus far. In the second episode of the season Shauna (Sophie Nélisse) continues to talk to Jackie's (Ella Purnell) corpse, Natalie (Sophie Thatcher) fakes Javi's death so that Travis (Kevin Alves) will move on, and Taissa (Jasmin Savoy Brown) continues to sleepwalk in the wilderness. The teens finally decide to cremate Jackie's body, but thanks to a freak snow drift it turns into a macabre barbecue where everyone except for Coach Ben (Steven Krueger) gives into their intense hunger and feasts.
Things may be a little less cannibal-y in the present, but the surviving Yellowjackets aren't faring much better. Shauna (Melanie Lynskey) is questioned by the police about her involvement with Adam. Even though she manages to keep her cool and avoid making herself the prime suspect, her daughter Callie (Sarah Desjardins) unknowingly flirts with a cop at a bar and divulges that her mom had an affair with someone. Misty (Christina Ricci) continues to stay active on the Citizen Detective message board to keep another user (PuttingtheSICKinForensics) from getting too close to the truth of Adam's murder. Taissa (Tawny Cypress) continues to lose her grip on reality and tries to stay awake for as long as possible to keep her "bad" self from coming out. She hallucinates her son Sammy (Aiden Stoxx) coming over after school, and when she and Simone (Rukiya Bernard) go out to find out where he really is, they end up in a serious car accident.
With such a climactic ending in only the second episode, how far is this season going to go? Now that cannibalism is officially on the table (no pun intended), how will the teens cope with what they did? Here's what we know about the next episode "Digestif" and when you can watch it.
When Will Episode 3 Be Available to Watch?
In the U.S., episode 3 of Yellowjackets will be available to stream on the Showtime app and Paramount+ with the Showtime add-on at 3:01 a.m. ET on Friday April 7. It will then air on the Showtime cable channel on Sunday April 9 at 9 p.m. ET.
In the UK, episode 3 of Yellowjackets will be available to stream on Paramount+ Friday April 7th.
What to Expect from Episode 3 of Yellowjackets
In the past, the teens will have to deal with the fact that they ate Jackie's corpse. The teaser shows Natalie and Taissa having a particularly rough time with what they did. We also see Shauna confiding in Lottie about her pregnancy fears now that she doesn't have Jackie's dead body to talk to.
In the present day, Taissa has to deal with the aftermath of the car accident. In the teaser, Simone is in the hospital with the symbol from the woods drawn on her hand and Taissa is unsure of where it came from. Misty has agreed to meet Walter a.k.a. puttingtheSICKinForensics (Elijah Wood) to interview a potential witness of Natalie's kidnapping. And Shauna is holding someone at gunpoint while asking if they've ever peeled the flesh off of a corpse, which is a totally normal thing to ask a person.