Features
Will Doctor Who Season 12 Be Darker?
With the Season 12 premiere dropping some canon-shaping twists, the Doctor Who stakes are feeling higher than they have in a long time.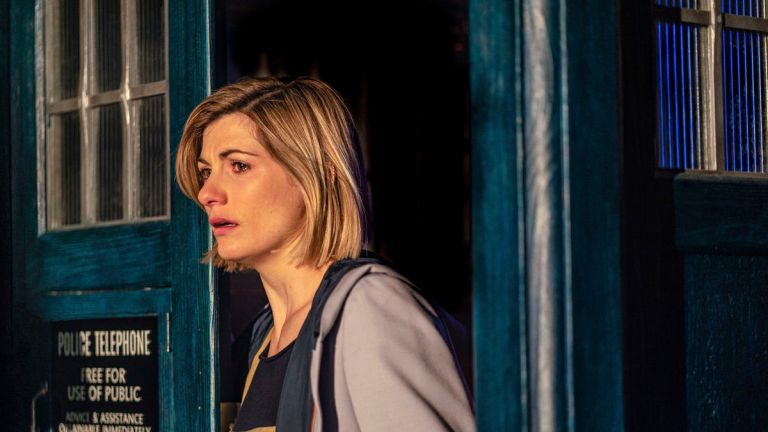 Warning: This article contains MAJOR spoilers for the Doctor Who season 12 premiere.
To categorize any good TV series simply as "dark" or "light" is to diminish the tonal complexity of its story. This can be especially true for a show like Doctor Who, which has a relatively flexible formula that allows it to explore different tones from episode to episode.
But to tell a TV story in this age of binge-watching often necessitates having a serialized arc that lasts for at least a season, if not longer. Heading into Season 12 (the third episode, "Orphan 55," just aired), that arc seems to be a bit darker than last season—at least as presented in the season's epic two-part premiere.
At the end of "Spyfall: Part Two," the Doctor returned to her homeworld of Gallifrey to find out that it had been razed by her childhood friend the Master. He told her via holographic message that he did it as revenge for the lie at the heart of Time Lord society: the secret of "the Timeless Child."
When chatting with Den of Geek about the new season and its potential darkness, Jodie Whittaker notes that a relative lack of "darkness" in Season 11 was not necessarily a bad thing.
"The energy of [Season 11] was to build us up into [head writer] Chris [Chibnall]'s journey into our second season,"  Whittaker tells Den of Geek. "And I think those light and dark shades are vital in a character, but you so lucky with this because we've had 20 episodes to explore [that] over. You don't have to put everything into every episode."
And what of Season 12's darkness, in particular in relation to the reveal of the fall of Gallifrey? Whitakker continues: "I suppose, yes, certainly the darkness was at the end of episode two… if it remains there, how much of it is explored? I'm not allowed to tell you. But there's no point replaying the same beats. Because why keep the show going for this amount of time?"
One of the ways in which Season 12 stands to get more intense is in the development of the relationships between the Doctor and her three companions. In "Spyfall: Part Two," we saw Ryan (Tosin Cole), Yaz (Mandip Gill), and Graham (Bradley Walsh) start to have a conversation about how little they still know about the Doctor. With the stakes seemingly on the rise in Season 12, will the questions they are asking of the Doctor become more urgent, too?
"I think the first season was like an introduction to the new Doctor and to us as a group," notes Cole. "I just feel like without being too open about it… I just felt like we're just going into a deeper stage of the relationship. You know, everyone's getting a bit deeper."
"It's quite a natural progression, isn't it?" adds Gill. "Because, like you say, we were quite soft on her for the first year. We're getting to know her, we think it's really exciting. But then she knows so much about our lives and she's taken us back and whatnot, and I think it's just naturally you would go, 'Hold on. We actually don't even know ya.' And then she ignores you again. 'No, actually, we really don't know ya.' So I think it is, without giving anything away, it is a natural thing that will happen throughout the [season] is we will just get a bit further with it."
The Season 12 premiere had Yaz thinking she might have died, when she is taken through one of the Kasaavin portals to the aliens' native realm.
"When that kind of danger is present," notes Whittaker, "you want to know that the people around you have got your back and how do you know that if you don't know everything about somebody, in a way? Which is a very human need."
Whittaker adds that the Doctor—who is in her thirteenth incarnation and has lived for centuries—has a different perspective on cycles of living and mortality than her human friends.
"The Doctor has had so much experience of relationships and loss and growth and friendship and enemies and all those kinds of things," says Whittaker. "The speed at which you get to know someone can be slower for someone who has had all that time."
Whatever happens as Season 12 progresses, the stakes of the ongoing season already feel much higher than last season's story, which makes for some riveting television—especially for any viewers who are investing in the Doctor's fam.
"I suppose this relationship's quite addictive because we continue to want to be all together," teases Whittaker, "but it's not always safe and it's not always knowing all the facts for any of us."
Keep up with Doctor Who season 12 news and reviews here.
Kayti Burt is a staff editor covering books, TV, movies, and fan culture at Den of Geek. Read more of her work here or follow her on Twitter @kaytiburt.