Features
How The Mandalorian Solidifies Timothy Olyphant as TV's Best Marshal
By stopping by The Mandalorian season 2 premiere, Timothy Olyphant continues to bless our TV screens while not worrying about typecasting.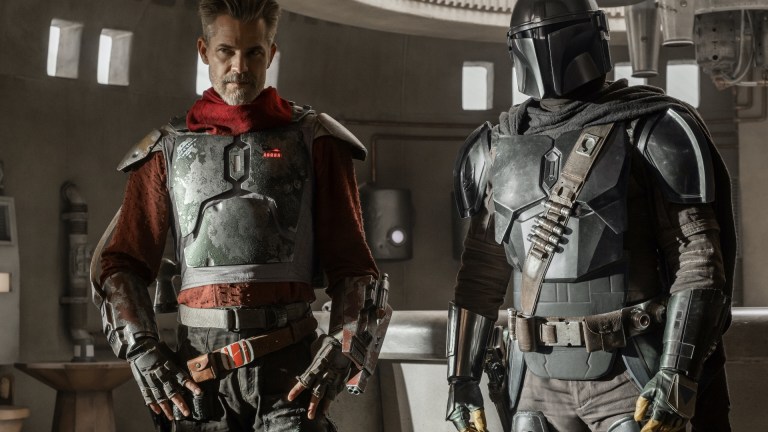 This article contains spoilers for The Mandalorian season 2 premiere.
When people talk about great actors, they often mention versatility as a defining characteristic. However, not every actor needs to be a chameleon. Some of Hollywood's most successful performers channel their inherent likability or tap into specific personality traits within themselves to find a character type that they can portray time and time again. Sometimes when an actor finds themselves portraying a similar role in every project they're attached to, it can be seen as limiting, but in other cases this typecasting occurs because it constantly bears fruit. There's something coolly confident about actors who know what they do well, know what people want to see from them, and deliver at every opportunity.
Lucky for us, Timothy Olyphant is this type of confident. In the last 16 months, Olyphant has crystalized his image as the tough, slightly cocky, strong-jawed lawman who's not afraid to get his hands dirty with roles as Cobb Vanth in The Mandalorian, Dick "Deafy" Wickware in season 4 of FX's Fargo, and his return to the part that started this typecasting, Sheriff Seth Bullock in Deadwood: The Movie. Audiences expect to see Olyphant in these likable roles of authority, but it wasn't always this way.
If it wasn't for Deadwood creator David Milch, Olyphant could have been known for playing the talky, livewire parts like he can be seen playing in Scream 2. "Prior to playing [the role of Seth Bullock] on Deadwood, he was being groomed for a different kind of typecasting slot — as a talkative, Jack Nicholson–styled, funny bad boy in roles like the drug dealer in Go," TV critic Matt Zoller Seitz observed in Vulture. "Ten years ago, Olyphant told me on the set of Deadwood that he wondered what prompted creator David Milch to cast him as the furiously violent sheriff, because there was little in his previous roles to suggest that he could convince in a role like that."
But boy, was he convincing. Despite not necessarily being a mainstream hit with viewers, Deadwood became a fiercely loved cult classic, with many heaping praise on Olyphant's star-making performance. Matt Feeney of Slate described Bullock as "laconic, feral, hot-tempered and a little vain", and said the character was "not so much played as embodied by Olyphant." His work as the honorable, yet gritty and explosive lawman led to his casting as Deputy U.S. Marshal Raylan Givens on FX's Justified. Playing the role created by iconic American novelist Elmore Leonard, Givens was a no-bullshit, cool-blooded U.S. Marshal that earned the actor comparisons to Clint Eastwood. Robert Bianco of USA Today praised Olyphant's work on the long-running series, stating that his "masterfully complete immersion in the role seems to have masked the talent expended playing it."
Though Olyphant has consistently taken supporting and guest roles in comedies to either send up or play against type, his recent work has found him back in his sweet spot. After perfectly slipping back into Western form in Quentin Tarantino's Once Upon a Time … in Hollywood, Olyphant returned to the Bullock role in Deadwood: The Movie. Perhaps the experience of portraying a U.S. Marshal again led Olyphant to keep the momentum going and accept his role of U.S. Marshal Dick "Deafy" Wickware in Fargo, a character that has the cockiness and eloquent arrogance typical of an Olyphant role, but this time informed by strict Mormon faith. Deafy gets his nickname by not acknowledging speech that he doesn't want to hear, and he's spent the season rubbing his nose in a situation that doesn't concern him.
The most high-profile example of Olyphant's enjoyable pigeonholing is his recent role in the season 2 premiere of Disney+'s The Mandalorian. In an episode titled "The Marshal," can you guess who Olyphant played? Yes, Olyphant portrays Cobb Vanth, the self-appointed Marshal of a remote part of Tatooine who sports scavenged Mandalorian armor (previously belonging to none other than Boba Fett). As Vanth, Olyphant brings a character to life that seemed more in line with what Star Wars fans may have been expecting when a Western-influenced Mandalorian series was announced. The part even sees Olyphant reunite with Deadwood co-star W. Earl Brown, who plays a Weequay bartender in the episode. The part seems like a direct homage to his iconic Deadwood and Justified roles, but it wasn't the first cheeky nod.
Earlier in the year, Olyphant appeared in The Good Place as an imagined version of himself sporting Rylan's look. Explaining to the A.V. Club on how he pitched Olyphant the part, Good Place creator Mike Schur said "When I was explaining the role to Tim on the phone, he said, 'Am I myself, or am I Raylan?' And I said, 'No no no: You're you, but I think you're edging toward the Raylan side of things.' And he went, 'Full Stetson?' And I was like, 'Yeah, I think Full Stetson sounds right.'" Even in the afterlife, you can count on Olyphant doing his charming lawman schtick.
Timothy Olyphant is a talented actor who can do a lot of different things (try his work in The Office, The Mindy Project, The Grinder, and Santa Clarita Diet if you want to see how adept he is at comedy). That said, in 2020, we need Olyphant doing what he does best. If there's any justice, we'll see more of Cobb Vanth in the Star Wars Universe and more Timothy Olyphant in a Stetson hat soon.