Features
The 9 Most Awkward Dinners in TV History
Thanksgiving isn't the only time of year that TV characters gather around the dinner table for awkward conversations.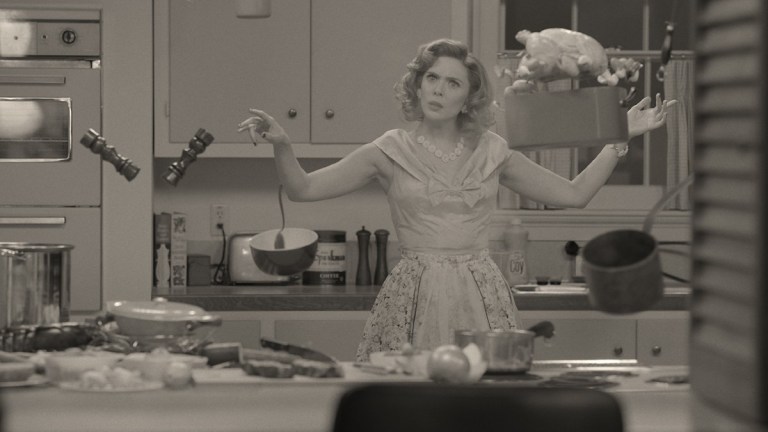 It's hard to find a way to bring everyone together in one location at the same time, whether that's in our own lives or in a TV show. Our stories don't always mesh or meet up in a convenient way. Eating is the response to this dilemma. One of humanity's most social activities, a meal is the perfect spot for folks to sit down and catch up with one another. We all have to chow down to survive, so why not do it together?
TV writers understand this fact very well, using the dinner table as the conduit for producing key plot points, iconic lines, and legendary performances. Most of the time, the results are awkward and uncomfortable, just like at our own tables. With Thanksgiving here, we thought it would be fitting to look at the times supper made us cringe, close our eyes, and maybe even burst out laughing!
(NOTES: The selections are unranked)
Boar on the Floor
Succession Season 2 Episode 3 "Hunting"
Logan Roy (Brian Cox) is one of the scariest people ever put on screen, channeling the same fear into his opposers as psychopathic murderers do. His screen presence and intimidation are what have fueled nearly all of the conflict in HBO's current crown jewel, and no moment displayed how the entire world is wrapped around his finger quite like Boar on the Floor.
This dehumanizing game's intention was to snuff out a rat in the company, but all it did was further cement Logan as the antagonist. Without a lick of tangible violence, Logan is able to assault the entire WayStar Royco family when he asks Greg and Tom (Nicholas Braun and Matthew Macfadyen) to get on the ground and oink like pigs, replete with throwing them sausages while they're begging for approval.
Jesse Pinkman Hides Behind His Water Glass
Breaking Bad Season 5 Episode 6 "Buyout"
For most of Breaking Bad, Walter White (Bryan Cranston) leads a double life. He pretends to be the everyman father to Walter Jr. (R.J. Mitte) and the downtrodden husband to Skyler (Anna Gunn), meanwhile he's busy becoming the largest meth distributor in the United States with his former student Jesse Pinkman (Aaron Paul) when he's away from the house. These two worlds rarely collided in the beginning, but as Walter devolved into Heisenberg more and more they were bound to start entering into each other's orbit.
This is never more uncomfortable, yet satisfying, than in the middle of the fifth season when Skyler comes home from a grocery run to see Walter having a meeting with Jesse on their living room couch. With their marriage already broken beyond repair, Walter asks Jesse to stay for dinner. The result is one of the funniest scenes in a series with many, and a scene that added some necessary levity to a show that was becoming unbearably dark by this time.
Dexter and the Trinity Killer Dine Together
Dexter Season 4 Episode 9 "Hungry Man"
Dexter is now one of the more underrated crime dramas of the 21st century due to its lackluster backend, but the fourth season remains incredible viewing all these years later. This was due to the unique and thrilling dynamic between Michael C. Hall's titular forensics anti-hero and John Lithgow's "Trinity Killer".
The tug-of-war between the two killers reached an apex during a Thanksgiving dinner to remember. The scene is supposed to be a terrifying portrayal of abuse from Arthur to his family, but the way it's tinged with black humor is what makes it so memorable.
Homer Simpson's Civilized Dinner
The Simpsons Season 1 Episode 4 "There's No Disgrace Like Home"
There was once a time when The Simpsons was a brilliant commentary on middle-class American families and how they're supposed to operate. One of the earliest episodes in the long-running classic sees Homer as a much more involved father, someone who desires for his family to eat dinner with him at the table like "a normal family".
Seeing Marge, Bart, and Lisa only half-heartedly commit to their famous patriarch's wishes is a stunning turn of events compared to the current proceedings in the series, as we now know Homer as a well-intentioned, but mostly-absent father. It's easy to feel bad for him, but also hilarious to see how similar the Simpson family was to a traditional American brood in the 1990s.
Uncle Junior Likes Going Down on Vacations
The Sopranos Season 1 Episode 9 "Boca"
The Sopranos probably used dinner scenes better than any show in recent memory. With so many characters and storylines to handle, creator David Chase was often able to adeptly bring them all together in these unforgettable moments. The variety of meals to choose from made this selection difficult to make, but the veracity of the jokes that are fired off in this early-series scene makes it our selection.
Carmela (Edie Falco) is aware of some personal information about Uncle Junior (Dominic Chianese) that she got through gossiping with her hairdresser: the old man likes to go under the belt in the bedroom. This makes Junior's explanation about going "down to Boca" a double entendre that Carmela has a hard time not chuckling at, unbeknownst to Tony (James Gandolfini) and the others at the table. Livia's (Nancy Marchand) interludes to the conversation are the cherry on top of the sundae.
Marie Barone On 46 Years of Marriage
Everybody Loves Raymond Season 8 Episode 4 "Misery Loves Company"
Ray Romano's incredibly popular family sitcom dominated the comedic airwaves for CBS in the late 1990s and early 2000s, delivering high ratings and many Emmy wins. This scene in which Ray's mother, Marie (Doris Roberts), explains how to endure through a half-century of marriage encapsulates everything that made the program a powerhouse 20 years ago.
Everybody Loves Raymond enjoyed critiquing gender roles and relationship struggles with a strong focus on small set pieces and minimal cast members. Some important scenes climaxed in 10-minute intervals at the end of episodes, but this beauty only needed a couple of minutes to get the point across and the laughs bursting from viewers.
Jan and Michael's Infamous Dinner Party
The Office Season 4 Episode 13 "Dinner Party"
Something that makes a scene even more awkward than usual is when a character is exhibiting behavior that we can live vicariously through, when there's a realism to the scene, and the way Jim and Pam (John Krasinski and Jenna Fischer) attempt to lie their way out of Michael's (Steve Carell) dinner party is one of the most realistic portrayals of this phenomenon. The Office also had a knack for putting the perfect character ensembles together in the same room, another ideal alchemic blend done just right here in the fourth season.
Hannibal Lecter Always Eats Meat
Hannibal Season 1 Episode 7 "Sorbet"
Hannibal Lecter is one of the most synonymous characters with wickedness in all of entertainment, and Mads Mikkelsen had large shoes to fill following Anthony Hopkins' famous portrayal of the villain in Silence of the Lambs. He ended up putting his own fantastic twist on Lecter, carving out Hannibal as one of network TV's last great dramas.
This short dinner scene in which he reminds the guests and the audience that the food is not vegetarian is a bleakly hilarious look at the cannibalistic nature of the character. Little do the partygoers know they're eating human flesh, an eerie and brilliant turn of dramatic irony for the people watching at home.
Vision Saves His Boss
WandaVision Season 1 Episode 1 "Filmed Before a Live Studio Audience"
One of the MCU's most successful TV shows to date, WandaVision is a mashup of a lot of genres and dramatic components, but this dinner scene in which Vision (Paul Bettany) has to be encouraged by Wanda (Elizabeth Olson) to save his own boss from choking to death at their table is one of the ultimate awkward scenes in the premiere episode. Debra Jo Rupp's incessant exclamations of "stop it" add to the tension of the ordeal exquisitely.
What are your favorite dinner scenes in TV history? Let us know in the comments section below!