Features
What's Next For Millie Bobby Brown After Stranger Things Season 4?
As well as Stranger Things' final season, Millie Bobby Brown will return as Enola Holmes, star in a Russo Brothers movie, play a fairy tale princess, a bisexual con artist & more.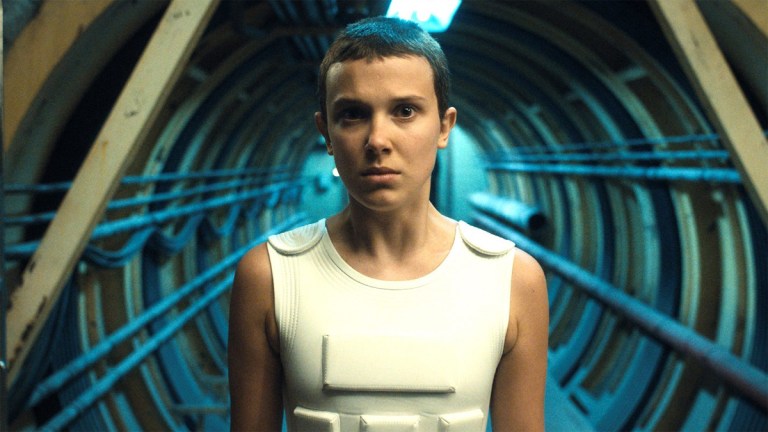 Eighteen years old. At the age a lot of young people would currently be looking ahead to a summer of watching Netflix, Millie Bobby Brown is Netflix. She's not only the superpowered lead in Stranger Things – which still has its fifth and final season to film – but also set to be the star of multiple upcoming movies on the streaming service. A UNICEF Goodwill Ambassador, Louis Vuitton house ambassador (sounds Hogwarts-y), the founder of a vegan beauty brand, owner of PCMA Productions and the star of her directorial debut – a short film in which she leaps about on aerial silks like she's in fricking Cirque du Soleil – she's the multi-hyphenate to make other multi-hyphenates weep over being such lazy, do-nothing bums. And that's without even including the unsubstantiated Star Wars rumours.
Here's what's coming up next for the Stranger Things star.
Enola Holmes 2
Adapted from Nancy Springer's YA book series, the first Enola Holmes Netflix movie came out in September 2020, and its first sequel is currently in post-production and due for release on November 4th 2022. It's the story of Sherlock and Mycroft Holmes' younger sister (played by Millie Bobby Brown), a precocious young Victorian who shares her brother's detective skills and was raised by their firebrand proto-feminist mother Eudoria.
Filming wrapped in early January 2022 on the second film, which was once again adapted by His Dark Materials' Jack Thorne and directed by Fleabag's Harry Bradbeer. The story sees Enola take on the case of a missing girl with help from her friends and big bro. It's set to welcome the return of Henry Cavill as Sherlock, Helena Bonham Carter as Eudoria, Louis Partridge as aristocrat Tewkesbury, Susan Wokoma as Edith and Adeel Akhtar as Lestrade. Harry Potter and Wonder Woman's David Thewlis will be among the newcomers to the cast.
Damsel
Filming began on Netflix fantasy film Damsel in February 2022 and is ongoing at the time of writing so don't expect to see it until 2023. It's the story of Princess Elodie (Brown, who also executive produces), who's been told she's set to marry a prince and live happily ever after but is in fact in line to be sacrificed to a dragon after the big day. Can she battle the beast and survive? (Chances look good. We've all seen this girl take on a Demogorgon). Damsel is being directed by 28 Days Later's Juan Carlos Fresnadillo from a script by Wrath of the Titans' Dan Mazeau. Excitingly for a fairy tale movie with a modern sensibility, The Princess Bride herself aka Robin Wright joins Brown in the cast, which also includes Angela Bassett and Ray Winstone. As you wish!
The Electric State
Swedish artist Simon Stålenhag is the brilliant mind behind sci-fi narrative art book Tales From The Loop, which was adapted into an atmospheric Amazon Prime series in 2020. Stålenhag's third art book The Electric State is the story of Michelle (Millie Bobby Brown) and her toy robot Skip journeying across the fictional land of Pacifica on a search for her missing brother. It's set in a post-apocalyptic 1997, so Stranger Things fans can get ready for a different decade of nostalgia. The Avengers' Russo Brothers bought the adaptation rights all the way back in 2017 and the current plan is for It: Chapter One and Two screenwriting and producing brother-sister pair Andy and Barbara Muschietti to head up the film as a Netflix/Universal Pictures co-production. Filming is yet to begin and casting announcements are yet to be made.
The Girls I've Been
Filming is yet to begin on this Netflix film adaptation of Tess Sharpe's 2021 YA psychological thriller novel, but when it does, Millie Bobby Brown will play former Nora, a girl who spent her adolescence living under multiple different aliases. Forced to follow in the footsteps of her con artist mother while growing up, Nora finally escaped only to end up held hostage in a bank heist. Can she use her skills to escape once again? Complicating matters is the love triangle between Nora, her ex-boyfriend Wes, and her new girlfriend Iris, who are both taken hostage alongside her. This one's another PCMA Productions feature, and the rest of the cast and crew are yet to be announced.
The Thing About Jellyfish
This adaptation of Ali Benjamin's 2015 YA novel about a high school girl mourning the death of a former friend was originally announced in 2019 when Reese Witherspoon's Pacific Standard Films production company snapped up the rights. In March 2021, Netflix had come aboard and Millie Bobby Brown was attached to play the lead role of Suzy Swanson. After Suzy's friend dies, she becomes obsessed with the theory that it was a jellyfish sting that killed her and sets about trying to prove her hypothesis, all the while negotiating the complicated world of school popularity and friendships. Wanuri Kahui, director of feature films Rafiki and Pumzi, will helm from a screen play by Maid and Orange is the New Black writer Mollie Smith Metzler. Filming is yet to begin.
Stranger Things Season 5
As Vecna taunted in the Stranger Things season 4 finale, it's the beginning of the end for Eleven and the Hawkins gang. The kids have one last season (of as-yet-undetermined length) in which to stop the Upside Down and its zoo of nasties from encroaching on the ordinary world. Millie Bobby Brown will say goodbye to her star-making role in Season 5 (the spin-off will be about entirely new characters, say creators The Duffer Brothers). There's no word yet as to when we can expect Netflix to welcome the final season, which will hopefully see the big bad put to bed, but we have some theories.