Features
Tales from the Loop: Sci-Fi Paintings Become Small Town Drama
Showrunner Nathaniel Halpern speaks about adapting the world of Simon Stålenhag's paintings for Amazon's Tales from the Loop.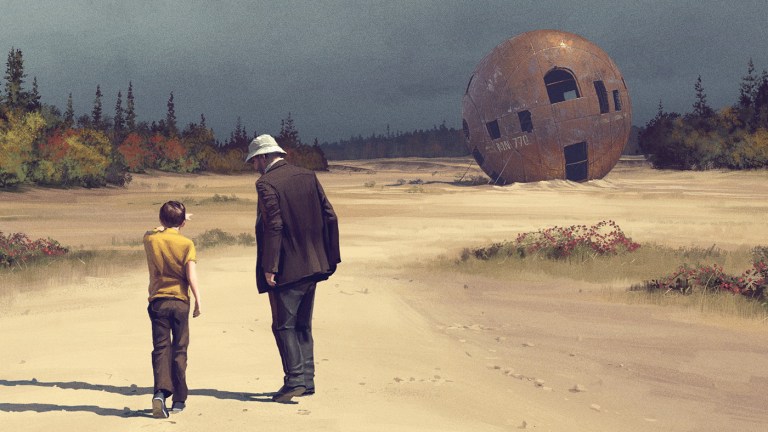 Nathaniel Halpern, who wrote and executive produced all eight episodes of Tales from the Loop, looked at the paintings of Swedish artist Simon Stålenhag and saw them as story starters, images that suggested a larger narrative. When the show premieres on Amazon Prime Video on April 3, 2020, it will in fact feature vignettes from the small Ohio town built above a particle accelerator, a facility which is designed to unlock the secrets of the universe but which also causes the strange occurrences illustrated in the Stålenhag paintings with their sci-fi elements mixed with everyday life.
This strange juxtaposition of mundane and futuristic certainly was the principal appeal for Halpern as a writer. "I was just immediately struck by the aesthetic and the world and more than anything the feeling of it, the genre elements aside. I just related to it," says Halpern. "It felt very emotional and reminded me of childhood. And then later when I met Simon, we ended up talking about our childhoods within five minutes of meeting each other. There's just a wonderful universal quality to his imagery that I really wanted to use, and there's also the fun of the genre element that kind of ventures into the fantastical."
Because each painting suggests a different story linked by a common setting, Tales from the Loop is also a series of related tales all happening in Mercer, Ohio which houses the Center for Experimental Physics. "It's not an anthology, but every episode is this standalone story with its own sci-fi element," explains Halpern. "But all in all, these characters are in each other's lives and we loosely follow one family. So if you watch all of them obviously there's these emotional payoffs of following these characters, but you could just watch one and not be lost. And I found the benefit of that is you never get too used to the sci-fi element. There's a new thing to keep you on your toes with each hour, while coming back to the familiarity of a sense of place and faces that you know."
Because the atmosphere of Tales from the Loop is meant to evoke a sense of everyday life, the sci-fi elements are actually treated with only casual curiosity from the characters in the show. "Here it's just how do you treat it as kind of normal in that this is a factory town, and the adults work at the factory," Halpern says. "The children don't quite understand what their parents do, so there's a sense of mystery there… they know it has something to do with where their parents work beneath ground, but it's not a conspiracy really. It's really there are all the adults walking off to the factory in the morning, and it is what it is."
Even the 80s time period is designed to give a homey feel to Tales from the Loop, but Halpern was careful not to put the era center stage in the style of Stranger Things. "The present day of the show in this season is 1982 but also not wanting to fetishize time period, so there is a certain timeless quality to the aesthetic," he says. "As you know, it's 2020, and we're not all wearing clothes and driving cars from 2020. So it has a kind of history, lived in feeling, and it's also an international community who work at the Loop. So there's just this kind of interesting mixture of influences, both European and American that comes into the aesthetic."
Halpern did tweak the darker mood some associate with Stålenhag's paintings to give Tales from the Loop a more optimistic but realistic outlook on its unusual world. "The show has a little bit more of a hopeful quality," Halpern says. "There's certainly a melancholy that runs throughout that is in Simon's work, but I try to veer a little bit away from the more dystopian imagery because I feel that's certainly represented a good deal in a lot of genre pieces. And I kind of steered more into the Norman Rockwell quality of the science fiction that he does."
Once you've seen Stålenhag's paintings and watched a few episodes of Tales from the Loop, you'll see exactly what a science fiction world as imagined by Norman Rockwell would look like. With actors like Jonathan Pryce and Paul Schneider portraying members of the Willard family around which the show centers, the world that's slightly different than our own is actually amazingly familiar. And Halpern would likely agree: that's exactly the point.