Features
What's Going On With Red Dwarf?
'Separate iterations' of British sci-fi comedy classic Red Dwarf could be coming from creators Rob Grant and Doug Naylor. What's happening?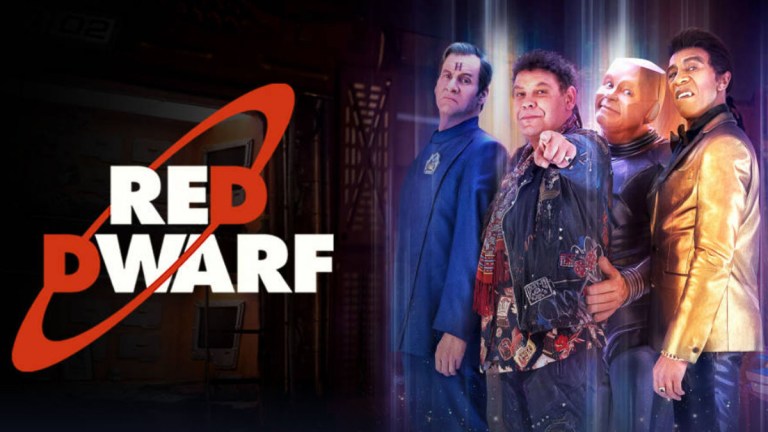 Last week, seemingly out of nowhere, the usually relatively quiet Red Dwarf Twitter account announced this:
The statement read:
"Rob Grant and Doug Naylor are delighted to announce that the ongoing dispute over the Red Dwarf rights has been resolved.
Moving onwards and upwards, Rob and Doug hope to launch separate iterations of Red Dwarf across various media, working again with the cast and other valued partners, and wish each other the very best.
Smoke a kipper, Red Dwarf will be back for breakfast!!" (sic)
This came as a bit of a bolt from the blue, particularly among anyone who hadn't been closely following the show since its last special, 'The Promised Land', in 2020.
Trouble on the Dwarf
Those who had been following the show's fortunes closely since then will have heard about the dispute in February two years ago, right on the eve of the annual Holly Hop convention in 2021. At that time Doug Naylor, the then-sole writer of Red Dwarf, announced that he had been removed from Grant Naylor Productions, the company he co-founded to run the Red Dwarf franchise.
"I have been excluded from Grant Naylor Productions, the company I co-founded and which bears my name," Naylor was reported as saying. "I want to make sure that I get back the rights to allow me to keep making Red Dwarf, the show I have been writing single-handedly for more than 20 years.
"It is bizarre and regrettable that Grant Naylor Productions and its other shareholders are trying to prevent me from doing so."
Among Naylor's accusations were that the company owed up to £160,096.80 in allegedly unpaid invoices dating back to 2018, and that after he had been removed from the company, the firm had told UKTV that he resigned, leaving all rights to Red Dwarf with Grant Naylor Productions.
Without his removal, Naylor claims that UKTV would have commissioned a further two Red Dwarf specials.
As for Naylor's co-creator, Rob Grant gave his side of the story alongside Red Dwarf's original producer, Paul Jackson, at the Holly Hop event itself. While avoiding speaking about the case directly, they were enthused about the future of the show.
"We all want Red Dwarf to go on and on and on. We want series and specials and stage shows and movies and spin-offs. We want Red Dwarf flying out of our buttskis. Why wouldn't we? Seriously? And I would really love, personally, to write some of it, just for the record," Grant said.
Jackson added, "We've actually already signed up. Just to be very clear, we've already signed our contract for the next iteration of Red Dwarf, whatever it may be, a new special or series, whatever it may be. We signed it last year, everything was negotiated and agreed, we happily signed. Everything was set out – how many, how much, how long. It stipulates very clearly that Doug will be the writer, the director and the executive producer of any such commission. And we're all delighted and thrilled, and we quite honestly thought by this time we'd have got it going.
"So we're ready and waiting, there's nothing we could do to stop it if we wanted to, because we've signed a contract already."
A Broken Partnership
If that all sounds confusing, it's only the tip of the iceberg. The inner workings of the relationship between Doug Naylor and Rob Grant have been complex and kept private for decades. The two were old school friends, who cut their teeth writing sketches together before eventually hitting on Red Dwarf as a series version of their "Dave Hollins: Space Cadet" sketches for BBC Radio 4.
The partnership lasted for years until suddenly, after the sixth series of the sitcom, it didn't. In 1995 and 1996 Doug Naylor and Rob Grant each bought out separate, and contradictory Red Dwarf novelisations, The Last Human and Backwards respectively. Then, when Red Dwarf VII hit BBC Two in 1997, Doug Naylor was the only one of the pair to get a writing credit.
For reasons unknown, Naylor appeared to be piloting Red Dwarf solo from 1997 onwards, across season VIII, Back to Earth, seasons X, XI, XII and finally 2020's 'The Promised Land'. There has been speculation, and some vague explanations from both parties.
Grant explained "I just felt, I'd had enough of that and wanted to do something else" in the Comedy Connections documentary in 2004, later telling Kryten actor Rob Llewellyn that it amounted to "musical difference" in web series Carpool.
Even Paul Jackson has said he doesn't know why the partnership failed. Which is why it's so odd that Doug Naylor should be the one who appears to have been ousted. Having enjoyed sole control of the franchise for over 20 years, why would the other directors of Grant Naylor Productions, Paul Jackson, Leslie Armitage (widow of former producer Charles Armitage) and Rob Grant apparently attempt to remove him?
Perhaps even more confusingly, why has Rob Grant, who hasn't been involved with the franchise for just as long, now shown an interest in writing for the Boys from the Dwarf again?
There's very little information to go on. All we can gather from company house records is that once Doug Naylor was reinstated as a director of the company on the 3rd of March 2023, all the other directors apart from Rob Grant "resigned".
What Happens Next?
For fans, what does this mean for the future of Red Dwarf as a franchise? Both Grant and Naylor seem keen to produce Red Dwarf content, although their announcement notably says "separate iterations".
It is unlikely we will get two Red Dwarf TV series (as much as we would love to see Terry Farrell resume her role as the Cat from the American pilot for the show). Books seem much more likely, but of course, now we live in the age of the multimedia franchise. Audio plays, comic books, and even video games are all possibilities.
Red Dwarf is no stranger to alternate timelines and parallel universes, so maybe there's room for multiple interpretations of the small rouge one's adventures.
But it has to be said, there is something sad in this fragmenting of the franchise. Red Dwarf is a show born out of a long friendship, and later series have yet to match the fruits of that partnership. Perhaps it's too much to hope for, but if it is to continue, it would be nice to see its writers come together one more time.
And by the looks of this Instagram post from Danny John Jules, it looks like preparations are already underway for the next Dwarf project, whatever it may be… UPDATE: It's likely that this is actually an old photo is from a table read for 'The Promised Land', posted to dupe us. In which case, happy to oblige!
70 episodes of Red Dwarf are available to stream on UKTV Play here.