News
What We Do in the Shadows Takes Time Out for Kickball in Season 3 Teaser
All blood and no sport makes for a busy vampire familiar, as What We Do in the Shadows' Guillermo gets some due.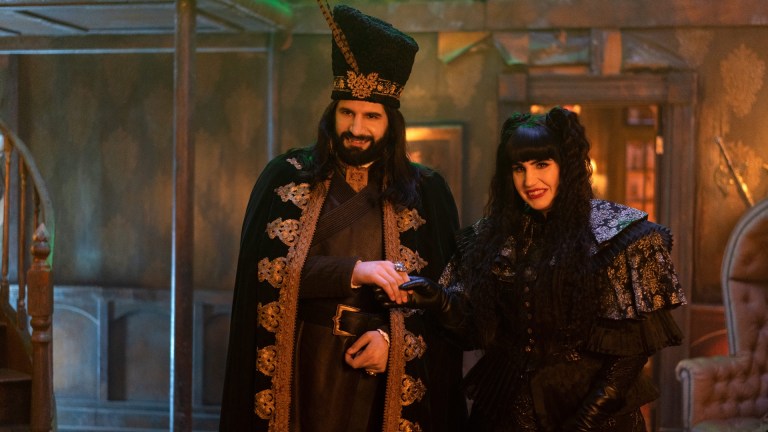 Over the course of What We Do in the Shadows season 3, Laszlo Cravensworth (Matt Berry), Nandor the Relentless (Kayvan Novak), and Colin Robinson (Mark Proksch) will all bestow a grudging respect for the vampire house's familiar, Guillermo (Harvey Guillén). The only abstention comes from Nadja (Natasia Demetriou), who prefers her vampire hunters dead. Her doll agrees.
The series follows four vampires sharing a house on Staten Island. They have "lived" together for hundreds of years, and most of their work is done by the now-problematic familiar. FX Networks dropped a preview, called "Kickball," showing how much the vampires appreciate "Gizmo," their pet name for the pet human. They especially love his latest duty, securing virgins for dinner.
You can watch the "Kickball" preview here:
The preview ends with Guillermo confessing how easy it is to find Staten Island virgins if you know where to look, and presents adult kickball teams as an easy option.
The preview synopsis mentions the vampires will play "werewolf kickball" in season 3. "I just remember playing in the snow with Kayvan and everyone and making snowmen kind of stuff," Guillén said at FX Networks' appearance at the 2021 Television Critics Association summer press tour.
Vampires aren't known for having fun in the sun, but the chilling comedy series uncovered new perils in the frost. "All the snow in that scene is real and it was maybe our first exterior of the shoot," WWDITS executive producer and writer Paul Simms told the TCA journalists. "And we even delayed it one day because they said that, oh, there's going to be too much snow; we can't shoot it. And then we were like, well, we're in Canada and it's winter and so there's going to be more snow the next day, so we did it."
The cast apparently followed suit enthusiastically. "We were just having mad snowball fights for a lot of it," Novak told the TCA. "I think when we're outside, I find that as a cast we get more and more hyper. The colder it gets, the more hyperactive we get. And I think it really helped in that scene because we were charging around, you know, kicking these balls. I mean, I'm a soccer player myself, so I don't have a problem kicking a ball. Running in a circle in the snow, though, my fitness levels are definitely not what they should be. But it was a fun night."
It's all fun and games until someone pops a button. "We did a bit where he [Nandor] pushed me [Guillermo] and I came back into him and he falls in the snow," Guillén recalled. "And the wardrobe department was like, 'Noooo! Noooo!' like screaming because it's, like, crushed red velvet cape and, like, tailored to Kayvan, brand-new, it's now in the snow, like, completely covered and wet."
You'll have to wait to learn the fate of Nandor's cape, but rest assured, Guillermo is keeping his vampires well-fed on What We Do in the Shadows.
What We Do in the Shadows season 3 premieres Sept. 2, on FX.