Features
What We Do in the Shadows Season 3: Guillermo Gets a Promotion
Vampire slayer or loyal familiar? Guillermo de la Cruz may live up to his last name, but for now he's flossing fangs on What We Do in the Shadows season 3.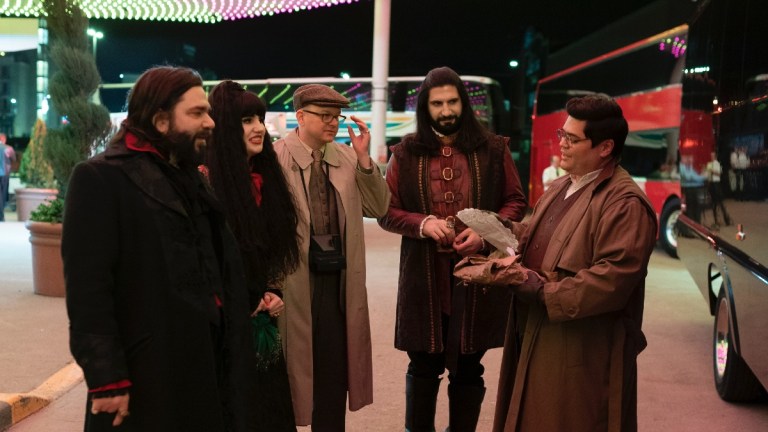 What We Do in the Shadows season 3 opens after a terrifying reveal for the vampires of Staten Island. Their loyal familiar took things a little too far during a night at the theater, and had to unmask himself as a vampire hunter. It's something in his blood. Now, normally this would be a good thing, but this time it spelled the end of the Vampiric Council. Guillermo, played by Harvey Guillén, took center stage at the performance.
Vampires don't like to be upstaged. It gets them quite cross, which they like even less. Guillermo's last name is de la Cruz, which means "of the cross," so he doesn't need to carry one. The easygoing vampire familiar took a major loss in the tri-state area. Season 3's first episode puts the true death toll at somewhere around 70 percent. "Oh, boy. To do the math would be difficult," WWDITS writer and executive producer Paul Simms said during FX's panel at the 2021 Television Critics Association summer press tour. "I don't know how many there are, but I know that all the important ones were there for the Theatre de Vampires."
This puts Nandor the Relentless (Kayvan Novak), Nadja (Natasia Demetriou), Laszlo (Matt Berry), and Colin Robinson (Mark Proksch), in a quandary in What We Do in the Shadows season 3. Should they kill the hunter? He broke the oldest rule of being a vampire: Don't kill vampires. Everybody says it. Nandor has been hearing it for centuries, and it's always seemed like a great rule. But now that the entire, remaining, vampire horde might come knocking, or blowing by in a puff of smoke, a vampire hunter might come in handy. What to do?
"Obviously, where we ended last season, we painted ourselves into a corner, as we always do, with some very high stakes about the vampires' discovery that Guillermo could kill them at any moment and that he has been living as a vampire killer among them the whole time," Simms said.
The character of Guillermo has grown in one of the most pronounced arcs of the series. The title of season 3's first episode is "The Prisoner," but it is only the first stop in what could be a much longer, or much-much shorter journey. Nadja, her Doll, Laszlo, and Colin Robinson all vote to put Guillermo down. But in a show of bad faith, and possibly worse judgement. It appears they put him on the payroll, at least in a figurative, and more importantly, mostly-unpaid sense.
"I don't know what's going to happen with Guillermo," Harvey Guillén admitted during the TCA virtual press tour. "I don't know until the last minute." But the actor did mention a promotion, of sorts. "He's joined the rest of the gang as his or their bodyguard, for lack of a better word, and it will lead to some interesting decisions to be made."
Guillermo is one of the most easily known characters on the series, in spite of his secretive nature, and probably the most recognizable stand-in for the fans. It could be that he's alive, breathing, and eating more than raw chicken thighs. But that's just one flavor in the meal.
"Guillermo has been such a positive character in the Latinx community," Guillén said. "Even the smallest scene, where he's talking to his mom. We got so much feedback from people who said, 'I feel like I was watching my mom and myself have a conversation,' down to the buñuelos in the background, like little details like that that really make a difference."
We do know Guillermo makes it to season 4, because in episode 4, "You're going to meet all of Guillermo's family in a way that makes Guillermo very anxious," Simms told the TCA. "And we're going to learn that if he has Van Helsing DNA, then so does the rest of his family, even though they might not realize it themselves. But that one we haven't even shot yet."
If it hasn't been shot, it may never happen. So, that can still be considered speculative, though it's nothing the audience doesn't already know. Guillermo may be the last character standing by then. He may have given in to his vampire slaying nature.
But for now, Guillermo is happy to floss fangs for his master. FX Networks dropped a teaser preview called "Friend," which sees very content vampire familiar catching up with old souls.
"In Season 3, the vampires are elevated to a new level of power and will encounter the vampire from which all vampires have descended, a tempting Siren, gargoyles, werewolf kickball, Atlantic City casinos, wellness cults, ex-girlfriends, gyms, and supernatural curiosities galore," reads the synopsis.
We can, at least for now, rest assured the hunter wants to be a vampire more than he wants to slay them.
What We Do in the Shadows season 3 premieres Sept. 2, on FX.