News
What We Do in the Shadows Cast on the Mark Hamill Effect
Even Matt Berry turned into a giggly 7-year-old when it came time to work with Luke Skywalker himself on What We Do in the Shadows season 2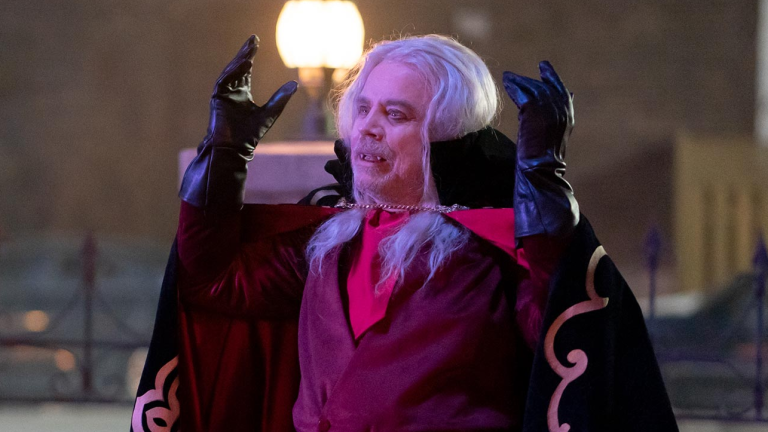 It was an extremely pure delight to see Mark Hamill guest star in season 2 of FX's What We Do in the Shadows. The Star Wars actor's turn as Jim the Vampire in episode six, 'On the Run', made for truly ludicrous viewing, and the cast and crew have been discussing how it all came together as part of a recent Comic-Con@Home panel with host and fellow season 2 guest star, Haley Joel Osment.
In 'On the Run', Matt Berry's vampire Laszlo decides he'll scarper to Pennsylvania instead of paying a debt he owes to former landlord Jim, adopting an ingenious incognito disguise of 'some jeans and a toothpick' and becoming bar owner and volleyball coach Jackie Daytona in the process. Eventually, Jim catches up with Laszlo and a barroom brawl ensues, during which Hamill picks up a pool cue and brandishes it like a lightsaber.
"That was one of those things that I think happened on set, if I'm not mistaken," said What We Do in the Shadows executive producer and writer Stefani Robinson. "It was the stunt coordinators who came up with it while they were rehearsing, and I think maybe it was a little bit of the director Yana [Gorskaya], who did an awesome job directing that episode. That was something that was designed for that specific space when they were sort of blocking it all out."
Executive producer Paul Simms added, "I think when we originally blocked it all out, we were just trying think of all the ways they could fight. We thought, 'Oh, then maybe they'll hit pool cues at each other.' And then when it was on the day, and we were shooting it, and you saw Mark Hamill pick up the pool cue, everyone on set went 'Oh my god!'"
Robinson said the way Hamill held his pool cue even broke Matt Berry, who is very much used to keeping it together during improv. "I've never seen Matt [Berry] so giggly."
"Well, you've got to understand what that was like," Berry explained. "I was stood in front of Luke Skywalker, and he held something like that right in front of me, and yeah, it doesn't matter how cool you think you are or how in-character you are, you're not. You're seven years old with Luke Skywalker right in front of you."
Hamill originally got the What We Do in the Shadows team's attention by publicly supporting the series online, out of fear that it would have a short shelf life.
"I always get nervous about shows I like, because I find something I really love and it gets canceled," he told Vulture. "So I tweeted about it several times, trying to get my followers to give it a try. Apparently that's what put me on their radar, and the next thing I know they asked me to come on the show. I thought I'd be playing a meter reader, or a next door neighbor, or someone at the Department of Motor Vehicles. When I found out that they wanted to play what was called in the script The Vampire, I just flipped out, I couldn't wait."
The actor, who also had a juicy role as veteran Templar Talus in History's Knightfall last year, soon found out that his WWDITS character perhaps wasn't as cool as he'd first imagined.
"I think part of [why they kept his name as The Vampire] was to have it be a surprise. When Laszlo calls me by name and I turn and say, "How did you know my name?" and he says, "It's right there on your business card," it's just nutty! And then to see me coaching the girls' volleyball team, and the back of my jacket reads "Jim Coach," it's just so wonderfully absurd."
What We Do in the Shadows has already been renewed for a third season. There's no word yet on any future guest stars, or whether Jim will return to reckon with Laszlo over any Big Mouth Billy Bass revelations.