Features
What We Do in the Shadows: Colin Robinson Steals Our Energy Through the TV
Mark Proksch discusses the draining life of the energy vampire he plays on What We Do in the Shadows.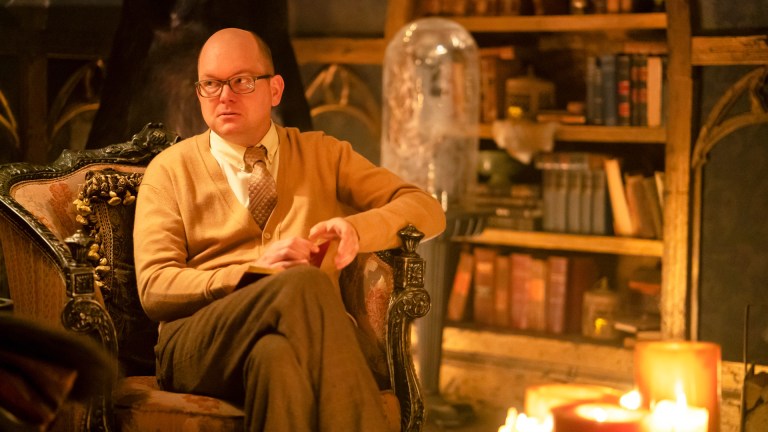 "Hopefully I am defining what an actual energy vampire is instead of someone on the outer edges of society," says Mark Proksch, who plays the life force gourmand on FX's What We Do in the Shadows. The actor who plays that Dilbert-looking guy who shares a house on Staten Island with a liquid-diet trio tells Den of Geek about the many challenges and bonuses to being an energy vampire.
Regular vampires, the classic kind played by Nandor (Kayvan Novak), Nadja (Natasia Demetriou), and Laszlo (Matt Berry), drink blood, a virgin's if possible. It is a reliable staple as far as nutrition and horror lore. The psychic or energy vampire's food source is a little tougher to discern. Sometimes called prana or chi, it is the neurological system's electromagnetic debris. It flows like tears, pours out like laughter and lunges at you like terror.
Proksch's Colin Robinson likes to nibble on the edge of people's comfort zone, occasionally even discomforting the actor. "The Superb Owl party where I was adjusting the controller on the TV, that was annoying," Proksch tells us. "I would be so annoyed if someone did that to me and while I was doing that it kinda got on my nerves."
Like the energy vampire he embodies, Colin Robinson has been an all-consuming role for Proksch. It has even sucked, and yet oddly given, life from roles the character actor has created his entire career. "I saw a tweet the other day about how Nate on The Office was also some kind of energy vampire in some respect," Proksch says. While Proksch is quick to point out people are "lumping in the kind of weirdos I play with energy vampires as a whole," there is a temptation to believe it is all a conspiracy to suck the world dry through the dry wit of a single role.
The actor shares a few characteristics with Colin, but it usually feeds a comic need. "I kind of enjoy making people feel uncomfortable," Proksch admits. "I find it very, very funny." Before indulging a resource-draining and time-consuming love of baseball cards on Better Call Saul, Proksch's alter ego fed off live broadcast energies. "I would go on these morning shows as this yoyoist named K-Strass," he says. "That is totally my sense of humor, where other people are uncomfortable but I am still the butt of the joke. I'm the idiot. So watching their actual normal reactions, that any human being would have, to this dolt, to me is really funny. So telling a bad joke is funny to me because I get to watch the reactions of people who actually think I'm an idiot or a moron, and that's endlessly funny to me."
The actor also spoke about some of the deeper mysteries surrounding Colin Robinson, like how old he is. Proksch says that "question varies from day to day." His character was supposed to be living with the "other vampires for a couple hundred years but then I was thinking, in the 'Ghosts' episode my grandma doesn't look that old at all, relatively. I feel like there's some explaining to do this next season."
What We Do in the Shadows is a series adaptation of the feature film created by Taika Waititi and Jemaine Clement, who occasionally drop by for guest roles. Clement's fluid invention is based on keeping actors on the threshold of their comfort zone. "He'll beg us to go off the script, like they did in the movie which was just outlined," Proksch says. "I think that's what he would love to have on the show, is to have it be 100 percent improvised." Proksch doesn't see that happening "because we personally, the actors, love the scripts." He says What We Can Do in the Shadows "is 40% or 30% improvised."
During the sophomore season, Colin gets promoted to boss at an office of a company he knows nothing about. He booked the Nadja & Laszlo singing duet into an open mic night, and fed off them like Colonel Parker fed off Elvis Presley. He also trolls a Troll.
What We Do in the Shadows season 2 ends with the Staten Island quartet on trial for the murders of Baron Afanas and Countless others by the Vampire Commission, a commission Colin himself sits on and should have been notified, preferably in triplicate. "Sometimes a joke is just a joke," Proksch admits. "Maybe it's because they found out my roommates killed another vampire or kicked him off because he was clearly draining them all the time."
What We Do in the Shadows airs on FX.