Reviews
What We Do in the Shadows Season 2 Episode 8 Review: Collaboration
Nandor gets a visit from an old familiar friend, and Nadja & Laszlo play their old familiar hits on the latest What We Do in the Shadows.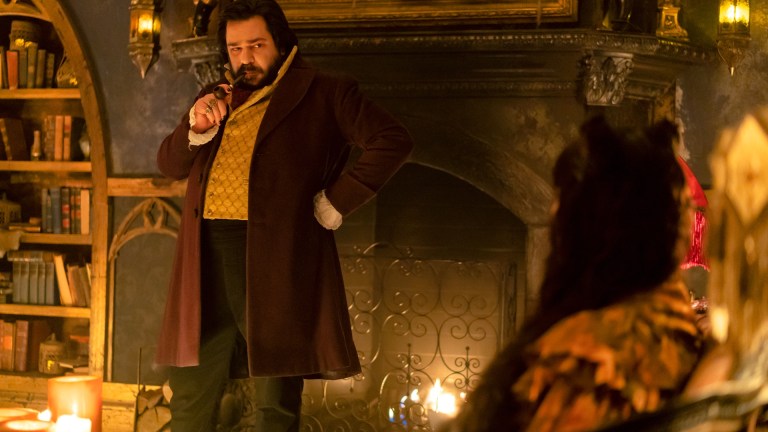 This What We Do in the Shadows review contains spoilers.
What We Do in the Shadows Season 2 Episode 8
This is what happens when you let your copyrights lag. What We Do in the Shadows season 2, episode 8, "Collaboration," sinks its teeth into the public domain. In the case of Laszlo (Matt Berry), who we only learned last week even played guitar, it's his old songs which are on the hit parade. For Nandor (Kayvan Novak), it's his familiar, who goes into the public domain of the lowest bidding, bottom-feeding le petit nouveau mort vampire.
The episode opens during meal time. Laszlo decides to dine al fresco in the park. When Mr. Fresco doesn't make it, Laszlo swoops down in bat form on the first jogger to pass. If this didn't happen in a comedy, the scene might actually be quite frightening, considering the implications that no one is safe after dark. But the true horror emerges from the distance. "Come on Eileen," by Dexy and his Midnight Runners, comes blasting from a car stereo. It, rightfully, puts Laszlo off his food, but for the wrong reasons. He actually wants to take credit for it. Vampires are indeed the damned.
Yes, back in the 1850s, practically no one was singing "Chum on Irene," the song Laszlo wrote to honor a local fishmonger's wife. But the Midnight Runners, whose name could be considered misleadingly cool to vampires, resurrected it from the cut 78 rpm bin to score heavy rotation on MTV, which was also misled about their cool quotient. Laszlo apparently wrote a lot of very catchy melodies which went on to lure better sets of lyrics.
Nadja (Natasia Demetriou), his wife and lives-long spiritual mate, usually wrote the lyrics for the duo Nadja & Laszlo. This was probably an improvement over Laszlo's verse, which sometimes rhymed words with themselves. Given Nadja's proclivity for candid sexual expression, it is not surprising that most of their tunes are bawdy songs. The tunes are all very familiar, "Row, Row, Row Your Boat" and "For He's a Jolly Good Fellow," one of which was tamed down from a masturbatory ode and the other a narcissistic anthem, but still a good melody is a good melody. Viewers may see them as their generation's Rodgers and Hammerstein or Bacharach and David, but they would be wrong. Nadja & Laszlo are closer to Marty and Bobbi Culp, the middle school music teachers Ana Gasteyer and Will Ferrell played on Saturday Night Live.
Laszlo also plays an impressive array of musical instruments. While it's no surprise someone can master so many in even one lifetime, much less the 300 years Laszlo has been tooling around, it is extraordinary how he consistently misnames them, like calling an accordion a chimp-grinder's wind piano. Some of their songs haven't aged so well, like a Nazi-era Olympics piece which addresses Hitler himself. At one point Nadja sings the lyric "Documentary crew, I want to eat you oh so bad." She performs this directly to the documentary crew, which has seen its share of perils. What We Do in the Shadows continues to pick at its own scabs for laughs.
Colin Robinson's (Mark Proksch) offer to get gigs for Nadja & Laszlo can be seen as very subtle commentary on the music industry. All personal managers and agents have a bit of vampire in them. Last week, it was revealed that Elvis Presley was kept alive as a vampire. But it was his manager who was the vampire. Colonel Parker sucked the lifeblood out of his client, and made him his familiar.
Benji, who did time as Nandor's familiar until he got too vocal about wanting to be turned into a vampire, is quite a nice old man. He's not very bright, although that may be because all his memories were burned out until he got rekindled by a brain game app. The vintage photos from the seventies are very funny, if you believe a vampire's image can be captured on film. We see Nandor and Benji endorsing a Nixon/Agnew ticket, flashing peace signs, and sporting Conehead heads, all things we associate with 70s vampires. Guillermo (Harvey Guillén) has a wonderful aside, however, breaking to look at the camera crew when Benji says he was high on drugs and "talking ragtime" when the woman who became his wife found him and saved him.
After his memories come back, Benji wants Nandor to fulfill his promise. He wants to be a vampire. He is still very nostalgic about the closet he used to sleep in and pillow he jerked off in, and Guillermo takes him to a Familiars Mixer to catch up with old friends. Benji remembers Colin Robinson as "that Dilbert-looking Guy." At the mixer, former-familiar and newly-turned vampire Celeste (Greta Lee) remembers Guillermo as "Elmo." This is a step up from Gizmo, the Muppet name Laszlo calls Nandor's familiar, but only because Celeste is a step closer to fulfilling Guillermo's dream. He also wants to be a vampire, and would kill for a pull on Celeste's blood-vape.
Celeste's former master has been a twelve-year-old vampire for over a hundred years, and the newly turned bloodsucker comes into the darkness as a true idealist. Celeste creates a vampire paradise with the bloodsucking arts performed as interpretive dance, rendered as origami, and even vampire math. Familiars don't have to call their masters "master," and she promises a faster turnaround, at about eight months. Guillermo is sold immediately. He may have categorized the Familiar Mixer as a place for sad hookups, which we see in one of the show's patented clip gags, but he is unable to resist the lure of a happy never-ending.
Guillermo wears his desperation openly. We see him look at Benji, who has been waiting to be turned into a vampire for over 40 year and continues to hold out hope, and calculate his chances for an extended stay. Harvey Guillén is a master of telegraphing the things his character chooses to hide. When he's disappointed, he has no brave face. Nandor is more open about his subterfuge. He expresses it plainly. When he does not want to hear Guillermo open up about his problems, he tells him "if it's difficult to say…" hoping he can stop the familiar from getting too familiar. He can't. They do. In spite of the menacing vampire curse Nandor inflicts on the little man: "From Panera Bread you came. To Panera Bread you shall return."
This episode also sees the return of Sam, a brilliant familiar in the improbable body of a cat. We accept his accomplishments because they are too ludicrous not to be true. Of course the cat-familiar can set up a whole coming out party, except for ordering from Shake Shack. A familiar's life is ultimately a sad existence, as we see Benjie toiling away despite back trouble, or trying to gain Nandor's appreciation by showing him endless thumb-selfies.
Nadja & Laszlo's concert, at a local open mic night, is appropriately cringe-worthy. For centuries-seasoned performers, it takes them forever to read an audience. This is, of course, wonderful for their booking agent Colin. But just when it looks like they will have to perform either a mass hypnosis or a mass slaughter, they find their magic. It comes in the form of an 18th Century sea shanty they wrote which, luckily, the Beach Boys stole for a recognizable hit single. The cringes rise to almost intolerable levels when the audience joins in.
"Collaboration" is, ultimately, a very sweet episode, and not only because Nadja & Laszlo finish their performance with a killing spree, which occurs off camera. It also solidifies the relationship between Guillermo and Nandor, who reluctantly learns to appreciate and even reward his familiar. It appears Nandor has forgotten all about Guillermo's recent vampire-killing faux pas. We don't know how long Nandor will remember his promise to his possibly future blood-kin. He is not known for his information-retention. But, after the well-deserved feeding frenzy Celeste's gathering became, it's nice to know both Guillermo and Sam are survivors.