News
Game Of Thrones' Peter Dinklage and Jason Momoa to Star in Vampire Movie
Peter Dinklage and Jason Momoa will play conmen with a supernatural twist in the upcoming vampire buddy picture Good Bad & Undead.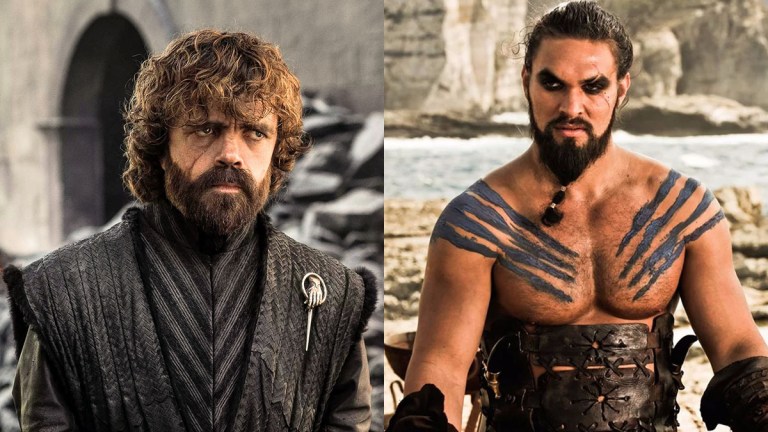 Peter Dinklage and Jason Momoa, the smartest and the strongest characters on Game of Thrones, respectively, are teaming up for something which will probably be sillier, weaker, and more fun than a dozen Red Weddings: a vampire buddy movie. Indeed, the pair are set to star in the upcoming action horror film Good Bad & Undead, according to THR.
Dinklage's Tyrion Lannister and Momoa's Khal Drogo never shared a scene on Game of Thrones, but they were kind of brothers due to their relationship with a dragon of a mother, Daenerys Targaryen. In Good Bad & Undead, Dinklage will play Van Helsing, the "last in a long line of vampire hunters," according to the official synopsis. Momoa plays a vampire who has taken a vow to never kill again. They partner as scammers, running from one town suffering from a vampire problem to another. Momoa's Vampire gets to town first, throws a scare, waits until there is a huge bounty on his head, and then the Van Helsing descendant shows up to vanquish him and collect the reward money.
The idea appears to set Midnight Run, which starred Robert De Niro as a bounty hunter taking Charles Grodin's criminal accountant to trial, in a Bram Stoker world. In that 1988 film, the bounty hunter had some stiff competition. In Good Bad & Undead, the reward on the vampire's head will get so big, "Everything in this dangerous world full of monsters and magic is now after them."
Good Bad & Undead is based on an original idea by Mark Swift and Damian Shannon (Friday the 13th, Freddy vs. Jason). The film will be directed by Max Barbakow, who helmed the Andy Samberg-Cristin Milioti film, Palm Springs.
Momoa, who played the title role in the billion dollar movie hit, Aquaman, will return as the DC superhero in a sequel set for release in 2022. He will next be seen as Duncan Idaho in Legendary's Dune film, directed by Denis Villeneuve. He recently starred in Netflix's Frontier series and Apple TV+'s See.
Momoa and Dinklage are also set to produce Good Bad & Undead. No release date or additional casting has been announced.