News
Taika Waititi Pilfered Lord of the Rings Props for What We Do in the Shadows
In a genuinely scrappy maneuver, Taika Waititi borrowed Lord of the Rings debris to make What We Do in the Shadows a bloody good time.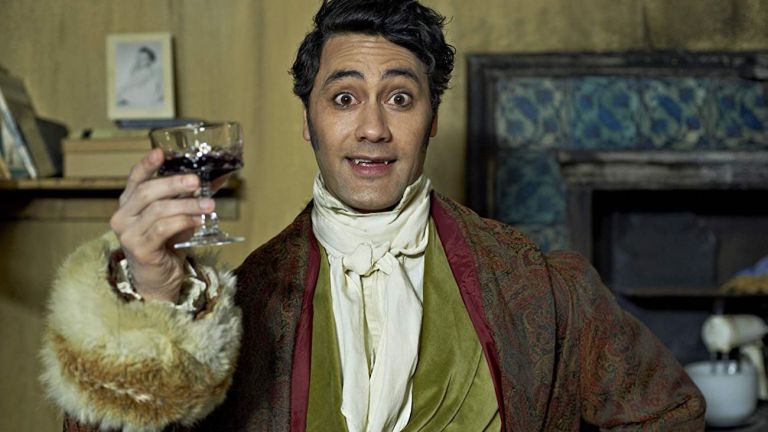 Before What We Do in the Shadows was a series on FX, it was an independent film comedy shot in New Zealand, and written and directed by Jemaine Clement and Taika Waititi. The pair more recently created the series and still occasionally direct episodes of the show, but Waititi's schedule is getting awfully full these days, especially now that it's been announced he will direct and co-write the next Star Wars movie, one of the biggest potential popcorn sellers currently in the world. But it hasn't been long since the scrappy stand-up turned filmmaker had to scrimp on budgets to make his films. Back in the day, he and Clement would make their own costumes and props, and rig their own special effects. For What We Do in the Shadows, Waititi even went to special effects house Weta Workshops and offered to take out their Lord of the Rings and other assorted Middle-earth trash that never got used.
Waititi confirmed as much when he talked about his relationship with the Star Wars universe in the new eight-part docuseries, Disney Gallery: The Mandalorian. Long before he directed an episode of The Mandalorian's first season, it turns out What We Do in the Shadows brought him close to another popular geeky property.
"All of my first three films were super low budget," Waititi said. "We're talking about recycling things. Like on What We Do in the Shadows, we said to the workshops, like to [costume designer Richard Taylor], 'Is there anything you rejected from Lord of the Rings, like creatures you thought you might want to use and then just rejected?' And they were like, 'Yeah, this is the crap that no one wants.' And I was like, 'We'll take those!' Old teeth, old elf ears that had been discarded. 'Oh we'll make it a cool vampire with pointy ears!' So I'm used to making do and smoke and mirrors and illusion."
Waititi didn't start directing movies until he was in his 30s, so it might be a bit ironic he boarded Mandalorian as the show's most seasoned director. Megan Crouse's review of Star Wars: The Mandalorian's "Redemption" episode calls his direction "self-assured, clear-eyed." Low budget filmmaking tends to teach auteurs how to make the most of whatever they have at hand, and a keen vision for changing tact and improvising to get what moves a story best.
Perhaps though it shouldn't seem such a leap between vampires and elvin prophecies. After all, before he was a vampire, "Dracula" referred to Vlad Tepes, a medieval knight who wouldn't be out of place in Middle-earth, albeit more on the side of Mordor. And just as the novel Dracula arguably inspired a fellowship of English lads going out to save the world, so did it inspire Clement's Vladislav in the What We Do in the Shadows movie, and his toothy American cousin Nandor (Kayvan Novak) on the FX TV series. So who says their blood isn't already intertwined? Some people–and we use that term lightly–believe you gain strength from drinking the blood of an enemy, and the cinematic cannibalism certainly empowered What We Do in the Shadows.
Disney Gallery: The Mandalorian debuts on Disney+. What We Do in the Shadows airs Wednesdays at 10 pm on FX.