Reviews
Warrior Season 2 Episode 10 Review: Man on the Wall
The Warrior season 2 finale leaves plenty of questions, especially if there will be a Season 3 with Cinemax ending production of every one of its original series, including Warrior.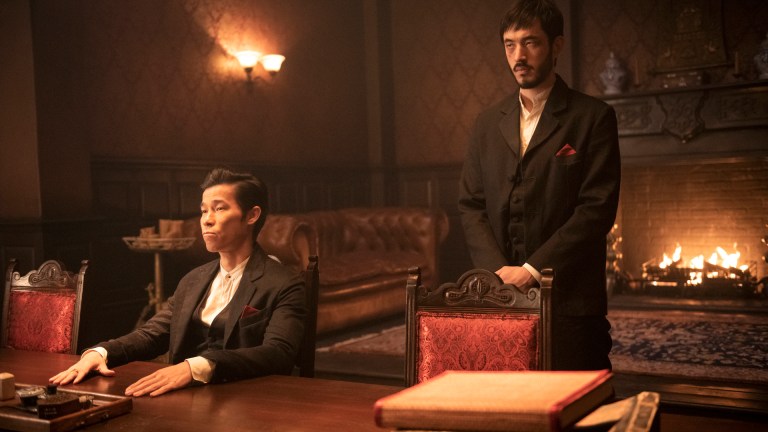 This Warrior review contains spoilers.
Warrior Season 2 Episode 10
After the brutal depiction of San Francisco's Riot of 1877 in the previous episode, the Warrior Season 2 finale feels more like an epilogue. There's lots of ruminating over drinks, a few cliffhangers to tease Season 3, and one long awaited fight. Since Cinemax abandoned its original programming, this may be the final episode of Warrior unless some other network picks it up. Hopefully, Warrior finds new life somewhere else because Season 2 leaves us hanging and wanting more.
This episode begins with the morning after the Riot. As Chinatown residents recover bodies and tend to their wounded, Mai Ling (Dianne Doan) surveys the damage and discovers that a two-story mural of Ah Sahm (Andrew Koji) has appeared. Clad in a wife-beater shirt with a nunchuck tucked in his armpit, it's a nod to Bruce Lee's look in The Way of the Dragon.
It's a key plot point teasing Ah Sahm's rise in power, but it's totally absurd. How the heck did anyone paint that huge mural before the bodies were even picked up? Nonetheless, the mural positions Ah Sahm's rise for next season. When he crosses paths with Ah Toy (Olivia Cheng) in front of the mural, she tells him "You're a symbol to your people."
Again, it's a nod to Bruce Lee and what he means as a global icon and the first international Asian superstar. "We need a hero," continues Ah Toy, "someone to remind us who we are, and who we could be."
As the SFPD copes with their injured, Lee (Tom Weston-Jones) turns in his badge and gun. O'Hara (Kieran Bew) tries to talk him into staying with the force, but it's to no avail. After that, there's a dueling bar scene for the former police partners. At the Banshee, O'Hara drops in to find Leary (Dean Jagger) beating up the bar piano. They have a drink. Meanwhile, Lee returns to the bar that drugged him for another drink from the bartender, Abigail (Gaosi Raditholo). The bar scenes interlace but the results are completely opposite: Leary calls out O'Hara for collecting for the Chinese and threatens an inevitable reckoning while Lee and Abigail have sex. Later, Lucy (Emily Child) shows up at O'Hara's home to check on him after the riot but says she isn't coming back. O'Hara confesses his shortcomings to her and asks forgiveness.
Back in Chinatown, Father Jun (Perry Yung) and Young Jun (Jason Tobin) survey the riot damage too. Father offers his son some wisdom and Young Jun apologizes for how the transition of power went down. It's a solid scene – Yung and Tobin deliver a poignant father and son scene, offering some insight to the intricacies of their crime family dysfunction. "It's your show now," says Father Jun.
Buckley (Langley Kirkwood) talks about expelling Chinese to some businessmen at a gentlemen's club. Penny (Joanna Vanderham) barges in to confront Buckley about Jacob's (Kenneth Fok) lynching but Buckley blows her off. Penny is furious and leaves. Later, she goes to the newspaper reporter Raice (Martin Munro) with the story of Buckley covering up how Jacob defended her against her husband's attack in hopes of besmirching Buckley. But after that, Raice goes to Buckley's office and shows him the story. Buckley pays him off to kill it. Apparently, manipulating the press is something Buckley has been doing all along. After that, Penny confronts Buckley once more in his office about killing the story. Buckley stabs himself to frame Penny. In a later scene, Buckley shows up in the mayoral mansion and tells Sophie (Celine Buckens) that Penny stabbed him. Penny wakes up restrained and screaming in an insane asylum, which is where she is left at the end of Season 2.
Ah Sahm and Young Jun reflect on the riot at Ah Toy's bordello. Then Ah Sahm goes to Ah Toy's boudoir to tend to her wounds. Nellie (Miranda Raison) arrives and takes over, surprising Ah Sahm when sees the intimacy of their relationship. Later, Father Jun packs his bags and leaves Chinatown. He sees Chao (Hoon Lee) as he's leaving and tells him to tell Young Jun. They bow a respectful goodbye.
Young Jun takes an audience with Mai Ling and Li Yong (Joe Taslim). Mai Ling reveals that Ah Sahm is her brother, which infuriates Young Jun. Angry at being deceived for two seasons, Jun punches Ah Sahm in the face. Hong (Chen Tang) tries to placate things between his two Hop Wei brothers, but Young Jun remains uneasy. Later, Young Jun continues to question Ah Sahm's loyalty but realizes they've been through too much together already. Jun says, "The battles you choose not to fight are every bit as important as the ones you do." Nevertheless, their trust is broken. He asks for advice from Hong. He tells him that there might not have been a right path.
Ah Sahm ponders his Bruce Lee mural some more then goes to visits Leary in the Banshee. The scene cuts Ah Sahm sitting at a table surrounded by some Irishmen that he knocked out off camera. Leary joins him and they drink together. Then it's Leary versus Ah Sahm in the Banshee back alley in an old-fashioned fight. There are a few kicks but lots more haymakers to the face until Ah Sahm drops Leary with a Fist of Fury like punch. Ah Sahm tells the Irish that he'll come back with an army if they mess with Chinatown again, and then walks back to Chinatown all bloody in the San Francisco rain.
Mai Ling finds Buckley while he's trolling the streets for prostitutes. She shows him the photo she acquired of him posing with fellow soldiers in front of a confederate flag. She threatens to use it as blackmail, demanding his support, and tells him, 'I want blood in the streets.' Later at a governmental meeting, Buckley proposes shutting down Chinatown reviewing laundromats, maximum occupancy of homes and regulation of brothels, all of which were genuine historical acts deployed to oppress the Chinese. For Buckley, it's about battling the Hop Wei. Leary shows up and says, "I'm Dylan Leary and I'm here on behalf of the Workingmen's Party of California."
This is a major tell. The Workingmen's Party of California was a real organization that was pivotal in the oppression of American Chinese. The founder was a racist demagogue, an Irishman named Denis Kearney who is the inspiration for Leary's character.  
Young Jun sees the Ah Sahm mural. Their relationship has been key to the entire show so placing that in jeopardy is a harsh season finale cliffhanger. In the final scene, Zing (Dustin Nguyen) is in prison, starting to loosen the bars.
Whether that cliffhanger will ever be resolved or not is another matter. Warrior Season 3 seems unlikely to happen at the moment, but perhaps one day we'll get closure for this story. To the cast and crew of Warrior, thank you for reminding us who we are, and who we could be. Thank you for keeping Bruce Lee alive. Bruce Lee Forever!