Reviews
War of the Worlds Episode 7 Review
The survivors make a breakthrough and say another tragic goodbye in the penultimate War of the Worlds season one episode…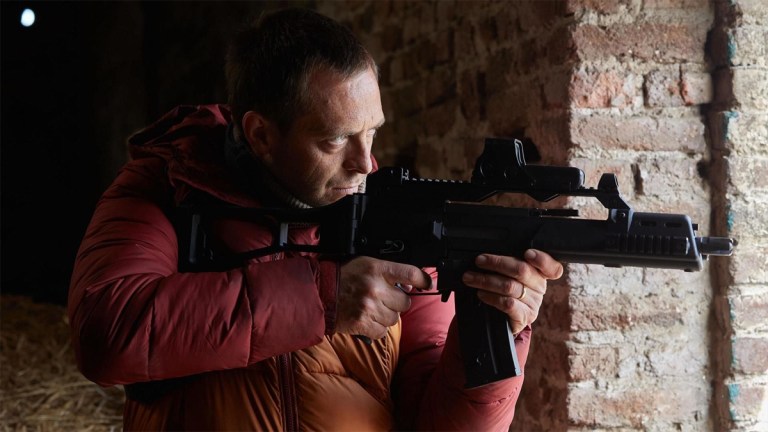 This War of the Worlds review contains spoilers.
War of the Worlds Episode 7
What was absent from War of the Worlds' atmospheric early episodes – distinguishable characters, convincing relationships and human warmth – is in good supply at this end of the series. Back then, with a global invasion to stage and a quadrupedal alien menace to establish, there wasn't also room for the kind of intimate two-person scenes that made up most of this episode. With the survivors ensconced together in just a few locations, the creators have made good use of the opportunity to build intimacy.
We saw that this week in Catherine and Sophia's relationship, which was made to feel satisfyingly lived-in. The introduction of Sophia's new charge Theo (another monolingual Brit among fluent-in-English Frenchies. When the apocalypse is over, the UK seriously needs to rethink our Modern Foreign Languages key stage provision) offered a plausible route to reflection on their own past in which Catherine had to raise Sophia after their parents died. Nothing was overplayed and the performances were kept subtle, with Lea Drucker's Catherine saying little but conveying a lot.
After the tension-filled recap of Sophia's route to the observatory, which did the important job of reminding us of the lethal threat the dogs once represented (re-established by the tragic end of the episode) the penultimate hour was focused on relationships. Helen and Sarah discussed their husbands. Bill and Tom discussed Tom's dad while developing their own patchy father-son relationship. And after prompting from Sophia, Catherine and Col. Mokrani shared a tender love scene.
That seemed to shake loose a theory for Catherine, prompted by watching the migratory flock fly in formation earlier in the episode. The aliens are like birds, she hypothesised, harnessing the quantum properties of their cells. They're connected via low-frequency waves which enable them to feel what each other is feeling (hence Emily and Sacha's continent-crossing connection). Disrupt those waves and potentially, voila! A weapon! It'd be like poking out their eyes. Now, she and Mokrani just need to test the theory.
He's a man of few words, Colonel Mokrani, but what he says is worth hearing. Strong, brave, instinctively moral and ready to answer any calls for help, Adel Bencherif's character is the closest War of the Worlds has to a classical hero. His and Catherine's new relationship bridges a divide between two isolated individuals to whom work has been everything. It may sound trite in the context of all this misery and death, but as Sophia found out with her new sobriety, perhaps the end of the world does have its upsides.
Speaking as someone who's been hurt by TV in the past, sad, brave Mokrani finally finding solace with Catherine does put him in the danger zone, narratively speaking. If he meets his end rescuing Sophia's ski resort pals next week, it'll hurt considerably more now, which is surely the goal of any show that bothers to humanise its characters in this way. As Helen's bloody death proved this episode, nobody is safe.
Helen – who only really came into her own last episode with her screw 'em attitude and ballsy supermarket car park escape – will be missed. In that group scene in which Kariem urged them to move on from the lab, she quickly ascended to the role of de facto leader, taking charge and decreeing a compromise. Her death was a shock, and coming after Bill's confession, an emotionally complicated exit. Helen died hating Bill for lying about Chris – just another indication of this show's willingness to avoid the saccharine, comforting route, and embrace the complicated and distressing.
The same can be said about Sacha, whose lies, violence and sense of rejection by his mother clearly haven't magically disappeared because of the apocalypse. What's building now, in the complex divisions between the others and Sacha and Emily (she'll surely be blamed for Helen's death, even though she tried to stop it) is fodder for a second run of this quietly compelling series, one in which the divide is no longer as simple as humans vs aliens.