Features
War of the Worlds Director on the Significance of Emily's Tattoo
Director Richard Clark on the discovery made in the War of the Worlds finale. Spoilers ahead…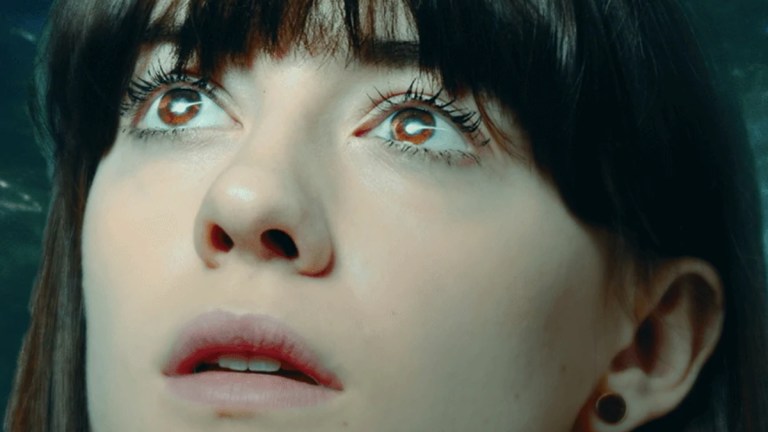 Warning: contains War of the Worlds finale spoilers.
As delved into in our explainer, the War of the Worlds finale left viewers on a cliff-hanger that raised several questions. Big, story-bending, 'but then does that mean…?' consequential questions.
In episode eight, Emily (Daisy Edgar-Jones), the young Englishwoman whose eyesight had been lost to a genetic condition, had her vision restored thanks to her mysterious connection to the alien invaders. To discover more about that connection, Emily allowed the aliens to lead her into the heart of their ship where she discovered a creature plugged in to a series of ventilator tubes.
Den of Geek asked finale director Richard Clark (read the full interview here) what it was all about.
What has Emily had discovered inside the ship?
What Emily hasn't discovered is an alien in the form that we might have imagined. The creature, the alien, definitely has humanoid characteristics and also clearly has an identical tattoo to the one that Emily had tattooed on her in the opening of the first episode.
There is clearly a definite significance to that, an importance that I think series one alludes to. Clearly Sacha (Mathieu Torloting) and Emily have a particular and unique and strange relationship with these aliens that they don't understand, that they seem to share.
How did you go about casting Vikings and Game of Thrones actor Jonathan Gunning as the 'alien'?
Not an easy one to do. It was important that he looked both humanoid and also 'other'. We had a lot of discussions about how to strike that balance. In terms of our story, how far can you strain from that before that becomes something else? What will the audience and won't they read given the context of what's going on in the show? We had a lot of discussion about how to make sure that at the end the alien was read as humanoid. So casting was tied up in those discussions.
I was particularly also drawn to his vulnerability. There's a slight pitiful quality to him, I wanted it to echo the dogs in [episode] five, there was a sadness about him and a slight tragedy to him.
War of the Worlds series two has not yet been officially announced. How many series are being envisaged to tell this story?
Howard [Overman, creator] came up with this with a vision for an overarching story that as far as I'm aware has a limited number of series. Even as we shot episode one, I was aware of the overarching story and we discussed what that was and what information to reveal when. There's definitely an overarching story.
A second series is already being sketched out and plotted. Hopefully there's enough enthusiasm to go to a second series. We'll wait and see whether that happens!
Finally, can you promise that the incubator babies will all grow up to live long happy lives?
Of course they will! [Laughs] Of course. You've watched the show, what else would we possibly do with the babies?! What sort of show would do harm to small babies, eh?
Exactly
The entire season of FOX's War Of The Worlds will be available on Sky / NOW TV / Virgin Media and Talk Talk until 16th May.