Features
WandaVision: What Big Marvel Cameos Could Happen?
WandaVision star Elizabeth Olsen has hinted that there will be a huge cameo in the Marvel series, and it's reportedly one we'll never see coming. Challenge accepted!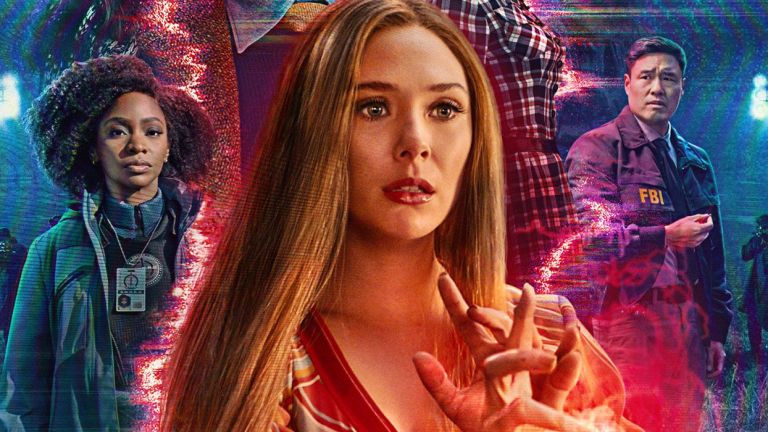 This article contains spoilers for WandaVision and the broader MCU.
During a recent interview, WandaVision star Elizabeth Olsen teased that we're about to see a Mandalorian-level cameo happen in the Marvel series. Without fully spoiling the cameo she was referencing, it was a fan favorite from the Star Wars franchise who emerged in Mando's Season 2 finale.
WandaVision featuring some notable guest stars hasn't been a massive secret up until now, and a report that arrived way, way ahead of the premiere suggested that Evan Peters was about to enter the Marvel Cinematic Universe, though it wasn't known if the actor would play the X-Men version of Pietro Maximoff/Quicksilver or not in the Disney+ show.
Olsen's WandaVision co-star Paul Bettany built yet more hype around one particular addition to the series – possibly someone different to who Olsen was thinking of – and it didn't really seem like he was talking about Peters.
"I work with this actor that I've always wanted to work with and we have fireworks together, the scenes are great and I think people are going to be really excited," Bettany told the Lights Camera Barstool podcast. "I've always wanted to work with this guy and the scenes are pretty intense."
Bettany also acknowledged some surprises from WandaVision had already leaked, but that the series was building up to a massive finale. "There were more special effects requirements for our TV show than there were for Endgame."
WandaVision creator Jac Schaeffer wasn't keen to reveal who either Bettany or Olsen were referring to, but confirmed to TVLine that "there are so many surprises left in store" and that fans should settle in "because there's more coming."
Let's have a look at some big potential cameos that could happen in WandaVision's second half. Judging by Bettany and Olsen's comments, they could be brand-new to the MCU or returning stars.
Aaron Taylor-Johnson as Quicksilver
Though Evan Peters' inclusion in WandaVision is practically a dead cert at this stage, the opportunity to bring Aaron Taylor-Johnson's MCU version of Pietro Maximoff back for a cameo in the series could result in a much deeper connection to Wanda herself. The seeds of a potential Pietro return were sown in episode 3 of the Marvel spinoff series when Monica Rambeau – posing as 'Geraldine' – accidentally jolted Wanda out of her sitcom daze and back to reality by mentioning that her twin brother had previously been killed by Tony Stark's villainous murder-bot, Ultron.
Benedict Cumberbatch as Doctor Strange
We've been told that the events of WandaVision and Marvel's Doctor Strange in the Multiverse of Madness are directly connected, so the most reasonable assumption when it comes to a big upcoming cameo is that Stephen Strange will arrive at some point to tackle the mystical wildness going on in Westview.
But since there's been chatter about Cumberbatch appearing in the show for some time, Strange being part of the proceedings wouldn't be either a massive surprise or a particularly thrilling reveal at the end of the day, would it?
Hugh Jackman as Wolverine
Logan was confirmed to be Hugh Jackman's swansong as his iconic X-Men character, but how hard would Marvel Studios have to push to get him back in action as Wolverine in the MCU? Kevin Feige hasn't really shown any signs of tackling the X-Men again just yet, nor in fact mutants in general as part of the MCU's reality, so Jackman reprising his role here would be firmly placed in the "unlikely" column.
Ryan Reynolds as Deadpool
Could Ryan Reynolds make a tongue-in-cheek cameo as Deadpool? It does seem like a longshot. The meta setup of WandaVision is arguably the perfect place for Wade Wilson's antihero to pop up and deliver a few fourth wall-breaking lines to camera, but the chances of Deadpool appearing so far in advance of his own MCU sequel feel fairly slim. Still, we'd love to see the Merc with a Mouth take stock of these strange sitcom scenes – where would he even start?
Michael Fassbender/ Ian McKellen as Magneto
For quite a while in Marvel Comics, Wanda Maximoff was thought to be the daughter of on-off X-Men villain Magneto, played by both Michael Fassbender and Sir Ian McKellen in Fox's movie franchise. Wanda's backstory has since been retconned, but there's a sly joke about Evan Peters' Pietro Maximoff being Erik's son in the X-Men films. Could they re(re)retcon Scarlet Witch's origins to bring back Magneto in WandaVision?
Er, we can likely put this on the Probably Not pile.
Mads Mikkelsen as Kaecilius
Kaecilius bid the world an unhappy farewell during the climax of Scott Derrickson's Doctor Strange solo movie. The former Master of the Mystic Arts accidentally got his wish granted to live out the rest of eternity as part of Dormammu's non-stop torment party in the Dark Dimension thanks to Doctor Strange's time loop shenanigans, but fans of the actor who played the villain – Mads Mikkelsen – thought that dispatching him so early on in Strange's evolution was a bit of a mistake. After all, why have just one injection of beloved Hannibal star Mikkelsen on screen when you can have, well, a lot more than one?
So, could Wanda messing with reality give Kaecilius an opportunity to escape Dormammu's clutches and finally have his revenge? Hmm.
Patrick Stewart/James McAvoy as Charles Xavier
Much like Magneto, Charles Xavier has ties to Scarlet Witch in the comics, and if Wanda breaks down the walls between realities too far, we could start to see them bleed into each other, paving the way for an X-Men introduction in WandaVision. It'd be delightful to see either of these Professor X actors make a cameo during the show's final episodes, but it could be quite far-fetched.
Robert Downey Jr as Iron Man
Robert Downey Jr appeared confident that he was completely done playing Iron Man in the MCU when Phase 3 wrapped up in 2019, but there could surely be no bigger surprise cameo in Disney+'s first Marvel spinoff series than an unlikely return by Tony Stark.
The question is, how could Iron Man possibly come back in WandaVision after he sacrificed his life at the end of Avengers: Endgame, and would it conceivably lead to more appearances by Downey Jr down the road?
Speaking of further appearances from someone we thought had left the MCU for good…
Chris Evans as Captain America
Deadline had some surprising news back in January when it published an exclusive report that claimed Chris Evans was in talks to reprise his role as Captain America in the MCU. It was teased that Steve Rogers could return in various future Marvel movies and shows as a sort of mentor for some of the other characters going forward.
It's arguably way too early for Evans to show his face in WandaVision, and since Olsen and Bettany indicate that their show's big cameos have yet to leak, Evans being "the one" should be put on the furthest backburner for now.
Keanu Reeves as Take Your Pick
We don't yet know if WandaVision's huge cameo will be from an already-established MCU character, though reports likening it to that of The Mandalorian's season finale showstopper certainly indicate that it could be. This could all be a little sprinkle of distraction from Olsen and co., however, and a way to keep our minds off the introduction of a new villain who will connect the series to Doctor Strange 2.
Mephisto, Grim Reaper and Nightmare could all be nefarious additions to the MCU in Phase 4, and who better to play one of them than everyone's favorite puppy avenger, Keanu Reeves? Reeves was close to joining the MCU in 2019's Captain Marvel as Yon-Rogg before Jude Law landed the part. Has the in-demand actor continued to hold out for a meatier villain role?
Tom Cruise as Iron Man
Rumors that Tom Cruise has been desperate to join the MCU have been circulating for what seems like aeons. We doubt the man's hurting for cash, but he did have designs on the Iron Man role before Downey Jr laid his claim, and there were definitely whisperings around the time of production on WandaVision that Marvel was trying to tempt Cruise aboard as an alternate reality version of Tony Stark for an appearance in Doctor Strange in the Multiverse of Madness.
Since WandaVision sets up the events of the now-filming sequel, could it be Cruise's brief appearance that Olsen and Bettany are excited about us seeing? Bettany did describe filming with the actor in question as "intense" and that certainly lines up with the experiences other people working with Cruise have had to date.
Have you thought of any other potential suspects who aren't listed here? Let us know in the comments.