Features
The WandaVision Theme Song is Stuck in Your Head Right Now
Disney+'s first Marvel effort, WandaVision, features a whole host of TV theme songs, but one in particular has the Internet humming along.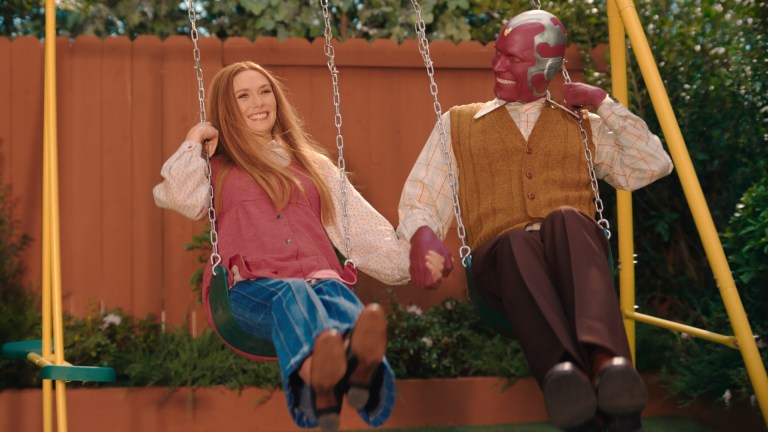 What's a classic TV sitcom without a catchy theme song?
While Marvel's first TV effort, WandaVision, is not a classic (yet) nor a sitcom, it does seek to lovingly recreate beloved TV legends like The Dick Van Dyke Show, Bewitched, The Brady Bunch, and more. And to that end, it's brought in a pair of songwriting titans to pen some irrepressible jingles.
Before breaking the pattern in the world-expanding fourth episode, WandaVision's first three episodes were each accompanied by a new tune to play over the opening credits. Each of these theme songs closely mirror the style of that episode's respective decade. The first is a sunny '50s number featuring lyrics like "She's a magical gal in a small town locale. He's a hubby who's part machine." The second is a largely lyric-less take on the bubbly Bewitched opener. The third is a very expository '70s tune.
Each song is written by EGOT award-winning (Emmy, Grammy, Oscar, and Tony) duo Robert Lopez and Kristen Anderson-Lopez (Frozen).
"The lovely thing is that we didn't really have to do any research because we are Gen X-ers, so we grew up watching these sitcoms from every single generation," Anderson-Lopez told EW. In that same interview, the pair reveal that, though each song is different, they all have the same recurring motif of a four-note "Wan-da Vis-ion!"
Despite there being three perfectly good songs to choose from, the Internet has decided recently there is but one definitive WandaVision theme song – and it's the jingle from episode 2 "Don't Touch That Dial." This largely instrumental homage to Bewitched is ludicrously, almost criminally catchy. One it's in your head, there is absolutely no getting it out. It's going to stay in there indefinitely, deleting memories of your first kiss or seeing Hamilton on Broadway to free up brain storage as needed.
As of press time, it is the first result for "WandaVision theme song" on YouTube, easily edging out its other two song brothers. Over on social media, the "Don't Touch That Dial" tune also reigns supreme. Twitter is all too happy to discuss the particulars of how hard it slaps.
On Tik Tok (also known as "no country for old men"), the teens have made their preference for WandaVision's official theme song clear. And wouldn't you know it, it's the Bewitched one.
Dread it. Run from it. The WandaVision theme song arrives all the same.