News
Could a Walking Dead Negan Sequel Happen?
Jeffrey Dean Morgan wants to continue playing Negan after The Walking Dead wraps, but will the character survive long enough for that?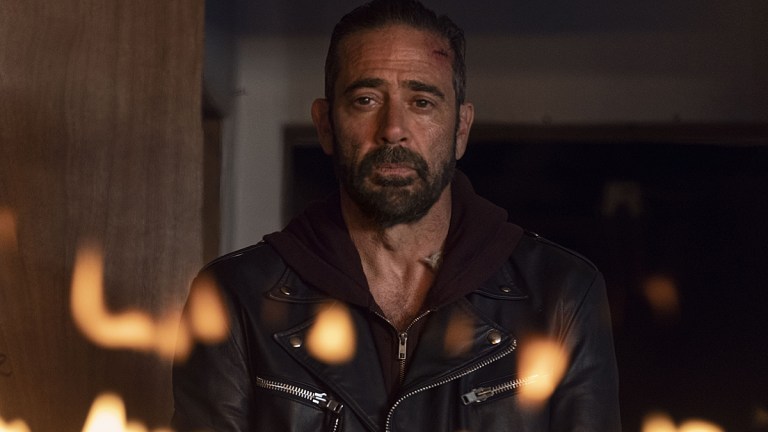 If there's a clear theme permeating the early, Alexandria-focused episodes of The Walking Dead's extended eleventh and final season, it's that Negan seems to be a dead man walking. While proving useful since he was freed from years of incarceration, his survival seemingly hinges on sticking with a group whose leadership still carries traumatic memories of his many sins, notably the night he—with a cruel comedic flair—brutally bludgeoned their loved ones to death with a barbed-wire baseball bat. However, Jeffrey Dean Morgan seems intent on continuing to play the character beyond the show's endpoint, despite his diminishing chances.
Morgan has been playing the sardonic Svengali survivor for over five years, having debuted in a most impactful way—figuratively and literally—in The Walking Dead's Season 6 finale for a cliffhanger moment that became a cynically controversial waypoint for a significant population of the show's viewers. Yet, despite being the character embodiment of a divisive moment, Negan's arc has made quite the evolutionary curve over the years, going from the powerfully villainous leader of the Saviors to downtrodden-but-dangerous prisoner to his current status as an alienated group member who, despite his best efforts to gain acceptance—notably killing enemy leader Alpha—remains a pariah. In fact, his abrupt execution remains firmly on the table by leader figures like Maggie and Daryl, especially in the wake of a recent moment of recidivism, in which Negan left Maggie to a herd of walkers (she survived). Yet, Morgan expressed to TV Line that he still sees a substantive future with Negan.
"I do love Negan," says Morgan. "There's an amazing opportunity to dive a lot deeper into this man who I think has become very interesting the last few years. I'm certainly not opposed to keeping him alive for a bit longer and finding out more about him."
Of course, said opportunities potentially lie with the lofty plans that AMC revealed last year for content beyond the endpoint of The Walking Dead mothership series, which ends its legendary, decade-plus run sometime in 2022 with Season 11, Episode 24. Most pertinent among them is the planned anthology series, Tales of the Walking Dead, which will not be chronologically bound by the events of the final season, thereby facilitating episodes centered on long-dead characters, one of whom by that point could be Negan himself. However, Morgan also teases the possibility that Negan could even get his own spinoff, a move that would mirror the still-untitled Daryl & Carol sequel series. That show will chronicle the post-series-finale exploits of the franchise OG characters, who are expected to ride a motorcycle across unexplored areas of the contiguous post-apocalyptic United States; a move that essentially endows them with plot armor for the duration of the final season.
"There've been things discussed with me and network people," teases Morgan ever so carefully on the potential of a Negan spinoff sequel. "We'll see. I mean, Negan could still find his way six feet under [before Season 11 concludes], so that could be a problem unless it's a prequel." Indeed, with AMC's airing (not counting AMC+ advance releases) of The Walking Dead's final season currently only three episodes into its grand total of 24, the task of survival will especially become a marathon-like haul for Negan, given his current status.
Yet, notwithstanding the possibility that these interview comments are a red herring for Negan's imminent death in Season 11, something seems to be motivating Morgan's clear desire for a prospective future past the main series, lending the comments a sense of earnestness. Indeed, he makes a minor disclosure about the extent of his knowledge for The Walking Dead's future events. "[T]here are still stories to be told with Negan," he states. "I kind of know how the season has worked itself so far, and we're cracking open windows here and there that would lend themselves to more [of] Negan story."
Tellingly, the alleged discussions that Morgan had about Negan's future don't seem to center on the character's past, which was showcased prominently—albeit in an incomplete manner—in this past April's Season 10 finale, "Here's Negan," which was an adaptation of creator Robert Kirkman's 2016 comic book miniseries of the same name. That's because Morgan is more interested in Negan's future—at least, in the event that he actually has one—rather than the open-book nature of his past. "I'll be very honest with you, if I was to do more, I would like to move forward with the story and not backward," he states with frankness. "We've shown these different sides of Negan over the past few years. Now, I'd like to see, after this ends, what happens to him next. I find that possibility to be a lot more interesting than going back in time."
Preference aside, Morgan isn't entirely dismissing the idea of revisiting Negan's past for a post-series reprisal of some kind, seeing as "Here's Negan" left an open field for most of his early apocalypse activities. With the contemporary-set plot of Negan's temporary escape from his Alexandria imprisonment as its center, the episode delved into flashbacks about his life during the onset of the undead apocalypse. Here, we saw the heretofore non-existent priorities of the loud-mouthed philandering gym teacher abruptly change into to a desperate attempt to keep his beloved cancer-stricken wife, Lucille (Morgan's real-life wife, Hilarie Burton), alive as the supply of life-saving chemotherapy drugs dried up. Thusly, when a group of bikers extorted Negan over the last supply, thereby leading to Lucille's death, a Heisenberg-like metamorphosis ensued, first via the revenge he extracted, and also by his incidental rescue of Laura (Lindsley Register), which gave him the misbegotten entitlement of being a savior, to whom tributes are owed, thusly serving as the basis for his eventual group's name and methodology. Interestingly, showrunner Angela Kang has expressed a desire to properly showcase the origin story of the Saviors at some point, be it as a run on Tales of the Walking Dead or some other method.
While the story retroactively remade Negan into a tragic figure, it's doubtful that Maggie, Rosita or Daryl—each of whom experienced his past big-bad-era firsthand in uniquely personal ways—will be able to conjure any sympathy for the man. In fact, the same could be said of segments of the fandom who—akin to Morgan—prefer to see the mythology move past plot points for which we already know the ending. "I loved what we showed [of his history] in 'Here's Negan,' but now we've done a lot of that story," he says. "We could do a short series on how the Saviors came to be, which would be kind of interesting, but I'm more looking forward."
For now, fans will have to follow along with The Walking Dead Season 11's weekly Sunday night run on AMC, and its advance premieres on AMC+, building toward a mid-October hiatus. Limited series spinoff The Walking Dead: World Beyond will start its second and final season on Oct. 3. Shortly after that, veteran spinoff series Fear the Walking Dead will shift focus to the Geiger-Counter-clicking literal fallout of its explosive season finale when Season 7 commences on Oct. 17.