Reviews
Utopia Review (Spoiler-Free)
Gillian Flynn's Utopia is both a satirization and celebration of geek culture that surprises at every turn.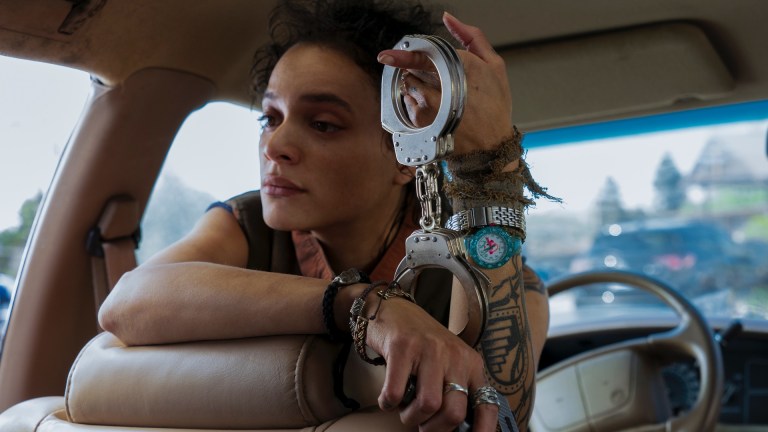 This Utopia review contains no spoilers.
Utopia subverts what we know about geek culture and uses it against its characters in a dangerous game that changes the world. The suspense drama shepherded by Gillian Flynn, the author best known for Gone Girl and Sharp Objects, will arrive on Amazon Prime on Sept. 25 to wage a bloody path through the viewers psyches. 
Based on a 2013 British black comedy of the same name, the American version of Utopia tells the story of a group of nerds who believe that the comic, also named Utopia, is based in fact. Wilson Wilson (Desmin Borges) is more paranoid than most when it comes to the comic and plays well against Samantha's (Jessica Rothe) utter conviction in the comic they're obsessed over. Ian (Dan Byrd) and Becky (Ashleigh LaThrop) believe in Utopia but are more interested in each other. And Grant (Javon Walton) is trying to find a home among people way older than him. This belief that Utopia is real separates them from other fans who think it's just a comic book but unites them as family when the boogeyman of the comic starts killing everyone who's seen its pages. Sasha Lane turns up as key figure Jessica Hyde and John Cusack lends his talent as Dr. Kevin Christie.
The addition of Rainn Wilson, best known for his role as The Office's Dwight Schrute, as biologist Michael Stearns is the icing on the mysterious cake. Particularly because there's a life lesson Dwight taught that should help with the mysteries of Utopia. It's not about who you most suspect or least expect; it's about who you medium suspect. 
One hesitation when it comes to Utopia is how close to home it hits. TV can be an escape for many, where the realities of the world take a backseat for a couple hours or days, depending on how fast you consume a show. The series is largely centered around a pandemic taking the U.S. by storm and its connection to the comic of the same name that everyone is after. The comic's pages foretold viruses, biowarfare, and man-made diseases. Initially that would make anyone hesitate when taking on the show. But ultimately the show is worth the investment.
Every page of Utopia is twisted, creepy nightmare fuel – both the comic and the series. And it's easy to fall into a rabbit hole where you're right there analyzing the comic among the characters. The experience of feeling just as conspiratorial and crazy as the characters is part of the show's appeal. There are hidden meanings even in the simplest of panels and as the story moves along and everything falls into place, you see the show's brilliance.
In fact, any genre fan probably wouldn't mind getting their hands on the comic book. It would be an amazing collection many could sit down and analyze for hours on end. And hopefully, Utopia catches on with new viewers so Amazon can publish these comic book pages themselves! A geek can dream, can't they? Plus, imagine the clues its pages would hold for season 2.
Utopia is also a constant "hold my beer" kind of show where the last moment is nothing in comparison to what happens next. The person you trusted? You shouldn't have. The villain you thought was the actual bad guy? Think again! And the person you thought would make it til the end? Keep dreaming! And as cheesy as this sounds, it makes it so you're on the edge of your seat for the entirety of the show.
If this were any other series, this constant "edge of your seat" nature would be exhausting. But Utopia thrives where it shouldn't. It makes you care for characters that would usually be seen as "bad guys." It makes you wonder about your place and purpose in this world. And it makes you think about who you are and the lengths you would go if you were in Jessica Hyde's shoes.
Jessica Hyde, and the actress who plays her, fully embodies the true meaning of BDE. Living in a world with Dwayne Johnson and Milla Jovovich makes it easy to believe BDE is a real phenomenon. And according to Urban Dictionary, the experts in all things crude, as long as you have bravado and balls you are part of the BDE collective. But the experts at Urban Dictionary were wrong. BDE starts with Sasha Lane and ends with her.
Jessica Hyde is a survivor. This young woman had to take on the world alone and has flourished because of her one-track mind to find her father. No matter the cost or the body count coming her way, she's ready and willing to do what must be done. She's dangerously calculating, seeing each person around her as a chess piece she has to be in control of. Despite all these control issues and her instinct to survive, Jessica isn't an emotionless robot. She feels intensely, I'd say more than anyone on this show, and has to live with that pain daily.
What's left behind is a young woman trying to piece her life back together with only shadows as puzzle pieces. And her only companions are the nerds who have fallen in love with the world created in Utopia, a twisted version of Jessica's actual life. With them by her side, Jessica starts to ground herself for the first time in her life. That further complicates who she is and leaves viewers with a female protagonist like never seen before but desperately have been in need of.
In the end, Utopia is both a satirization and celebration of geek culture. The nerdy characters use all that time obsessing over a certain show, book, movie, or comic and put it to practical use. This is done without the show making fun or treating them like outsiders. The nerd is front and center. And it's easy to feel like you're along for the ride because you are (most likely) the nerd.
So, be aware of and beware Utopia. It's a page-turner but only because you'll be afraid that the world will look like the show when you close the book or that you've been Jessica Hyde all along.  Come to know its mysteries and fall in love with Sasha Lane's BDE while acknowledging that Rainn Wilson is an actor who deserves to be seen as more than an assistant to the regional manager.
Utopia premieres on September 25, 2020 on Amazon Prime.