News
Utopia Trailer Features John Cusack and Rainn Wilson
Amazon revealed its first trailer for Utopia, a dark sci-fi offering with a surprising cast, during its Comic-Con@Home panel.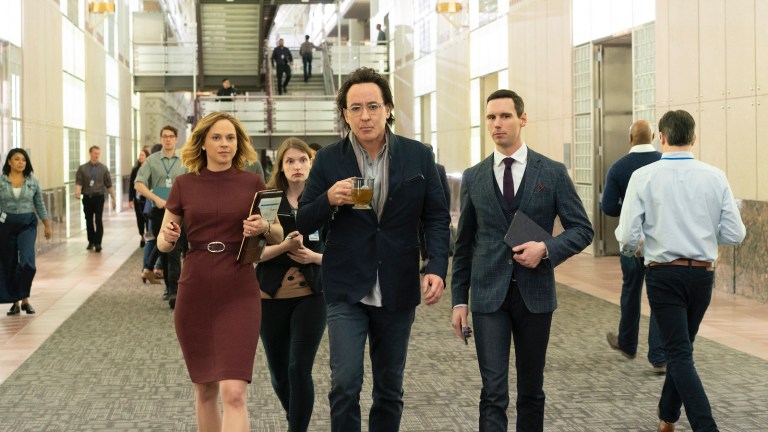 Putting aside for a moment the premise of Amazon Prime Video's new original series, Utopia, the highlight of the teaser trailer that dropped during the show's Comic-Con@Home panel was the appearance of 80s-film everyman John Cusack alongside Rainn Wilson of The Office and Star Trek: Discovery. What a combination! Add to that the fact that the series comes from best-selling author and award-winning screenwriter Gillian Flynn of Gone Girl and Sharp Objects fame, and it's clear that Utopia has an incredible pedigree right off the bat.
Utopia is inspired by the British series of the same name and is described as a "twisted and ironic" thriller about "saving the world while trying to find your place in it." Cusack mentioned in the panel that he was drawn to the remake even though his character is not present in the UK version. "I was aware of the show in the UK, but not super familiar with it," he admitted. "It was just such amazing writing and great characters. And truly a world and take that I hadn't seen before… I was just all in as soon as I read the scripts."
Below is the trailer, which is eerily relevant to the current COVID-19 climate, especially when we hear Wilson's voice describe just a sliver of the Utopia story: "Basement scientist inserts himself into viral pandemic." The teaser also ends with a general release date of Fall 2020, which means potential viewers won't have long to wait.
The series follows a group of comic book fans who obsess together online about a graphic novel series, also called Utopia, that tells a dark tale of conspiracies, rogue scientists, and biological warfare. Throughout the course of the eight episodes, they discover hidden messages within the pages of the comic, predicting very real threats to humanity. Ian (Dan Byrd), Becky (Ashleigh LaThrop), Samantha (Jessica Rothe), Wilson (Desmin Borges), and Grant (Javon "Wanna" Walton) find that they may be the only ones who realize the truth and set out to save the world.
The high-stakes adventure brings the group face-to-face with the real life version of the comic's central character, Jessica Hyde (Sasha Lane), who joins them on their mission while harboring secrets of her own. Cusack and Wilson play doctors Kevin Christie and Michael Stearns who lie in wait along the journey's path. Utopia also features Farrah Mackenzie as Alice, Christopher Denham as Arby, and Cory Michael Smith as Thomas Christie.
Flynn executive produces alongside her Sharp Objects collaborator Jessica Rhoades as well as Sharon Hall, Karen Wilson, and Dennis Kelly. Prime Video will carry the show in more than 200 countries and territories worldwide.