News
Unforgotten: Why Did Nicola Walker Leave?
DCI Cassie Stuart's exit on Unforgotten was a huge shock to fans. Here's what Nicola Walker, Sanjeev Bhaskar and show creator Chris Lang have to say about it.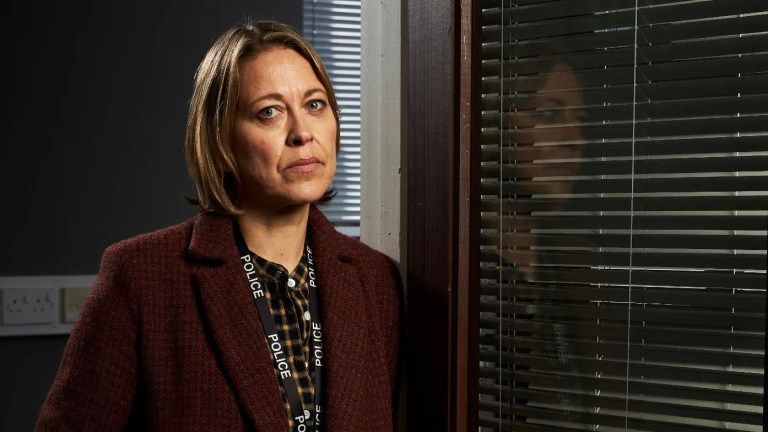 Warning: contains major spoilers for Unforgotten Series 4.
Two years on, we're still not over Nicola Walker's shock departure from Unforgotten.
When Walker's character DCI Cassie Stuart – the ITV crime drama's much-loved lead detective – was involved in a car crash in the penultimate episode of Series Four in 2021, she was expected to miraculously pull through… and then didn't. The brain injuries Cassie sustained in the side-on smash with a speeding car thief were too severe for her to recover from.
Fans watched in shock as Cassie's family received the news in hospital, and colleague DI Sunny Khan ended the series by placing flowers on her grave, accompanied by a touching monologue. "She longest lives, who most to others gives, herself forgetting" read the inscription on the headstone.
Khan wasn't the only one in mourning, Unforgotten's fans also grieved the shock loss of the character. And now, as Series 5 of Unforgotten arrives on our screens with Sinead Keenan as the new lead detective alongside our beloved Khan, played by Sanjeev Bhaskar, we're reliving it all over again.
So why did Nicola Walker leave the show?
Walker's Exit Was On The Cards From The Start
In an interview with Radio Times, Nicola Walker described how she and Unforgotten's creator had jointly decided on her character's death:
'Chris Lang and I had been discussing the storyline for Cassie since the first series. By the time we got to her nervous breakdown in series three, we were already talking about where that story might naturally go, so her sudden death was very much a joint decision,' Walker said.
Walker also worried about how the fans would react to her shock departure:
'I'm not on social media, but when the final episode went out, I almost wanted to join Twitter to tell everyone that I didn't walk away from the show, nor did they ask me to leave. It was simply that Chris and I thought it was a fantastic, impactful story.'
Since leaving Unforgotten, Walker has gone on to appear opposite Sean Bean in BBC drama Marriage, and continue her title role in Alibi crime drama Annika. In 2022, she also said goodbye to her recurring role as Hannah Stern in Abi Morgan's BBC One legal drama The Split, which came to a close after its third series.
Cassie's Death Showed The Human Cost of Tough Police Work
Speaking to TV Insider, Walker also explained that her character's demise – after being forced to go back to work too soon after her Series Three breakdown – showed the toll the cases she worked on would take on a real person:
'Chris and I were always interested in looking at the cost of being involved with these sorts of cases that we all love watching on television. Cassie does not have superpowers. She's an ordinary person who's really good at her job'.
'I think the clues were there in Season 3,' Walker continued, 'The title of the show is Unforgotten and I think there's a great deal of narrative beauty to this woman. She's not going to be forgotten. I felt like she was quietly very unusual on television because she was a real person.'
Walker even took her police badge from the show as a souvenir 'because it was around my neck the whole time. That's what she was carrying around, this weight. It's a really nice thing to have to remember her by.'
Why Didn't Chris Lang Leave Her Exit Open For a Return?
Speaking to Radio Times, show creator Chris Lang explained why he and Nicola both decided not to leave the door open for her character to return:
'I think we both felt it was the right decision and you have to be firm with yourself about that,' Lang said. 'It would have been easy to write it in such a way that she could have come back at some point, but I don't think she, Nic, would have thanked me for that. I wouldn't have thanked myself if that's even possible. Because you have to be bold and say we're moving into a new iteration of the show – and don't give yourself an out to return to a safer version of it.'
Sanjeev Bhaskar Felt 'Sick' When He Learned How Walker Was Leaving
'When I first heard, I had a very similar reaction to when I then read it in the script, and then a similar reaction again when we filmed it, which is I felt slightly sick. It was a shock,' Bhaskar told Radio Times.
'I mean, it's a huge thing to do and so it made sense dramatically, but yeah, it's very upsetting,' he added, confirming in a tweet that it 'won't be the same' without Nicola Walker in Series Five:
'It was weird, because not having Nicola there felt really odd,' he told The Express about filming the new series. 'In a way, she is such a good and close friend, I felt slightly lost in the way that Sunny does. But the fact that it was about Cassie/Nicola made it easier to get to those places.'
Walker's Replacement Sinead Keenan Almost Turned Down The Role
'I saw the reaction when Cassie died and I thought, 'Oh, God, woe betide anyone who takes that on,' Keenan told The Telegraph. 'Then I got a call from my agent saying that the people from Unforgotten wanted to give the script to a handful of actors, and would I put my name in the pot?
'I said, "Thank you very much, I'm delighted that they thought I'd be able, but no." Nicola Walker is fantastic and so well-loved – who'd be the fool?'
Keenan is concerned that it will be hard for the audience to accept her as Walker's replacement: 'I fully anticipate that, for at least the first half of the series, nobody's going to like me. With the team, she's constantly measured against the brilliance of Cassie, and their love for her: 'You picked this eejit?' And the audience will be doing the same.'
But Bhaskar is already singing her praises, describing her as 'just brilliant' and Chris Lang has explained that Series Five will see DI Khan having 'exactly the same journey as the audience, as they deal with the loss of a person they adored, whilst also trying to process the brutal inevitability of someone else stepping into those much-loved shoes.'
Unforgotten returns to ITV tonight at 9pm – the full box-set will also be released on ITVX