News
Trollhunters: Rise of the Titans Film to Conclude Tales of Arcadia Saga in 2021
On the day of Wizards: Tales of Arcadia's release, Netflix has announced the real conclusion to Guillermo del Toro's animated epic will be the film Trollhunters: Rise of the Titans.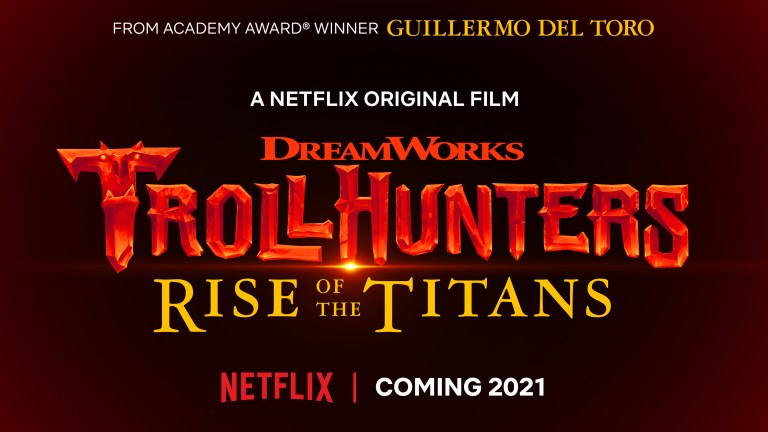 You're welcome, America. Yesterday, Den of Geek put Dreamworks and Netflix's feet to the fire, requesting…nay, demanding that their animated adventure story Tales of Arcadia not end with the third installment, Wizards.
And just under 24 hours later, both corporate entities caved! Dreamworks and Netflix announced today that the Tales of Arcadia saga is getting a grand movie finale. Trollhunters: Rise of the Titans is set to premiere sometime in 2021.
"Team Trollhunters committed, about a decade ago, to try and push the boundaries of 3D CGI animation made for TV. We outlined a vast trilogy of interconnecting mythology and characters that we always hoped could culminate with a massive 'all-stars reunion'," creator and executive producer Guillermo del Toro said in a statement. "DreamWorks Animation and Netflix both shared the very ambitious notion of doing the three series, interwoven and then finishing off with a bigger, epic-sized feature film to top it all off."
Oscar-winning film director Guiillermo del Toro created Tales of Arcadia for Netflix and serves as executive producer. Through three distinct television series – Trollhunters, 3Below, and Wizards, Tales of Arcadia tells the stories of a seemingly ordinary town Arcadia that is in reality the nexus for many otherworldly creatures. The first installment dealt in the fantasy realm with trolls. 3Below introduced some aliens into the universe. Wizards, released on Aug. 7, follows modern wizards on a time-traveling adventure back to Camelot.
Del Toro continues on as executive producer for Trollhunters: Rise of the Titans alongside Marc Guggenheim, Chad Hammes, Dan Hageman and Kevin Hageman. The new film was directed by Johane Matte, Francisco Ruiz Velasco and Andrew L. Schmidt and written by Marc Guggenheim, Dan Hageman, and Kevin Hageman. It's notable that Netflix uses the "was directed by" past tense language in their announcement, suggesting that a considerable amount of work has already been put into the film. That's good news for it keeping a 2021 release date even in the era of coronavirus pandemic-induced delays. 
The cast of Trollhunters: Rise of the Titans is made up of familiar faces…or voices rather from the franchise. The movie will star Emile Hirsch (​Once Upon A Time…In Hollywood​) as Jim, Lexi Medrano (Trollhunters​) as Claire, Charlie Saxton (​Hung) as Toby, Kelsey Grammer as Blinky, Alfred Molina (​Frozen II​) as Archie, Steven Yeun (​The Walking Dead) as Steve, Nick Frost (Shaun of the Dead) as Stuart, Colin O'Donoghue (​Once Upon A Time) as Douxie, Diego Luna (​Narcos: Mexico​) as Krel, Tatiana Maslany (Orphan Black) as Aja and Nick Offerman (Parks & Recreation,) as Vex.
Additional cast members include Cole Sand, Fred Tatasciore, Brian Blessed, Kay Bess, Piotr Michael, James Hong, Tom Kenny, Angel Lin, Amy Landecker, Jonathan Hyde, Bebe Wood, Laraine Newman, Grey Griffin and Cheryl Hines.