Features
How Wizards: Tales of Arcadia Finishes What Trollhunters Started
Wizards: Tales of Arcadia showrunner Marc Guggenheim discusses bringing the trilogy to a close and how Wizards' time travel differs from Legends of Tomorrow's.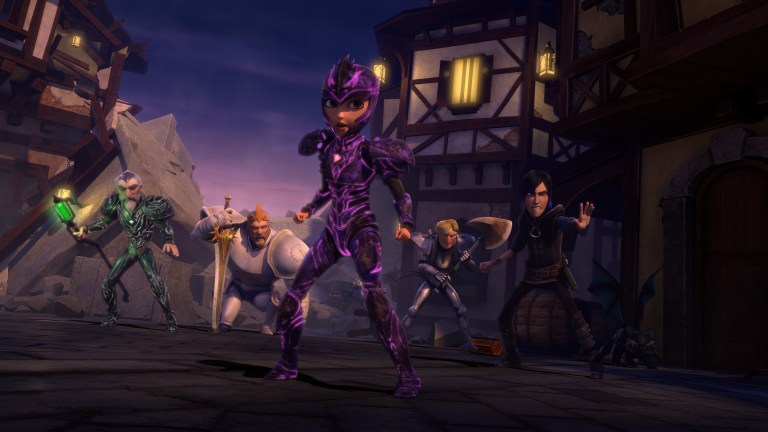 In the nearly four years since Trollhunters: Tales of Arcadia debuted on Netflix, the animated series created by Guillermo del Toro, and produced by Dreamworks, has introduced viewers to Arcadia Oaks, reluctant heroes, and a society of trolls over the course of three seasons. Then, the adventures continued with two seasons of 3Below, featuring humanoid aliens who crash land on earth whilst escaping a civil war. Now, the final chapter of the Tales of Arcadia franchise, Wizards, debuts on August 7 with a time-traveling fantasy epic that spans Camelot and the suburbs.
In addition to introducing new characters, and re-introducing previous ones, Wizards also seeks to pull the threads together of the entire trilogy, and fill in the blanks on events only previously referenced.
Set immediately following the events of 3Below's second season, Wizards picks up with Merlin's apprentice Douxie (voiced by Colin O'Donoghue), and a magical war across time which involves Arthurian characters Merlin and Morgana (David Bradley, and Lena Headey); Trollhunters characters Jim (Emile Hirsch), Claire (Lexi Medrano), Toby (Charlie Saxton), and Steve (Steven Yeun); trolls Blinky (Kelsey Grammer), Aaarrrgghh!!! (Fred Tatasciore), Dictatious (Mark Hamill), and Gunmar (Clancy Brown); as well as Akiridion-5 alien Krel (Diego Luna).
With the 10-episode season of Wizards, Tales of Arcadia, completes its marathon with 88 installments of a family entertainment series featuring a cast of celebrity voice talent, surprisingly sophisticated humor, and arcs that mature alongside younger viewers as the stories progress.
It likewise marks another achievement for Marc Guggenheim, who serves as an executive producer, as well as showrunner, of Tales of Arcadia. Similarly known for his work on The CW's Arrow, Legends of Tomorrow, and Supergirl, he is not new to complex world-building, and potentially confusing interconnected plotlines. In the following interview, Guggenheim discusses how the final chapter of the franchise fits together while also standing alone as a piece of storytelling, as well as the show's approach to time travel, and if the conclusion is really "The End."
Den of Geek: What is the challenge of setting up this spinoff that also serves as a conclusion to a trilogy spanning different genres?
Marc Guggenheim: It's an interesting challenge because, on the one hand, you've got a spinoff of Trollhunters, and my philosophy with spinoffs is they should always sort of function as their own show. They should have their own identity, and they should stand on their own feet. On the other hand, though, this is not just a spinoff. This is the third and final chapter of a trilogy. The show kind of needs to function as two things simultaneously.
But a big component of Wizards also involves Jim from Trollhunters…
The biggest story thread we sort owed was a payoff to Jim's journey because he essentially ended Trollhunters having become a troll himself, and basically walking off into the sunset as the trolls go off to search for a new Heartstone. Seeing what has become of Jim, even just revealing what happened after those final moments of Trollhunters, was very important to us to help bring the whole trilogy full circle. Similarly, Guillermo had the great idea to actually not do a prequel, but return our characters to the period of time before Trollhunters that tells the stories we'd only alluded to, and referenced in — namely the invention of the Trollhunter amulet, the rise of Deya the Deliverer, the Battle of Killahead Bridge. These are things we've only glimpsed. There was something very elegant about that idea because we had to go to the beginning in order to get to the ending. And I kind of liked the symmetry.
You're no stranger to time travel with your work, but how do the rules of Legends of Tomorrow compare to Wizards?
It's funny you mention Legends. We did have an episode in the second season where we went back to Arthurian times, and played around with that. There are a million different TV shows, and movies, and novels, and short stories about time travel, and one of the fun things about writing about that subject is the rules operate very differently. The rules in Back to the Future operate very differently from the rules in, say, Star Trek IV: The Voyage Home. With Legends, we made the decision very early on if you were watching the show for the rules of time travel, you were going to be sorely disappointed. We kind of threw the rule book out.
With Wizards, we kind of take the opposite approach. We are making part of the drama the difficulties of time travel; namely it's very easy to screw up the future if you don't know what you're doing. And we have some characters in Wizards who could safely be described as not quite knowing what they're doing. So, we definitely wanted to show the consequences, and also live with the stakes of what happens if you make a change to the past you did not intend.
The show has subverted expectations by allowing characters to grow, or evolve. Steve begins as a bully, and now he's a good guy. And within the Arthurian legend, the king is not necessarily the king you might expect him to be. Has that subversion been cooked in since the beginning of Trollhunters?
From the beginning with Trollhunters, me and Guillermo, and Kevin and Dan Hageman, we always felt like we were telling a very classic Campbellian hero's journey. When you are doing that, the only way to make it feel fresh and original is to, as you say, subvert expectations. I think it's Gertrude Stein who said tell the truth, but tell it slant. That's been our governing philosophy, which is we're going to tell you this familiar story, but we're going to do it in a way a little off center, a little off kilter from what you're used to.
This final chapter also feels more intense, more mature, and at times a little scary. Was this decision based on the notion that your audience has grown up a little with this franchise?
You're right on the money. From Guillermo's very first pitch to Jeffrey Katzenberg, when Jeffrey asked for an additional two shows and basically asked for trilogy, Guillermo said he wanted the humor of 3Below to be a little bit more sophisticated, make it a little bit more adolescent because the kids, our audience from Trollhunters, is growing older. And then he wanted the tone and the vibe of Wizards to be darker and a little scarier, again, because our audience is growing older. So there was a real intentional evolution in terms of tone. 3Below isn't scarier than Trollhunters, but its humor is definitely more sophisticated. Wizards is much darker than 3Below.
We meet these new villains, The Arcane Order, which are visually compelling sorcerers. Can you talk about their design?
Thank you for calling that out, specifically, because those are among my favorite designs of the entire trilogy. I think it's the result of a really fantastic mind meld between the designers and Guillermo. Guillermo was very specific about what he wanted to see with these three characters, and it's always a privilege to watch his design notes sessions with the designers. They would print out the designs on these big sheets of paper, and Guillermo would actually draw on them. Guillermo's a very good artist as a lot of people know, down to these really minute, small details that make big changes. And the designers were, I think, particularly inspiring. I can't draw a stick figure, so I'm very impressed by the work they've done.
Is this really the last we'll see from these characters?
If I were to comment on the end of Tales of Arcadia, it would mean the end of me. Dreamworks and Netflix have paid assassins on retainer, and I hear they're very good shots.
Tales of Arcadia: Wizards premieres on August 7 on Netflix.