News
Wizards: Tales of Arcadia Release Date, Cast, Trailer, and News
Wizards, the next installment in Dreamworks Animation's Tales of Aracdia saga is coming to Netflix soon. Here is everything we know.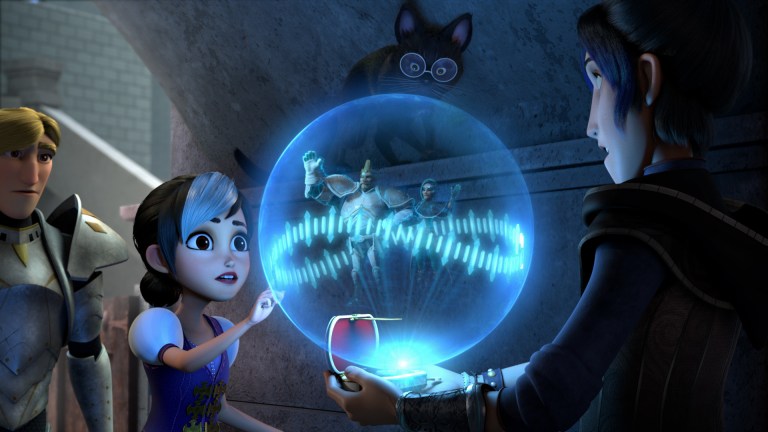 Finally, after trollhunters and aliens, Dreamworks Animation's Tales of Arcadia animated series has arrived on the most rad of all possible magical entities: Wizards.
That's right, Wizards: Tales of Arcadia is set to arrive on Netflix this summer. Tales of Arcadia is a trilogy animated TV series developed by beloved film director Guillermo del Toro. The first installment was 2016's Trollhunters and the second installment was 2018's 3Below. Wizards will feature 10 episodes and will be the conclusion of the franchise. While created and produced by del Toro, Tales of Arcadia is also executive produced by Marc Guggenheim and Chad Hammes. Chad Quandt & Aaron Waltke serve as co-executive producers. 
Wizards will take the Tales of Arcadia on a time-traveling adventure as several "modern" wizards find themselves thrust into the world of Camelot.
Here is everything else we know about the series.
Wizards: Tales of Arcadia Release Date
Wizards: Tales of Arcadia will premiere all 10 episodes on Friday, August 7 on Netflix.
Wizards: Tales of Arcadia Trailer
Dreamworks has released the first trailer for Wizards: Tales of Arcadia. Give it a look below.
The wizards seem pretty upset at finding themselves in Camelot. If only they knew what an appropriate place that was for any wizard to be.
Wizards: Tales of Arcadia Cast
The cast list for Wizards: Tales of Arcadia features one fun little pop culture nod. After playing the powerless squib Argus Filch in the Harry Potter franchise, David Bradley now gets to flex his magical muscles. Bradley is playing none other than Merlin. 
As for the rest of the cast…the returnees are Colin O'Donoghue (​Once Upon A Time) as Merlin's apprentice Douxie; Emile Hirsch (​Once Upon A Time…In Hollywood​) as Jim; Lexi Medrano (​Trollhunters​) as Claire; Charlie Saxton (​Hung​) as Toby; Steven Yeun (​The Walking Dead) as Steve; Lena Headey (​Game of Thrones​) as Morgana; Fred Tatasciore (​Teenage Mutant Ninja Turtles​) as Aaarrrgghh!!!; Clancy Brown (SponeBob SquarePants) as Gunmar, Diego Luna (​Rogue One​) as Krel; Mark Hamill (​Star Wars​) as Dictatious; and Kelsey Grammer (Frasier) as Blinky.
New cast members include: Alfred Molina (​Frozen II​) as Douxie's shape-shifting familiar Archie, Stephanie Beatriz (​Brooklyn Nine-Nine)​ as troublemaker troll Callista, James Faulkner (​Game of Thrones​) as legendary ruler of Camelot King Arthur, and John Rhys Davies (Lord of the Rings) as Galahad. 
Wizards: Tales of Arcadia Story
The Netflix-provided tagline for Wizards: Tales of Arcadia reads:
In the newest installment, wizard-in-training Douxie (Colin O'Donoghue) and the heroes of Arcadia embark on a time-bending adventure to medieval Camelot that leads to an apocalyptic battle for the control of magic that will determine the fate of these supernatural worlds that have now converged.