Reviews
The Walking Dead: World Beyond Episode 7 Review – Truth Or Dare
Truth or dare is always a bad idea. Huck's story is told and someone snaps on a shocking The Walking Dead: World Beyond.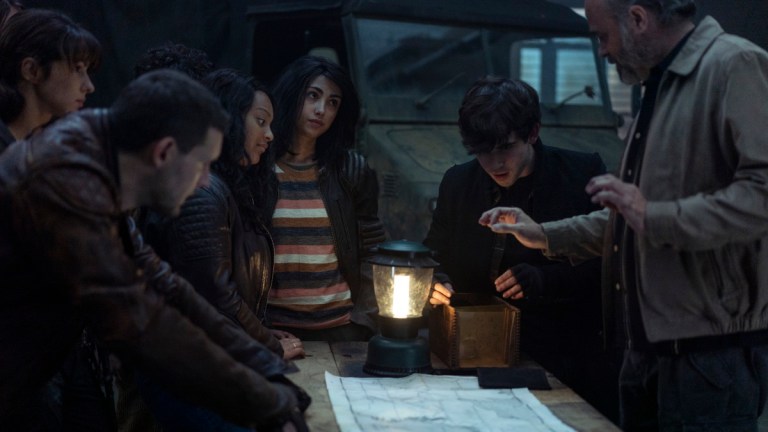 The Walking Dead: World Beyond Episode 7
This The Walking Dead: World Beyond review contains spoilers.
It didn't take long for Silas to reach critical mass. The moment another competitor for Iris's attention came along, the danger meter slowly began to creep higher with every passing moment. The Walking Dead: World Beyond hit that point with a hammer. Iris and Percy laughing in the foreground, Silas starting daggers at them in the background. The two making plans to meet up after dark for what sounds like a make-out session? Silas lumbering in the distance, head down and ears open. Silas was the first person to sniff out that Percy was untrustworthy, and his reward for that was to have Percy and his uncle Tony join the group as full-fledged members and for Percy to swoop in and start making time with one of the two girls in the group (and Elton has pretty clearly claimed Hope).
I remember being an angsty teenage boy who wanted to not talk to anyone. As Silas slumps through scenes like a depressed, horny Frankenstein's monster, his character at least makes sense to me. I can't say I've ever been in his situation, but I've been close enough to look at him and think, "Oh yeah, I know what that feels like." So, in a sense, and in a very specific case, I've found a relatable character on a show in need of one. His actions, however, put that sense of camaraderie to light by the end of the episode and will definitely strain his standing with the group no matter what his explanation might be.
Like Tony and Percy, Silas has done things that flaunt the rules of normal society, but this is not a normal world, and as Tony repeatedly mentions, surviving in Campus Colony is nothing compared to surviving on the road. They ran their games and tried not to hurt anyone. For the most part, it was successful from what we found out. There are lines that Tony and Percy won't cross; these are lines that Silas can't see when pushed past a certain point, and that makes him far more dangerous than a close-up magician and an experienced con artist. The two wanted something different, something bigger, and throw their lot in with the Endlings and their adult chaperons, not aware that the danger from without was nothing compared to the danger within. Secrets can kill.
The flirtation, and the traumatic truth-or-dare game organized by Percy, is amusingly handled in Eddie Guzelian's script. Percy might have been on the road, but he's far less sheltered than Aliyah Royale's Iris, and that shows in their interactions, and her completely inability to pick up on the hints Ted Sutherland's Percy is throwing in front of her until he basically has to invite her to sneak off and fool around in exactly that many words. For all her competence and big words, Iris is just a child, and Percy has had to grow up much faster by comparison. From the looks of the truck-cum-art-gallery he set up in less than an hour, he's done this kind of thing before. Kudos to the set designers for making the art gallery look both hurried and beautiful at the same time; it's good, but it's not so good that a teenager with drop cloths and candles couldn't do the same thing with enough art books and adhesive.
Iris and Percy have a cute first love set-up happening, Hope has her lingering guilt over killing Elton's mother, and both plot threads dovetail nicely with the expanded, illuminated back story offered up for Huck this week. Duty and love clash head-on in her flashback tale of woe, as she negotiates her way through the fall of humanity and has to choose between doing the right thing and following unlawful orders in a literal life-or-death situation for the people she worked very hard to save. It's a necessary glimpse into who Huck is and why she goes off into her own head when she sees something that reminds her of her days as a member of the Marine Corps during Operation Cobalt/The Night the Sky Fell and its immediate aftermath.
Huck carries her burden in silence, like Silas (Hal Cumpston) and Hope, and the flashbacks give Annet Mahendru an opportunity to show more range and emotion in Huck than she previously has been. The character makes a lot more sense with her back story revealed, and her counsel to Hope (Alexa Mansour) resonates more knowing just what secrets she was carrying around, like the mysterious scar on her face. Mansour seems to be finding her way in her role, and her scenes with Mahendru are strong by the standards of The Walking Dead: World Beyond. (Her brief scene with Nicolas Cantu's Elton on the stairs is another necessary bit of levity, and both play it off well in an otherwise heavy episode.) Scott Adsit and Nico Tortorella's scenes together, talking about giving the kids freedom to be kids, also work very well, and Adsit's take on the character is appreciated, because he's a big, expressive personality who livens up the proceedings when given an audience of appreciative Elton (Cantu's ability to express sheer delight is impressive).
Michael Cudlitz's second episode as director in as many weeks, "Truth or Dare" showcases a lot of what he's good at as a performer. He can do deep character stuff, and find a balance between laughter and tears. Abraham was always a bit of a troubled clown, and Huck is no different. However, he's growing as a director of action sequences. He made great use of thermal imaging as a concept, with the scope-lit firefight in the access tunnels underneath the city very well done. It's a cool look, and a cool idea that dovetails nicely as part of her muddled dream/flashback at the beginning of the episode. He does a good job of giving life to more talk-centric scenes, too, particularly the montage of the group talking to one another while offloading the truck and the transitions between the adults talking and drinking and the kids summoning up the liquid courage to play a game of truth or dare. It has the expected outcome, but it's at least lively and shot well.
After a lull in the earlier stage of the season, World Beyond seems to be rounding into shape a bit, with the performances from the younger actors improving as they find their feet and the chemistry between characters growing more evident. There are still issues with the show, but it's improving, week over week. There's a certain ceiling on what the show can do given its short run and focus on being a single story, but there's room for that in television, and there's plenty of room for that in the episodic world of The Walking Dead. The setting is a proven winner, and that allows for leeway in the format and plot of the tale in question. A teen drama won't be everyone's cup of tea, but at least there's novelty and the potential for a beginning, middle, and end this way.
As Tony would probably agree, an act needs a beginning, middle, end, and transitions. After a rocky beginning, World Beyond seems to be transitioning into something not great, but good for what it is trying to be. A teen drama can't be held to the standards of an adult drama, and it wouldn't be fair to hold World Beyond to the standards of The Walking Dead or Fear The Walking Dead. It may never be the best example of what it's trying to be, but I'd settle happily for a pretty good version, and it seems as though World Beyond might have found the key to the map leading in that direction.