News
Is The Walking Dead Season 11 Teasing Alexandria's Defeat at the Hands of The Commonwealth?
AMC has announced a return date for The Walking Dead's 11th and final season in a clip that teases Alexandria/Commonwealth tensions.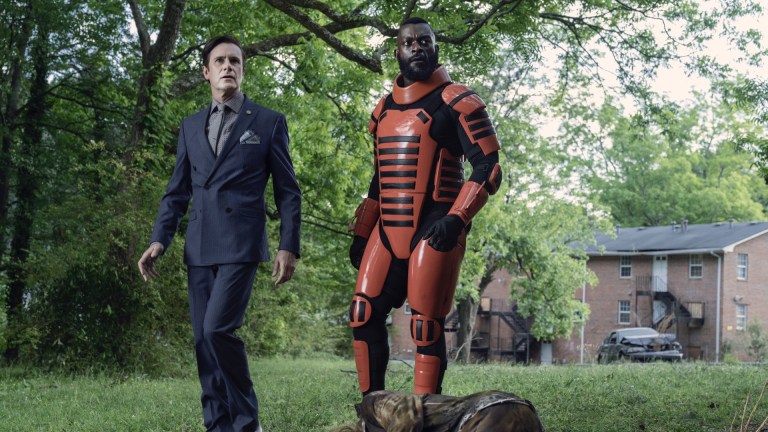 Good news! AMC has announced a return date for The Walking Dead season 11. Bad news! Alexandria isn't looking too hot. 
In advance of its New York Comic Con panel "The Badass Women of The Walking Dead Universe", the folks behind the zombie hit unveiled both a return date and a new teaser for the middle eight episodes of the show's 24-episode final season. The Walking Dead season 11 will return with episode 9 on Sunday, Feb. 20, 2022 at 9 p.m. ET on AMC. The finale of "Part 1" as the first eight episodes have come to be known is available to stream on AMC+ now and will air this Sunday, Oct. 10 at 9 p.m. ET on AMC.
Folks who have already checked out the midseason finale on AMC+ will know that it contains a cliffhanger or two. The new season 11 part 2 teaser just plows right through those cliffhangers, however, to set up the middle part of this saga's story. A curious marketing decision to be sure but it makes for a far more intriguing trailer. Check it out below and see what we mean.
At first glance, this appears to be your standard midseason Walking Dead hype teaser. There are some empty platitudes ("Just thinkin' bout choices. Do they even matter anymore?" Daryl asks, sounding like a parody of himself) and obligatory hero shots of some of the show's most important characters. If you dig a little deeper and keep a steady finger on the pause button though, there are some unexpected details within this thing.
For starters, take a look at this revealing shot.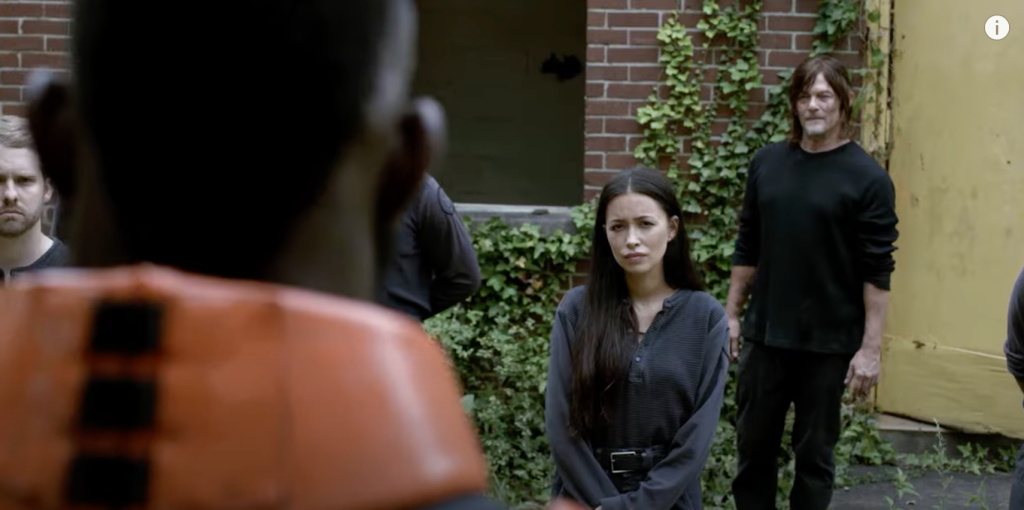 That orange armor is as distinctive as it comes. Mercer is standing in front of Daryl, Rosita, and several other Alexandrians on their own turf. This suggests that Eugene did buckle under Lance Hornsby and The Commonwealth's questioning and gave up the location of Alexandria. That could be bleak news for Alexandria as the post-apocalyptic super state that is The Commonwealth doesn't seem to be in the habit of making friends. 
Following two wars, a famine, and a brutal storm, Alexandria has never been more vulnerable. If The Commonwealth wants to crush it under its boot, it is free to do so with little resistance. The only clear route for Alexandria's survival then is diplomacy. And based on another brief shot in the trailer, their diplomatic efforts may actually work.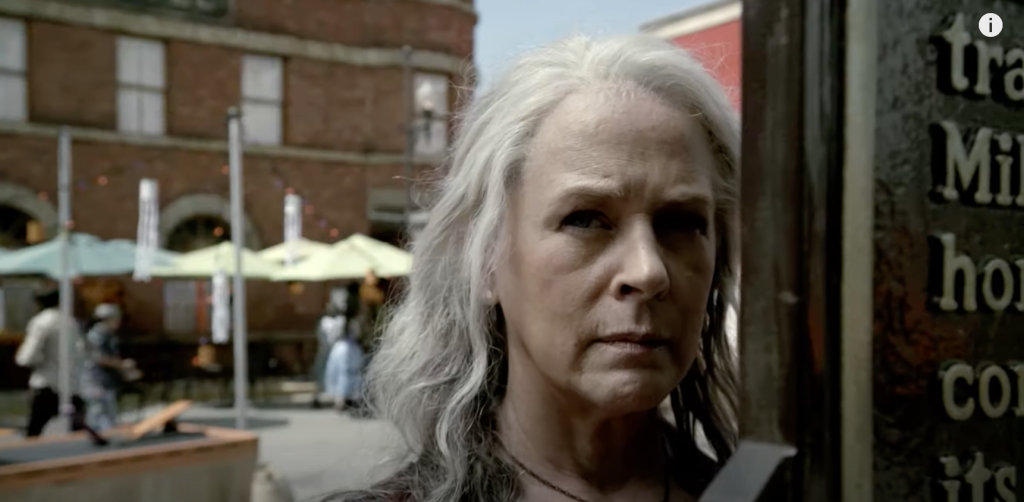 While Mercer and his goons are paying a visit to Alexandria, here we see Carol in what is clearly The Commonwealth's town square. Perhaps we have some sort of cultural exchange program between the two communities. If Alexandria were to choose an ambassador, it can't do much better than Carol Peletier.
What about Eugene's crew though? Last we saw in episode 7, Eugene had committed a grand taboo of assaulting Governor Pamela Milton's terrible son. While it's not clear if that particular infraction will be forgiven anytime soon, we do get this compelling shot of Eugene and Princess in some formal attire.
This teaser with its urgent music and quick cuts does a nice job of suggesting that Alexandria will once again face down existential threats. Those who have read the comics, however, know that the time for all out war has largely passed and the survivors face their toughest post-apocalyptic challenge yet: politics.