Features
The Walking Dead Season 10 Episode 13 Ending Explained
A lot happened in The Walking Dead season 10 episode 13, "What We Become." We break down the ending and see what it might mean for the future of the show.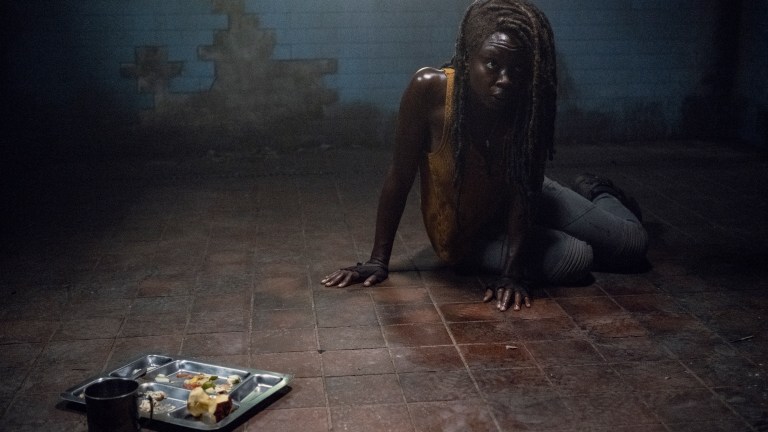 This Walking Dead article contains spoilers.
"What We Become" is the culmination of a seven-season journey for Michonne on The Walking Dead. In her final episode, she revisits a critical decision she made in season 3 that led her to her newfound family, a life with Rick, and her children, while also experiencing what life would have been like if she'd made a different choice. Michonne's "alternate flashback" is the best segment of the episode, a look into the world of The Walking Dead as it could have been had Michonne left Andrea to die so many years ago.
By the end of the episode, Michonne has learned that it's her mercy that's guided her to a life worth living in the post-apocalypse and may even lead her back to Rick Grimes. It's no coincidence that Michonne finds Rick's boots after sparing the unstable Virgil, and it's as an act of mercy that she helps the two stragglers get back to their convoy at the end of the episode.
But I'm getting ahead of myself. Let's break down the meaning of the episode's ending and what it says about Michonne and Rick's future.
Where is Rick?
The episode doesn't really lend itself to many answers about where Rick's been for the last six years. If you remember, season 9 episode 5, "What Comes After," ends with a critically injured Rick being flown in a helicopter to safety, while his loved ones are led to believe that he died in the bridge explosion. Where he was taken is still a mystery that likely won't be solved until The Walking Dead movie that's currently set to begin filming this year (but will probably be delayed into next year for the obvious reasons).
While we wait, we can at least speculate. The most popular theory is that Rick was taken to the Commonwealth, a network of settlements of 50,000 survivors that's introduced in the comics after the Whisperer arc. The timing of Rick's return after the Whisperer story has come to an end, as well as the advanced machinery such as helicopters and the big boat introduced in this episode, could indicate that the movie (and the show) will eventually take viewers to the Commonwealth — or its on-screen counterpart — next.
The show has teased as much with the introduction of Stephanie, the first citizen of the Commonwealth who made contact with Eugene in the comics and does so in season 10 as well. In the comics, she's also the character who leads Eugene and a few others to the settlement. There's a very big possibility that this is where the show is headed next since Eugene and Stephanie will meet later in season 10, setting off a chain of events that gets the group to the new settlement.
Is this where they will find Rick? The Commonwealth of the comics has amenities only dreamed of in places like Alexandria and the Hilltop. It has vehicles, clinics, its own industries, an army of armored guards with advanced weaponry, and even a sports stadium. The settlement is the closest society has come to rebuilding the civilization that was lost. It would certainly have the medical resources to save Rick from his injuries, such as the ventilator giving the Sheriff oxygen in his final scene on the show.
This doesn't really explain how Rick's boots ended up on Virgil's island, though. The unreliable adversary of the episode tells Michonne that the boots, along with the boat, washed up on the island after a big storm. Does this mean that Rick tried to return to Alexandria at some point in the last six years? Knowing our Sheriff Rick, that's very likely the case. Unfortunately, he never made it. We can only assume that we'll see this particular adventure in the upcoming movie — or at least some sort of explanation as to why Rick's stuff was on that boat.
What happened to Virgil?
Virgil's fate, on the other hand, is more clear cut. After pulling the shit he did, Virgil is pretty lucky to end the episode with his head still intact. Seriously, the guy who imprisoned and drugged Michonne gets off easy. He's even welcomed on the last boat off the island, but he declines the invitation to start a new life.
The island's only remaining inhabitant decides to stay with this dead wife and kids. After all, Virgil promised his wife Lisa flowers every day of their marriage. It's a promise he's not willing to break. Virgil may also feel that his self-imposed exile might be a way to atone for his sins.
Will we see Virgil again? Well, you could draw a parallel between him and Morgan, who was also deeply broken after losing his family but eventually recovered and rejoined society (and the show). But Morgan was a major character in the comics. Virgil doesn't have a comic book counterpart, which means that it's more likely that he's a one-off character. We'll see!
Who are the people Michonne meets at the end?
This is by far the most confounding part of the episode: in the final scene, Michonne, now determined to find Rick, encounters two survivors dressed like…cowboys? A woman is trying to help an injured man walk through a field. They're both wearing ponchos made of cowhides, and the man has a cowboy hat on. It seems very out of place with the rest of the episode.
We never learn the characters' names or how the man became injured, but only that they need to catch up to a massive convoy of survivors marching to parts unknown. They beg Michonne to help before the bigger group leaves without them.
Michonne, having been reminded of her mercy during her time on Virgil's island, decides to help the stragglers catch up to the mysterious convoy headed to parts unknown…
Where did Michonne go?
I have no idea. The easiest guess is that this big group is marching towards the Commonwealth or wherever Rick is. After all, what other settlement could accommodate such a huge number of people? But knowing The Walking Dead universe, there will probably be a few twists and turns along the way. There's no way that Michonne and Rick will reunite that easily.
Other possibilities? Michonne and the group could be headed to a new settlement never before seen in any of the comics or shows. Or maybe they're headed to Georgie's mysterious settlement? We've not visited Maggie's current home yet, after all. But this is unlikely since Georgie and Maggie have been very secretive about the whereabouts of this settlement. It wouldn't make sense for it to open its doors to a whole regiment of survivors.
Will Michonne return to The Walking Dead?
Yes. There's every indication that Michonne will show up again in The Walking Dead universe…but not in the way you think. Danai Gurira's days on an ongoing Walking Dead series are over, especially now that she's busy writing and executive producing her upcoming HBO Max series Americanah (Gurira is a Tony-nominated playwright!) as well as starring in Marvel movies as the fierce Okoye — she'll next appear in Black Panther 2, which will be out in 2022.
So when will you see Michonne next? Likely in the aforementioned Walking Dead movie starring Andrew Lincoln. Or perhaps she'll get her own movie since AMC announced a TRILOGY of movies, all of which will feature Lincoln. Could one of those movies center on Michonne reaching Rick's location? We'll just have to wait and see.
For now, we bid Michonne farewell and good luck on her next adventure.