News
The Walking Dead Season 11 Delayed, Season 10 Will Get 6 Extra Episodes in 2021
The Walking Dead season 11 won't air this fall. Instead, season 10 will get six extra episodes that will air in 2021.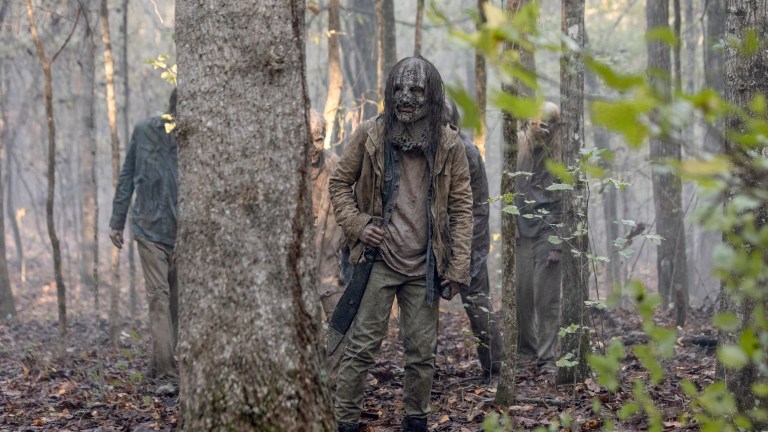 It's official: The Walking Dead season 11 won't air this year due to production delays caused by the Covid-19 pandemic. Instead, The Walking Dead season 10 will get six "extra" episodes in early 2021 after the original season 10 finale episode, "A Certain Doom," airs on Oct. 4. This will be the first time a new season of The Walking Dead won't air in the fall since the show premiered in 2010.
The news was revealed during the show's Comic-Con@Home panel. The Walking Dead showrunner Angela Kang delivered the news, explaining that "the writers' room for season 11 has been going remotely for the past few months. We haven't been able to start production, but we'll get back to work as soon as we safely can."
Regarding the extra season 10 episodes, all Kang shared is that "we're working on those now, and we'll have more to share soon. It's an extension of episodes beyond the finale." She didn't clarify whether that meant that the team was writing new material for those episodes or if filming was getting underway.
With the new episodes in 2021, The Walking Dead season 10 will go down as the longest season in the show's history, with 22 episodes in total, a big leap from the usual 16 episodes per season.
AMC's decision to extend season 10 instead of making a shorter season 11 is an interesting one. Some might even call it a confusing one, especially since the network is still referring to "A Certain Doom" as the season 10 finale. The official The Walking Dead Twitter handle didn't make things much clearer, saying "October's finale will still be the finale, the additional episodes will just be 'extra.'"
What will this "extra" material consist of? Additional footage that was shot for season 10 but was never used? New storylines that somehow extend the plot of season 10 involving the Whisperers? We don't know.
"I'm excited for people to see what happens with Beta, what happens with Carol and her revenge arc, Daryl, and his leadership role. I'll say that Seth [Gilliam's Father Gabriel] has some amazing scenes in this episode. The Commonwealth group, we will get to what I think is a really cool point for them for their journey. Everybody's at play," said Kang during the Comic-Con@Home panel. "We see the return of Maggie, Negan has a key role to play — every person in the cast, they are an important part of the puzzle. I'm really excited for everybody to see our whole group doing their thing, working together to face what's in front of them."
You can watch the full Comic-Con@Home panel below:
Spin-off series The Walking Dead: World Beyond will premiere right after The Walking Dead season 10 finale on Oct. 4, while Fear the Walking Dead season 6 will begin airing on Oct. 11 at 9 pm. More Walking Dead news as we learn it.