News
The Umbrella Academy Season 3 Will Reportedly Begin Filming Next Year
Though Netflix has not yet officially announced The Umbrella Academy season 3, new reports point to a February filming start date.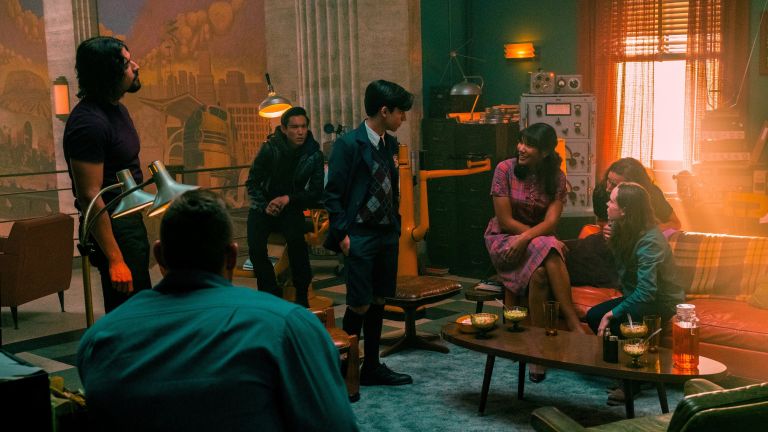 Through two seasons, Netflix superhero team The Umbrella Academy hasn't had terribly good luck in averting the apocalypse. Maybe the third time's the charm.
Netflix has not yet confirmed the existence of The Umbrella Academy season 3 but according to a new report from Production Weekly, filming on a new season is set to begin on February 1, 2021 before wrapping up in August. That puts the third season on track for a potential mid-2022 release. In lieu of an official Netflix announcement, a Production Weekly post is the next best thing as the subscription-based trade exhaustively tracks all upcoming productions. Also included in the latest report were start dates for Loki season 2, Brooklyn Nine-Nine season 8, and The Mandalorian season 3.
The Umbrella Academy season 3 was always all but a given for Netflix in the first place. According to the company's own metrics, the darkly funny series is among the most popular shows on the service. Not only that, but the show's second batch of episodes wrapped up with one hell of a temporal cliffhanger in which the titular team saved the world in 1963 only to return to the present to find a different crime-fighting team occupying their place.
The Umbrella Academy is adapted from the Dark Horse comics of the same name written by Gerard Way and illustrated by Gabriel Bá. The team and series are largely inspired by superheroes-as-a-dysfunctional family tales like certain runs of X-Men and Grant Morrison's Doom Patrol. In the context of the story, on Oct. 1, 1989, 43 women across the world spontaneously gave birth to super-powered children despite showing no signs of pregnancy when the day began. Wealthy industrialist Reginald Hargreeves traveled the globe looking to adopt as many of these curious infants as he could. He was only able to find seven. They became The Umbrella Academy and embarked upon a long career of world-saving and familial trauma.
The Umbrella Academy season 1 first premiered on Feb. 15, 2019 and loosely adapted the comic's first arc: "Apocalypse Suite." Season 2 arrived on July 31, 2020 and took its inspiration from the time travel arc "Dallas." Based on the conclusion of season 2, season 3 looks set to borrow an important bit from the third "Hotel Oblivion" arc and the introduction of The Sparrow Academy. Umbrella Academy showrunner Steve Blackman confirmed as much in an interview with Den of Geek earlier this year. 
Stay tuned for an official season 3 announcement from Netflix that is surely on the way.