Features
The Traitors: The Contestants Who've Been on EastEnders, Blankety Blank & More
What subject is Imran's PhD in? Who's been in Taggart? Who lives in Belgium? Get all your facts about The Traitors contestants here!
Warning: contains spoilers for The Traitors Episode 1.
New reality series The Traitors involves getting a group of strangers to form judgmental cliques, gossip behind each other's backs and make accusations of wrongdoing, so yes, it's a bit 'shooting fish in a barrel'. Did the BBC even need to hire a castle? Set up cameras in the break room of any given workplace and you'll get largely the same footage, give or take occasional scenes of giant wicker deer on fire as part of the tasks this lot also have to do to build their up-to-£120,000 prize fund.
Among Us-style, the game takes three of 20 contestants and makes them the titular Traitors, who have to evade detection while bumping off their fellow players one by one every night (no violence is involved, they just send them a secret note). Meanwhile, the 'Faithful' (everybody else) have to detect who the Traitors are and eliminate them in a toe-curling daily group vote in which we learn that none of them can spell the others' names. It's brutal, and it's uncomfortable, and everybody applied to be there so are presumably enjoying the attention.
Let's meet the contestants, many of which are in the larval stage of their media careers and are no strangers to the small screen.
The Secret Couple: Alex and Tom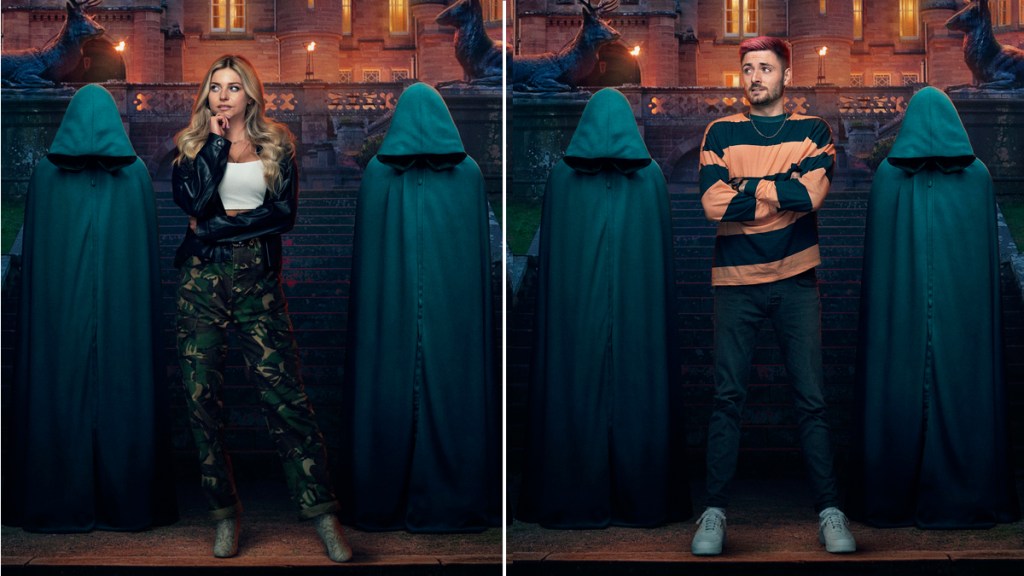 Alex Gray (check out her online portfolio here) describes herself as a presenter, actress and social media content creator with a first in Psychology from UCL, but she's hiding her light under a bushel because her Instagram account reveals that she's also launched a company that makes inspirational mirror decals that say things like "You got this" and "Dream Big". She's presented poker, football and travel online shows, and played a character in the Love Island mobile game. She also lists an intermediate ability to do a "Native American (Indian) accent" on her CV, which is probably… fine?
Tom Elderfield bills himself online as a highly respected magic consultant who's won an award for Young Close-Up Magician of the year and someone who epitomises the new age of magic. Here's his Instagram.
If these two weren't clearly here to give their respective media careers a boost, you might accuse them of using The Traitors to spice up their relationship. They're a couple but pretending to be strangers, much in the style of long-marrieds who come to the Tunbridge Wells Premier Inn Thyme Bar & Grill to roleplay as Belinda the luxury goods heiress and Brazilian racehorse trainer Rafe. Or… however people do that, I wouldn't know.
The Formerly Gifted Child: Imran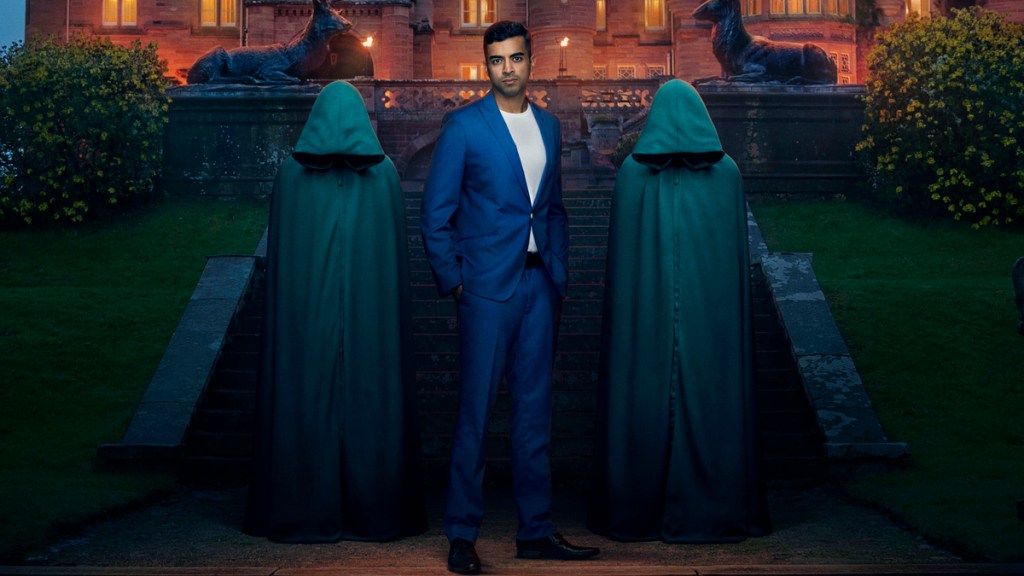 Imran Nasim is indeed (thought to be) the youngest person in his discipline to obtain a PhD. That discipline, for those who want to know, is Astrophysics, not say, Aromatherapy so it's the real deal. He got a first in Maths and Physics from the Open University aged 18, and went on to research supermassive black holes. In spring 2021 he was reportedly due to go to Harvard University to join a research project about an aggressive form of kidney cancer, which he either followed up by appearing on The Traitors, or changed his plan.
The Old People: Andrea, Fay, John, Claire and Nicky
To be clear, this isn't my name for them; this is how Imran dismissively described his team members in the first task, moaning that the other team was younger and more vibrant. Well Imran, you couldn't have been more wrong because this lot have vibrancy up the wazoo.
What about John McManus, a spa therapist and actor who's been in EastEnders, Taggart, Taboo and the BBC Les Misérables. As well as owning a Westie named Beryl, John lists classical singing, choreography, puppeteering, horse-riding, scuba-diving and more on his CV. The man's a marvel, and he can sort out your sciatica.
Then there's Andrea, who used to work for the British government (definitely a spy) and lives in Belgium. There's Claire, a former police officer who's seen things. And Nicola Wilding, an amputee who's fundraising to buy a bionic hand.
The One Who Should Win: Maddy
She's telling everyone that she's a receptionist, but that's her side hustle. Madelyn Smedley is an actor who's appeared in episodes of EastEnders (she played Rita in May 2021) and Casualty (Jasmine in 2022) and deserves to win for a. looking like Sara Cox, b. Tweeting a Moira Rose meme along with the news that she was on The Traitors, and c. loudly bemoaning the fact that she hadn't managed to squeeze an extra wine in before the murder bell rang. Priorities.
The Young and Vibrant: Aaron, Aisha, Matt, Hannah, Theo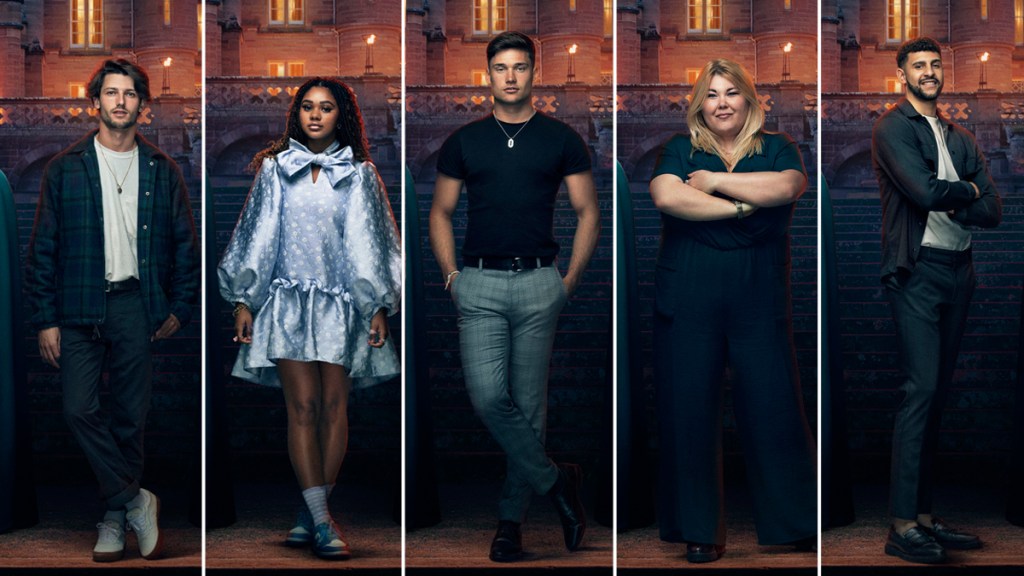 The cool crowd (aka all those who used the phrase "At the end of the day" in their pre-show Q&A) includes BMX athlete Matt, who's a self-confessed fan of Alex's teeth. Then there's estate-agent-puppy-dog Aaron, who finds Masters graduate Aisha to be "jokes". There's stand-up comedian Hannah Byczkowski. And there's cheerleading coach Theo Mayne, who is listed on this dubious website as being 1st 2lbs (12kg) in weight, which is either a typo or a medical miracle.
Everybody Else: Amos, Rayan, Ivan, Meryl, Kieran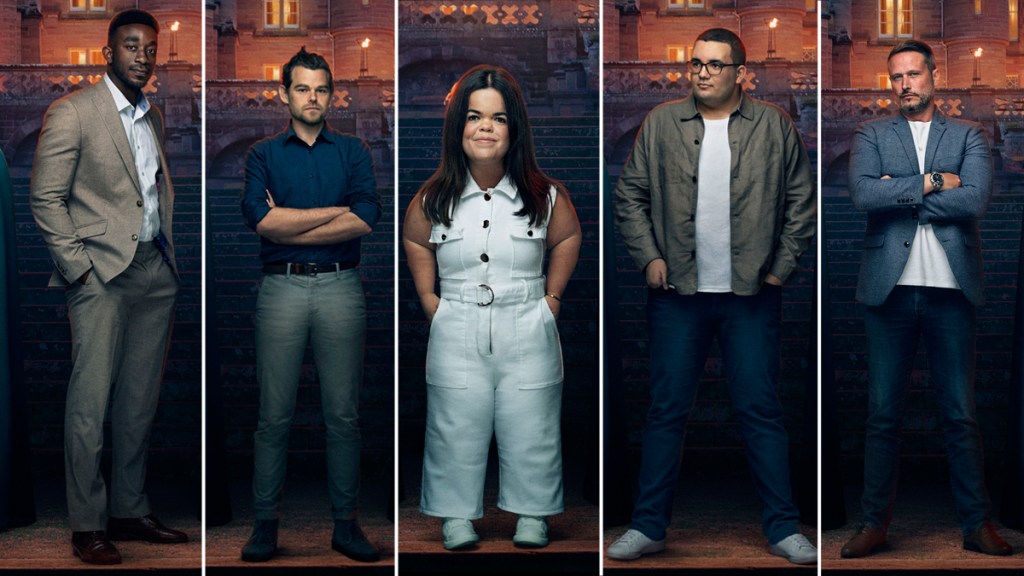 We don't need to know about Amos and Kieran, because they didn't even make it through the castle's front door. Ivan Brett describes himself as a primary teacher, games master and the author of the Casper Candlewacks children's books as well as game activity book The Floor is Lava. Scottish call centre worker and glamour puss Meryl Williams has already been on Blankety Blank with Bradley Walsh this September, and, as illustrated by her Instagram, has also met an elephant, so she's a contender. And finally Rayan was part of a couple's Halloween costume this year of Gordon Ramsay making an idiot sandwich. So pretty impressive all-round.
The Traitors: Amanda, Alyssa and Wilfred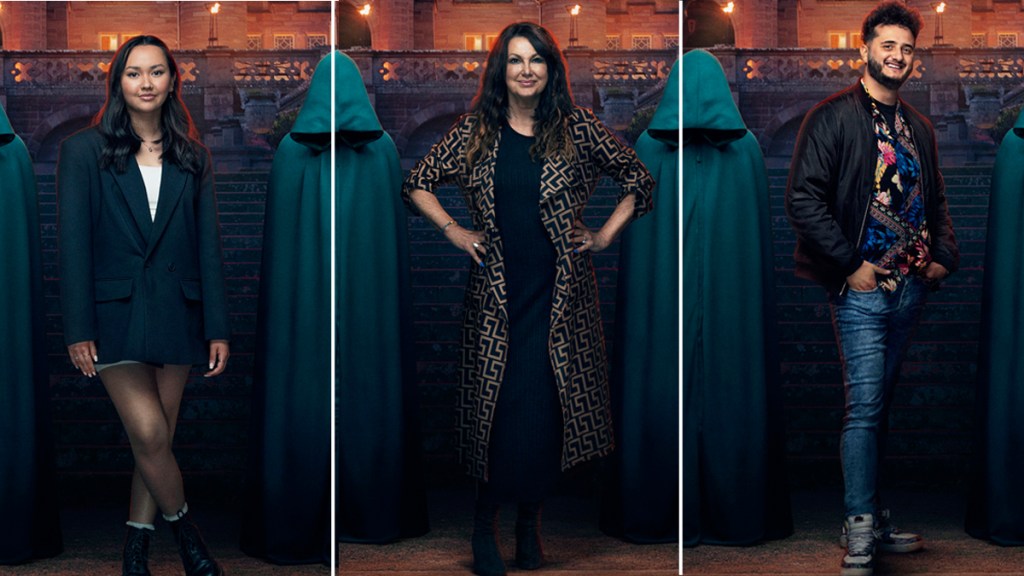 The first three chosen for the Traitors' Turret (if one gets eliminated, the remainder can recruit someone else) to lie like cabinet ministers to everybody's faces are Amanda, Alyssa and Wilfred. One and a half of them are estate agents – Amanda, plus Business student Alyssa part-time – and Wilfred describes himself as a senior fundraiser, but his Instagram says he's a TikTok influencer and in this Snapchat story, he's seen dressed as a dartboard and trying to get members of the public to throw marshmallows into his mouth.
Amanda is a cool-headed grandmother whom nobody suspects, and who appears to have zero compunction about lying her head off and takes the murdering business in her stride. As she matter-of-factly told Claudia Winkleman with a smile "I'm the mum role and I'll murder them at night." Children of Amanda, be concerned.
The first three episodes of The Traitors are available to stream on BBC iPlayer now.