Features
How The Stand Updates Randall Flagg's New Vegas
The fifth episode of The Stand spends a lot of time in Las Vegas, where the party never ends and Randall Flagg reigns supreme.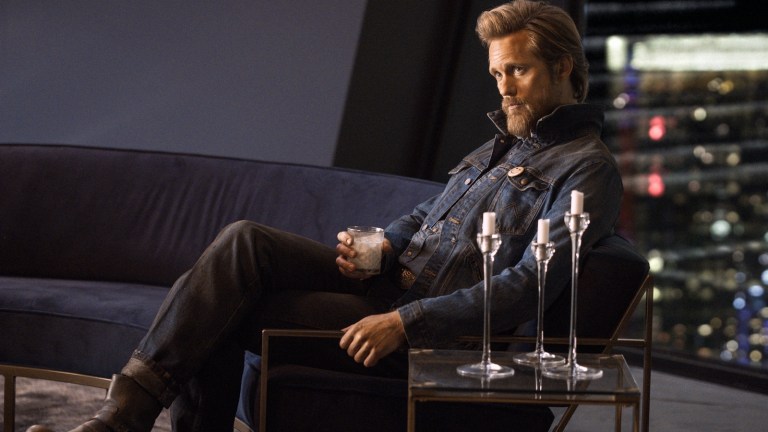 This article contains spoilers for episode 5 of The Stand.
In "Fear and Loathing in New Vegas," the fifth entry in CBS All Access' nine-part adaptation of Stephen King's The Stand, we get to spend a significant amount of time in Las Vegas, where the demonic Randall Flagg (Alexander Skarsgard) has established his sinister kingdom.
There are other important plot developments in the course of the episode, such as the aftermath of Teddy Weizak's (Eion Bailey) murder at the hands of Harold (Owen Teague) and Nadine (Amber Heard) — which they made to look like a suicide — as they construct their destructive plans; Frannie's (Odessa Young) growing suspicions about Harold and her own plan to do something about it; and the abrupt departure of Mother Abigail (Whoopi Goldberg) as she seeks guidance from God.
But a good amount of time is spent in Flagg's new version of Sin City, which is different from that of King's book. While the Vegas in the novel (and the 1994 miniseries) was a strict authoritarian state, with things like the use of drugs punishable by crucifixion, the Nevada stronghold in the new version is still tightly run by Flagg but with his followers allowed to indulge in all the drugs, sex and general depravity they want.
"It's funny, the 'no drugs in Vegas thing' never made a lot of sense to us," says showrunner Ben Cavell. "I mean, just from Flagg's general ethos, it never made a lot of sense to us. And we wanted to really dig in on what somebody like Flagg is genuinely offering. It was very important to us that Flagg never be evil with a capital E. That he really seem, at least initially, like a viable alternative to Mother Abigail."
Cavell says that making Flagg palatable at least in some fashion would not just explain why so many people could be persuaded to join him, but would also make him a real-world metaphor. "He claims to have a real handle on what's going on, and what it's all for, and what it all means that we've had to live through all this horror," Cavell explains. "I think that would be very attractive. We wanted to use Flagg to get at some of the genuine appeal of these charismatic, authoritarian strongmen that have been on the ascendancy in all sorts of places around the world, and what those guys might be offering."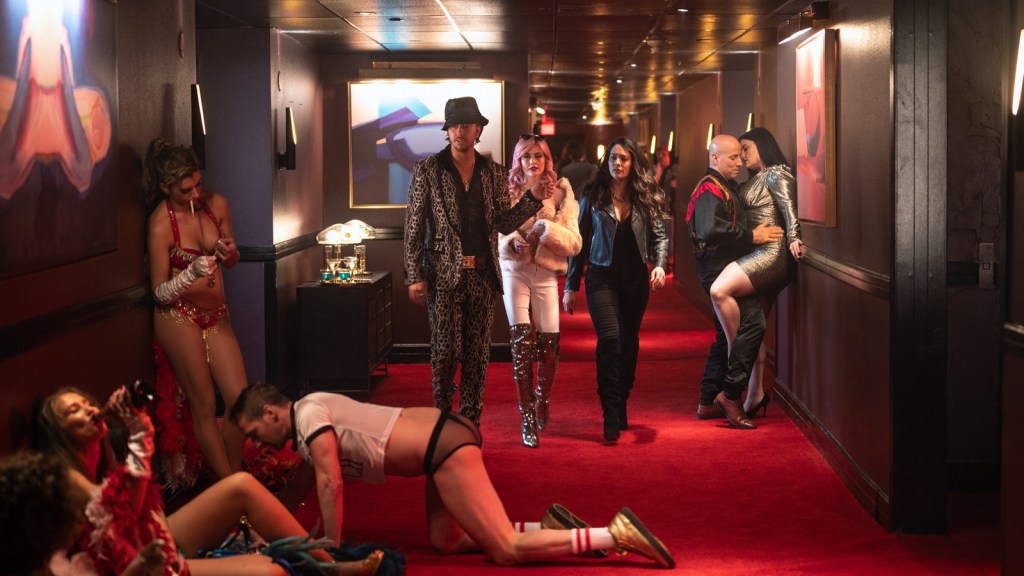 He continues, "So it was very important to us that yes, our Vegas is more permissive in a lot of ways than the Vegas in the book. But it was also important to us to show that it functions, as does the Vegas in the book, and that in some ways it gets back up and running more quickly even than Boulder."
That's one thing that the show's version of Flagg's tiny empire shares with the book: the Vegas community gets Hoover Dam generating power again and lighting up the casinos even as Boulder struggles to switch the electricity back on. "That's all because that's how Flagg has it organized," says Cavell, although watching all the debauchery taking place in the town in "Fear and Loathing in New Vegas" makes us wonder how Flagg's followers have the stamina and sobriety to get the work done.
Of course, we see Vegas in this episode through the eyes of Dayna Jurgens (Natalie Martinez), one of the Boulder Free Zone's spies sent to find out exactly what Flagg is up to. The others are the ill-fated Judge Farris (Gabrielle Rose) and the developmentally disabled Tom Cullen (Brad William Henke).
The Judge never makes it to Vegas alive, while Dayna is eventually found out after getting close to Flagg's right-hand man Lloyd Henreid (Nat Wolff). She kills herself rather than let Flagg pull the identity of the third spy — whom Flagg can't "see" — from her mind, but not before warning Tom to escape. Whether Tom heeds that warning or not will have enormous consequences later…but that's yet to come.
New episodes of The Stand premiere every Thursday on CBS All Access.