Features
The Stand: Whoopi Goldberg Reveals the Secret to Mother Abigail's Longevity (It's God Dust)
For CBS All Access's The Stand miniseries, Whoopi Goldberg is charged with embodying one of Stephen King's most powerful creations: the divine, yet human Mother Abigail.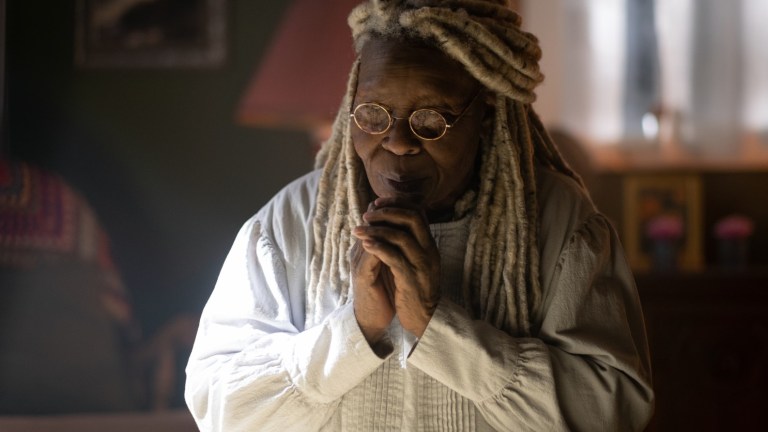 This article contains spoilers for The Stand episode 1 and some aspects of the book.
Though Stephen King may be best known as a prolific creator of bullies, creeps, and monsters (sometimes all in one person), one of his finest characters is firmly on the side of the angels. "Mother" Abigail Freemantle is a key figure in King's 1978 classic The Stand (and in its 1990 unabridged version as well).
A direct descendant of freed slaves, the 108-year-old Mother Abigail serves as God's figurehead on Earth following a superflu pandemic that kills off 99% of the population and sets up the remaining survivors for a final confrontation between good and evil. Though Abigail is God's chosen representative for the forces of good (or so she says), she is also very much a human being, with all the flaws and imperfections inherent therein. As such, Mother Abigail is a fascinating blend of both the human and the divine. She is also a tremendously difficult character to capture outside of the pages of King's book.
Legendary actress Ruby Dee was called upon to bring Mother Abigail to life for ABC's 1994 miniseries of The Stand. Now, the equally legendary Whoopi Goldberg is charged with doing the very same for CBS All Access's The Stand, which premiered its first episode on Dec. 17, 2020. Prior to the show's debut, Goldberg, alongside showrunner Benjamin Cavell, and much of the series cast, spoke with reporters via Zoom about what it means to be entrusted with such an iconic literary figure.
A huge fan of horror movies, Goldberg reveals that she has been lobbying to be involved in a Stephen King adaptation for years, even going back to the 1994 version of this same project.
"I've been looking for a horror movie to do my whole career. What I love more than almost anything is a good scare. I've been trying to do this since the original miniseries came out, but I was unable to do it," Goldberg says. "Then I found out that Ruby Dee was my age now when she did Mother Abigail. So it's worked out great. If this had come any sooner, I would have probably just really messed it up."
At the time of the series' premiere, the EGOT-winning Goldberg is 65 years old. Dee was 70 years old when filming on the 1994 miniseries began. Both actresses, however, are considerably younger than the wizened Abigail Freemantle of King's book. This isn't a case of Aunt May getting progressively younger across every Spider-Man franchise but rather an acknowledgement from both miniseries' that Abigail has a powerful aura about her that belies her advanced years.
"Listen, it's all in the lineage, I myself am 108. And my skin looks amazing," Goldberg jokes, before adding. "You know, also, she's got a little God dust on her too. You can't look that good without a little God dust. The same goes for (Randall Flagg actor) Alexander (Skarsgård). He looks great because he's got some devil dust on. That's how I'm looking at it, so it balances out."
In addition to Mother Abigail's sprinkling of "God dust", what Goldberg finds compelling about the character is her humanity as opposed to her otherworldliness. Given the dearth of Black characters in King's earlier works, Abigail has sometimes been pointed to as an example of the "Magical Negro" stereotype, in which a mystical Black character comes to the aid of white characters. It's that representation of the character that Goldberg says she hopes to avoid.
"I'm riding what Stephen wrote for me and she is the representation of what is supposed to be the light. Of course, when you are human you are flawed and so she is probably not as Magic Negro as she was maybe 30-40 years ago. She's flawed. So that makes her more interesting to me."
Additionally, Goldberg finds Abigail's mediating presence as sharing some similarities with her day job as a host on ABC's daytime talk show The View.
"I think she's a little more of a person who is trying to get a whole bunch of people to do some things that maybe they don't believe in. You know it's basically doing The View."
One episode into the series, Mother Abigail has appeared only as a shade in Frannie Goldsmith's dreams (and as an impressive voiceover artist at episode's beginning). With eight more episodes on the docket (including an original coda for one surviving character written by King himself), Goldberg has plenty of opportunities remaining to embody the mythical and mundane qualities of this unique hero.