Features
The Stand Episode 2: How Larry Underwood Enters Stephen King's Tale
Showrunner Benjamin Cavell discusses introducing new characters and explains why The Stand starts in the middle and moves backward and forward from there.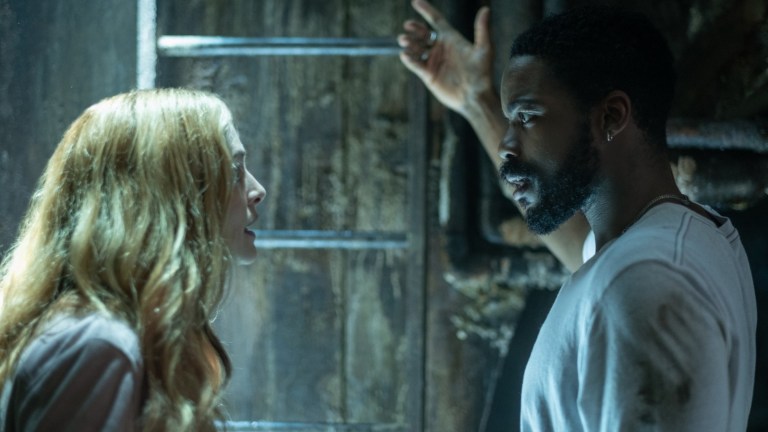 This article contains spoilers for episode 2 of The Stand.
In episode 2 of the new CBS All Access adaptation of Stephen King's The Stand, "Pocket Savior," we are introduced to Larry Underwood (Jovan Adepo), a musician and drug addict who's on the cusp of success when the Captain Trips superflu circles the globe and lays waste to 99% of the population.
We also meet Lloyd Henreid (Nat Wolff), a convicted murderer who does everything possible to stay alive behind bars until, alone, starving and losing his mind, he comes suddenly face to face with the Dark Man, Randall Flagg (Alexander Skarsgard), who makes an offer that Lloyd can't refuse.
Like the series premiere, "The End," in which we met fellow major characters Stu Redman (James Marsden), Frannie Goldsmith (Odessa Young), Harold Lauder (Owen Teague) and Mother Abigail (Whoopi Goldberg), "Pocket Savior" doesn't tell the story of Larry or the others in linear fashion.
In a major decision that has turned into a point of debate even before the limited series' December 17 launch, Cavell and fellow executive producer Josh Boone chose to play with the structure of King's narrative, showing our protagonists already building their community in the Boulder Free Zone before flashing back to reveal how they got there.
"I know it feels to everybody like a big choice, and obviously it is," says Cavell when Den of Geek speaks with him via phone. "But it just felt very clear to me, and to us from the beginning, that we didn't want to make people sit through three episodes of the world dying before we got to the meat of our story. I mean, look, those first 300 pages of the book are wonderful, and I certainly remember them from the first time I read the book, but it's also not exactly what the book is about."
What The Stand is about, Cavell continues, is what comes after Captain Trips clears out the world, which is "this elemental struggle for the soul of what's left," he explains. "And these questions about how you go about rebuilding, and what constitutes a human society. If you had a chance to press the reset button on humanity, would you build it back the same way?"
Cavell adds, "These incredibly fundamental and fascinating questions about the basis of authority, the basis of government, what society owes the individual, what the individual owes to society, what individuals owe to each other — to me, to us, that feels like the meat of The Stand. So it felt like the honest place to start was after (the plague), and then we can flash back, and see bits and pieces of how people got to where they are."
In the case of Larry Underwood, we do get to see how he spends some of his time in a mostly empty New York City after the superflu wipes out most of the Big Apple, and we are introduced to a character we never got to meet in the 1994 miniseries based on the book: former socialite Rita Blakemoor.
In the book, Larry meets the pill-popping, unstable Rita in the park and they quickly hook up, spending a few days screwing, eating and generally enjoying each other's company after watching the rest of the city die. Once they decide to venture out of New York, however — driven by Larry's dreams of Mother Abigail and Flagg — Rita's issues come to the forefront and she dies of an overdose that Larry suspects is partially a suicide. His guilt over the relief he feels at her death is the start of his own journey from self-serving narcissist to selfless, compassionate leader.
In the 1994 miniseries, Rita was combined with the character of Nadine Cross (the complicated, treacherous femme fatale played at the time by Laura San Giacomo and in 2020 by Amber Heard), which made sense in terms of streamlining the narrative for TV but deprived fans of the book of both a distinctive character and a seminal incident in Larry's arc. Rita is back in the new The Stand, played by Heather Graham (The Hangover).
"Frankly, the combining of Rita and Nadine never worked for me," admits Cavell. "I don't think it works for my understanding of Nadine, it also eliminates the Nadine/Joe relationship forged on the road before they meet Larry. I mean, there are all these parts of that relationship. And the way in which Larry and Nadine come to seem like an estranged couple sharing custody of (feral little boy) Joe — you really don't get that if Larry gets out of New York with Nadine. I think that the stuff with Rita really changes Larry, and actually is a catalyst for him to become who he becomes in the course of the series."
With this version of The Stand having nine hours to work with, instead of six (minus commercials) like the 1994 edition, Cavell says that restoring Larry's time with Rita — whose death in the show is shown as a deliberate suicide — was one of his favorite aspects of adapting The Stand. "It's one of the most beautiful, memorable parts of the book for me to this day, I think — Larry and Rita's sojourn in this empty Manhattan," he explains. "We were so happy to be able to get that back in. It felt like such a big win, and Heather Graham is just so brilliant as Rita, which felt like even more support for that decision."
One thing that is different about Larry's time in New York with Rita is that they don't make their famous pilgrimage through a pitch-black Lincoln Tunnel packed with stalled cars and rotting corpses to get out of the city. That nightmarish journey — a scene well-remembered by fans of the book and handled somewhat less effectively in the 1994 miniseries — has been replaced here by an equally macabre jaunt through the sewers below Manhattan as Larry and Rita escape from some very dangerous men.
"I think one of the things we've done is try to really ground our story," says Cavell about that change. "And really have the decisions people are making feel like they come out of character and logic, and not just for dramatic purposes. Viewing it through that lens, it is almost impossible to explain why somebody would leave New York with the power out through a tunnel. I mean, the idea of going into a tunnel that you know is packed with stuff, when you know that the lights are out, is almost insane."
We'll hear more from Cavell in the weeks ahead about characters and sequences that did and didn't make it into the show, as well as new scenes added to this adaptation and other changes or surprises in store, as The Stand unfolds over the next seven weeks.
New episodes of The Stand premiere every Thursday on CBS All Access.