Features
The Simpsons Wants Your Creepy Krusty the Clown Art
The Simpsons showrunner Matt Selman reveals what to expect from "Treehouse of Horror Presents: Not It."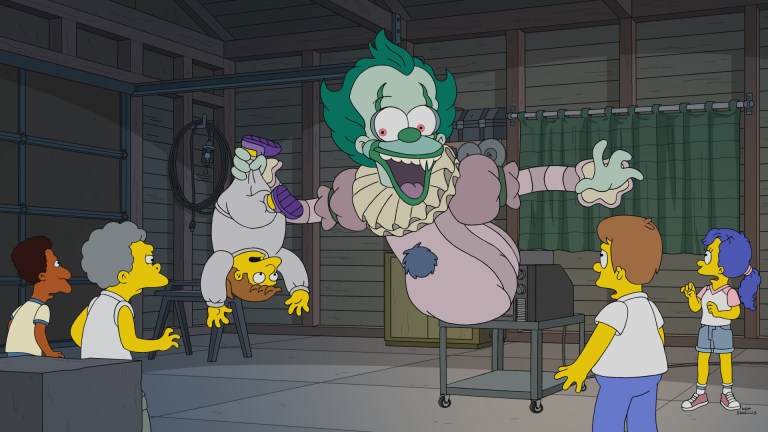 The Simpsons are tossing something extra in trick or treat bags this year. The show will present audiences with two nightmarish "Treehouse of Horror" installments. One of which features an iconic figure of Halloween: Krusty the Clown from Springfield, USA, stepping in for Stephen King's Pennywise the Clown from Derry, Maine (and his book It, and its film adaptations). Fans have been rendering both masters of disaster laughter in homemade art, and the Fox animated series decided to supply them with a receptacle.
"For one of our two Halloween episodes this year, we're holding a Simpsons Halloween Fan Art Contest to get some great homemade drawings of scary Krusty," The Simpsons' showrunner Matt Selman tells Den of Geek. "We'll put the winners under the end credits of 'Not It,' our parody of… well, you know."
Viewers are encouraged to send Krusty the Clown fan art for a chance to have their work aired during the end credits of "Treehouse of Horror Presents: Not It."
"When a supernatural clown starts slaying the children of Kingfield, young Homer Simpson teams up with other middle school misfits to face their fears and defeat the mysterious monster," reads the official synopsis. "But years later, the evil clown returns, and Homer's friends must confront the tragedy of their adult lives to destroy Krusto once and for all."
Selman spoke with Den of Geek about the horrors of choosing one ghastly piece of terrifying art over more abhorrent contributions.
Den of Geek: Who is more dangerous to young minds, Krusty the Clown or Pennywise?
Matt Selman: I think Pennywise is worse. Krusty is kind of lazy and phones it in.
Why are you running this contest, cheap labor?
The term "fan service" may apply to this episode. So many people have drawn mash-ups of Krusty and Pennywise on the Internet, and people have gotten tattoos of them. It's a fun and intuitive mash-up between these two super-famous clowns, right?
There's already so much of an internet presence of Krusty and Pennywise homemade parody, homemade fanart, that we said we should just do an episode where Krusty is a parody of the clown from It, if we can tell a good story. I won't completely own up to the fan service element, but once you get into the 700s (episodes) of a series, I think it's okay to write towards the tattoos people already have. I mean, there are a lot of [Rick and Morty] Pickle Rick tattoos out there. You've got to admire that. You write an episode that inspires thousands of tattoos, you've done a good job.
The episode's genesis came from fan art, so why shouldn't we reward or engage with the fans in the actual presentation of the show by incorporating fan art into our credits? The show was born out of fan art. We wrote a plot that is a mash-up of Krusty and Pennywise.
The Simpsons Comics has already done a legal satire of Krusty and Pennywise. I'm sure the comics are great. The writers of the show don't read the Simpson comics. People love them. We just don't read them. But apparently, they've already done a parody of it. A pretty clever title, actually: "It Happens."
In that one, Krusty is also a Demon in Hell but not in ours, in ours it is an original demon. We resisted the urge. It was tempting to make them a mash up with Moe. But we didn't. But for a show that was born out of fan art, it was cool to come back to fan art. The show is literally going to end with our favorite pieces of fan art under the closing credits.
I'm sure we're going to get some we can't show, probably ones that are going to be too not safe for television, hopefully. There are a lot of laws for how these contests work that I was not aware of and now am aware of. If we regulated the environment as well as we regulated The Simpsons Fan Art Contest, global warming would be a thing of the past.
Will there be a place where we can see the entries that didn't show up on TV?
I don't think so. I think only the TV ones will be shown.
Who is judging this?
Some of the writers, and some of the producers of the show. So, me and Brian Kelly and Cesar Mazariegos will be judging the art.
What led you to double the Halloween offerings this year?
There's more candy. Who doesn't want more candy? A legal parody of It is a story you could not tell in a third of an episode, in a six-minute segment. Honestly, it was hard to tell it in 20 minutes. We had to cut out tons of stuff to get it to fit.
It's a two-part story, the same way the book and movie are two movies. Homer and the gang as kids and then Homer and the gang as adults. I wanted to do it as two acts with only one act break. Usually, we have three acts on the show. But Fox didn't like that idea. Fox needed a three-act, so I did not win that battle.
However, I believe when you stream the show on Disney+ (not Hulu because Hulu has ads) but when you stream it on Disney+, we're making a version with only one break. So, it will be a two-act story. Maybe I'll lose that battle too.
Do you have a favorite "Treehouse of Horror?"
They're all so good. I have some favorites, in addition to the classic ones. I love the one about The Great Pumpkin, the Peanuts special parody we did. One of my favorites was "The Ned Zone," where Ned can predict the future. I'm part of the modern Simpsons era, for better or worse. I'm going to pick two modern ones that I think are great. And I do love the Thanksgiving horror.
Last season, scary season lasted longer than "Treehouse." Will there be other holiday fright treats?
It's possible. It's not in the works yet, but it is all possible. We've done Christmas trilogies already, and some of them have been violent and scary. So, I feel like we covered that. We haven't really done a lot of other trilogies recently. They're very expensive and time consuming. They usually take you into another world, expensive background designs, new characters and fancy animation.
I wanted to get your response to the Rolling Stone ranking.
The ranking. We'll take it. We'll accept it. It's very flattering. People can judge if it's good or bad on their own, but it's hard to argue that it's one of the most influential shows in the history of television, in terms of how it changed people, how people saw the world, how people saw television, how people saw comedy, how people saw storytelling.
I take no credit for that myself. All the early years, the Dream Team. In terms of a generational show that changed how movies, commercials, television shows, animation, and global culture were seen. How politics came in. I feel it was really one of the top five most influential shows of all time.
They always put some crazy ones on the list to get people to get mad about them, right? Like, isn't Fleabag number five? Nothing bad to say about Fleabag, but it's hard to say it's an equal creative accomplishment to say 30 Rock. The Simpsons certainly had as much quality as we do quantity.
The Simpsons Halloween Fan Art Contest is open to legal residents of the U.S. and Washington, D.C. ages 18 and older, until October 9, 2022 at 11:59 p.m. ET. For more information and to drop submissions, visit TheSimpsonsHalloweenFanArtContest.com.
The Simpsons' "Treehouse of Horror Presents: Not It" airs Oct. 23 at 8 p.m. on Fox, and streams the next day on Hulu.