Reviews
The Simpsons Season 34 Premiere Uncovers a Massive Conspiracy
The Simpsons mocks a turtle stuck in a rabbit hole, and the internet thinks Homer is smart, in "Habeas Tortoise."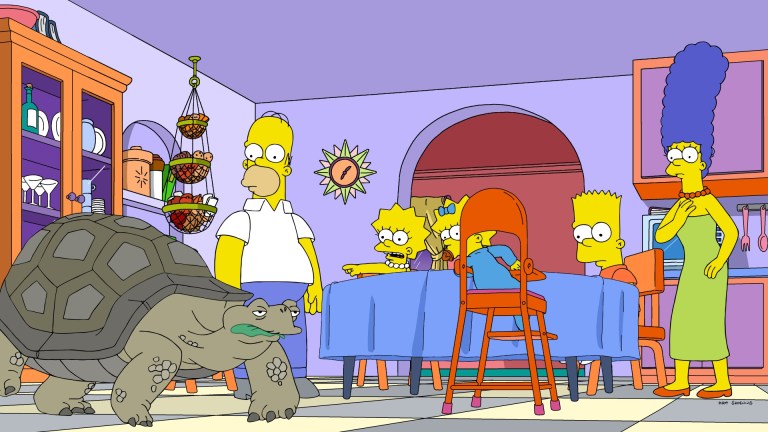 This The Simpsons review contains spoilers.
The Simpsons Season 34 Episode 1
It's a conspiracy. The Simpsons season 34 premiere finds middle ground on a very divided topic, follows a twisted story line with single-minded concentration, and still can't see what's right in front of them. "Habeas Tortoise" works better as a satire than a comedy, even as it hits every comic beat.
The premise is simple. Someone, or some ones, stole Slow Leonard, the Springfield Zoo's longest-running, slowest-moving attraction. Was he kidnapped to make way for newer, more exciting exhibits? Is he a drug mule for some zoological cartel, or a victim of a skewered perspective? The 150-year-old tortoise at the center of the missing-reptile case is an allegory for every unmentionable fake news story which takes on a life of its own, and Homer is the American Everyman who will swallow each variation whole, with a healthy pinch of saffron.
The opening sequence is a taste of things to come for the season. The town of Springfield votes to no longer celebrate Columbus Day because of Christopher Columbus's problematic history. But it's not as problematic as the naysayers, every Italian stereotype in Springfield threatening "woah," in a barrage of clichéd dialects. Helen Lovejoy's frightening anti-literacy counterpoint lays the trap for the underlying theme: Education is bad, and it's time people learned.
For Homer, all this talk of free books and erotic intellectuals brings out his feelings of inferiority in all things cerebral. Remember, Homer is the one man in Springfield who was saved from hungry brain-eating zombies because there was nothing inside his cranium in "Treehouse of Horrors III."
"Habeas Tortoise" presents one of the deepest dives into the mind of Homer Simpson since the Max Fleischer tributes used to play out in his head. Almost every line Homer says works as a standalone joke, from the moment he is moved to stand, even in the presence of a chair. His fear is very real, and while it has been addressed consistently throughout the run of The Simpsons, Homer's stupidity leads to brilliant breakthroughs. It's the cleanup that's the problem, and it sometimes washes away sloppy punch lines with more raggedly effective payoffs.
The only solution to being a dum-dum is finding other dum-dums and corralling them into a safe space where there are no such things as bad ideas and calling it a think tank. This works in any kind of bubble, so, The Simpsons are still evenhandedly skewering the fever, not the pitch. While you won't find any whistles for zebras, there is no shortage of white-boards, index cards, ivermectin, genuine Mrs. McLellan's brand red evidence yarn (Illuminati strength), and other doodads perfectly formed for a takeoff on DIY true crime solving series. Enthusiasts gather on FaceLook, one of the many social media outlets to be found on the internet, which is surprisingly still online.
Homer is right to fear social media as a stupid white man, the holes it reveals leads to rabbits, not donuts, though they do come in handy in the episode, and not only because it's the best way to present evidence to Police Chief Wiggum. He also ridicules Homer, as one of the misguided regular people try to solve crimes. The silly notion amuses Wiggum even though he is one of them. A regular guy who wants to get to the bottom of crimes, real crimes. This works on two levels because the top cop in Springfield is renowned as incompetent, and feels perfectly suited to the kinds of people whose indulgences he craves.
Marge is, as ever, the most enabling mother in Springfield, USA, and her very first act is a moment of pre-emptive comic brilliance, stuffing a sax into Lisa's mouth before a correction can be made. Bart's concern is truly moving, worrying about Moe in Homer's absence. But the family gives up the couch to the primary group of secondary characters: Miss Hoover, Gil, Drederick Tatum, Sideshow Mel, Comic Book Guy, and ultimately Superintendent Chalmers. With a no-bad-idea policy, they are free to sink to the worst conclusions, and feed themselves into the same frenzies any unchecked information peddler can muster.
To be fair, the very first solution Homer comes up with is a rabbit hole worth chasing. Prairie dogs are far more "Instagramable," and look cute in baby clothes, but slow-and-steady is no strategy in a rush to judgment. Homer completely surrenders to the social media influencers, taking cooking tips off TikTok, and swooning over "likes."
The protests are wonderfully ambiguous, both in-your-face and whatever-you-prefer, the small group of disgruntled truth-seekers is forever wordy. "We can't be more emphatic," they chant. "We think Leonard's in your attic." As they hold up signs like "What the Shell happened," "What did Zoo know," and "Is there a bathroom I could use."
Skinner's wedding song, an abstract takeoff of the essence of Sam Cooke's "Wonderful World," is a conspiratorial pleasure. It is a rallying cry for flat-earthers, and yet so touching. All the singer knows is "I love you, and there's microchips in Charleston Chews," but we would follow him down any aisle. The kickoff line, however, is subversively frightening, as the Superintendent of the town's entire school system proudly proclaims he doesn't know any history.
Some new developments are revealed over the course of the caper. Miss Hoover and Gil exchange surreptitious vows aboard the Springfield Ferry, probably the closest thing they could find to International Waters since the Sea Captain didn't join the paranoid cabal in their amphibian piracy. The Simpsons also plumbs their own mythology for self-referential pot shots, and hopeful conclusions. "Disney Returns Fox: 'It's Good to Feel Clean Again,'" reads the headline in The Springfield Shopper, and we see the birth of a future legend. There will come a day when someone points at this headline and laughs, probably more than they laughed at the episode itself, at least uproariously.
If you're a lizard person watching this, "Habeas Corpus" may feel lukewarm in its comedy and tepid in its commentary, but this is due to its surprisingly subdued presentation. Every line is witty, and the setup is ridiculously brilliant in its skewering of the communities which cycle around fake news and ad hoc conjecture. Villainy is thwarted by armchair detectives who finally get off the couch, but Homer could have solved it sitting down. Clever more than comic, The Simpsons season 34 opener provides chuckles in a nuanced offering which is less than classic.