News
The Simpsons Recasts Carl Carlson for Season 32 Opener
Hank Azaria will no longer be splitting atoms at the nuclear plant as Alex Désert punches in The Simpsons season 32 premiere.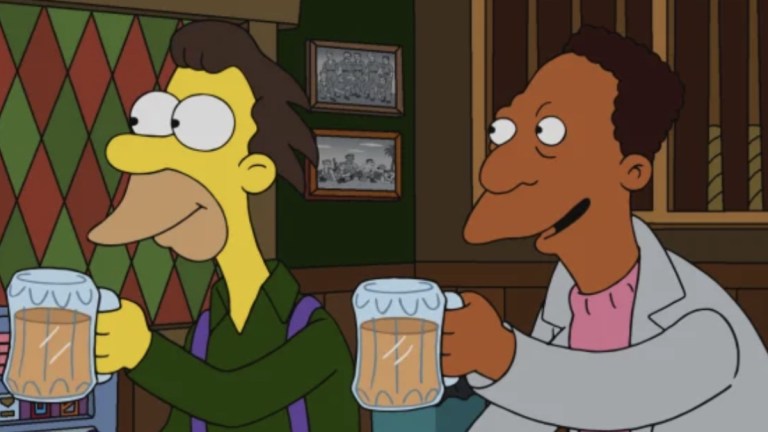 Homer Simpson's African American nuclear plant supervisor Carl Carlson will be voiced by Alex Désert on The Simpsons season 32 premiere, according to Variety.
There is now word yet on whether Désert will continue to voice the character beyond Sunday's episode "Undercover Burns." Désert is a veteran animation voice actor, appearing as Swarm on Disney XD's Spider-Man: Maximum Venom, Mr. Bojenkins on Adult Swim's Mr. Pickles and its spinoff, Momma Named Me Sheriff, and on The Avengers: Earth's Mightiest Heroes. He was a regular on the TV series Becker, which starred Ted Danson, and appeared on such varied shows as Boy Meets World, Better Call Saul, and Better Things. He also appeared in films like The Flash, Freaky Friday, Alexander and the Terrible, Horrible, No Good, Very Bad Day, High Fidelity and Swingers.
"We are very pleased to welcome Alex Désert, playing Carl in The Simpsons' season premiere," The Simpsons said in a statement, per Variety.
Multi-voiced and longtime regular cast member Hank Azaria has been the voice of Carl, who has referred to himself as "urban Lenny," starting with the character's second appearance. Harry Shearer voiced the character's debut in the season 1 episode "Homer's Night Out."
In January, Azaria announced he would stop voicing the Indian American Kwik-E-Mart owner Apu Nahasapeemapetilon. The characterization was found to be a harmful caricature under the lens of Hari Kondabolu's 2017 documentary The Problem With Apu. "I know Apu is one of the smartest characters on The Simpsons," Kondabolu says in the documentary. "But it's not why people liked him. They just liked his accent." Tress MacNeille voices Apu's wife, Manjula.
Fox confirmed The Simpsons "will no longer have white actors voice non-white characters" in a statement in June.
There is also no word on who will play African American Springfield police officer Lou, who is voiced by Azaria, as is the character Bumblebee Man, who is Hispanic. We will probably still hear Azaria in the roles of Professor Frink, Comic Book Guy, Dr. Nick, Snake, Kirk Van Houton, Sea Captain, Superintendent Chalmers, and Cletus, the slack-jawed yokel.
Dr. Hibbert, who has been voiced by Shearer for the show's entire run, appears on the episode in a visual gag with no dialog. In August, Shearer told Times Radio "The job of the actor is to play someone who they're not."
In the aftermath of killings which brought the Black Lives Matter movement to mass media attention, representation and diversity are being practiced in the workplace. Mike Henry stepped down as the voices of Cleveland Brown and Consuela on Fox's Family Guy and the four-season spinoff The Cleveland Show. Kristen Bell stepped down from her role as Molly on Apple TV Plus' Central Park. Emily Raver-Lampman will play Molly in season 2. Ayo Edebiri will voice Missy on Netflix's Big Mouth, replacing Jenny Slate. At the request of co-creators Tina Fey and Robert Carlock, NBCUniversal pulled four episodes of 30 Rock which showed characters in blackface from streaming services and syndication.
In The Simpsons season 32 premiere, "Undercover Burns," Mr. Burns gets a fancy makeover as a regular Joe. He goes undercover at the plant as Fred, voiced by David Harbour of Stranger Things to see if the writing on the wall is true.
The Simpsons airs Sundays at 8 p.m. on Fox.