Features
The Sci-Fi Inspirations Behind HBO's Avenue 5
From Battlestar Galactica to Star Trek, the cast and creatives behind Avenue 5 talk sci-fi influences.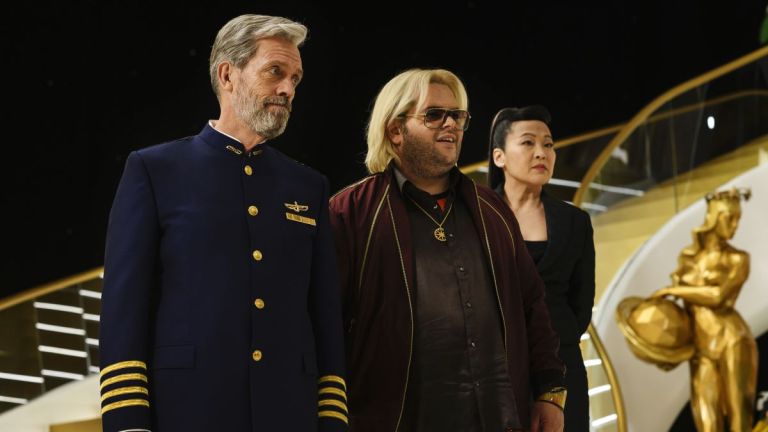 With Armundo Iannucci's new series Avenue 5 blasting the British comedian's unique sense of humor into space, we thought it was a great time to ask the cast and creator what science fiction influenced them. During the recent press junket we sat down with the people behind the show and got an eclectic set of answers from classic sci-fi films to brilliant books and even some contemporary additions to the canon that have shaped the minds, careers, and lives of the cast and crew of Avenue 5.
Unsurprisingly, the man who created the show is a huge fan of the genre, and the fact that it was absolutely nothing like what he'd done before helped. "I've always been a sci-fi fan. Yeah, I love reading sci fi—Asimov and HG Wells—but also the reboot of Battlestar Galactica is one of my favorite shows," Armando Iannucci explains.
The streamlined vision of Ron D. Moore's beloved reimagining would end up being a huge influence on Avenue 5 and its specific vision of a future where the only major technological advance is the normalization of commercial space travel. "What I liked about Battlestar Galactica was the fact that they kept it real, it's got the cylons but that's it; there's no aliens, there's no transporters. Things like Star Trek, I enjoy. But if I'm making something, that's not what I want to make. I want to make something where it's more playing with an idea and then allowing people to behave normally. There's no magic way out, you can't just press a button that turns you into loads of neutrinos that suddenly transmogrified you out of that situation."
Nikki Amuka-Bird who plays Rav, the long suffering but strong-headed leader of Mission Control, immediately reached for a classic that had changed her perception of women in film forever. "Aliens is one of my favorite movies. It was one of the pioneering genre films that showcased how women can be really strong whilst completely defying limitations."
Not everyone had an easy favorite to pull from, although the actress who plays Billie, the ship's Second Engineerportrayed by Lorena Crichlow, who starred in iconic genre fare Being Human—looked back on a role from her own career that changed how she saw sci-fi and what a science fiction story could be. "Because I was in Black Mirror, I always say Black Mirror because I think it's just genius."
Regular Iannucci collaborator Rebecca Front wasn't a huge fan of the genre but did have a beloved movie that made the idea of working on Avenue 5 even more exciting. "Funnily enough I'm really not [a sci-fi fan]. I tend to be slightly put off by that stuff, and my brother was always a big sci-fi fan when I was growing up and my husband quite likes it too. So, there have been numerous times over the years when either my brother or my husband would kind of say, 'Let's give it a go' and I'd watch like Star Wars and be like, 'It's a good film, it's just not for me.' The only sci-fi thing that I've ever really enjoyed in terms of a traditional space-set film was Galaxy Quest. So when Avenue 5 came along it was like, 'Okay, this is brilliant because I can now sort of be in something that is sci-fi but that also undercuts it beautifully.'"
Crichlow isn't the only genre star who Iannucci managed to wrangle for his space series as a stone cold Star Trek icon is also a regular cast member. Ethan Phillips plays Spike, a retired astronaut and barfly who spends his time on the ship living his best foul mouthed retiree life. It should come as no surprise that the actor who played Neelix for seven seasons on Star Trek: Voyager is a huge sci-fi fan who had some great book recs for our readers. "I read sci fi, and I have just finished a Blake Crouch novel called Recursion. But I've read everything Ursula Le Guin has written. I love it all, going all the way back to classics like Ender's Game, I just love really good sci-fi literature. I love sci-fi in general too. But probably the thing that blew me away the most was Childhood's End by Arthur C. Clarke."
read more: How Avenue 5 Keeps the Legacy of Gene Roddenberry Alive
Suzy Nakamura had a personal connection to the genre which had made her fall in love with the sprawling sci-fi and fantasy world. "I'm influenced by my older brother who was obsessed with sci-fi and so when you're a little sister you're just like, 'Hi, I want to do what you're doing.' So I read all of his comic books. I tried to play D&D with him." Nakamura's on screen co-star Josh Gad is a famed fan of the genre and was quick to gush about the stories that made him. "I'm so into sci-fi. I'm such a geek that when I saw Ethan Phillips come to set for the first time, as a Voyager fan I was just like, 'Ughhhhhh!' It's just been such a huge part of my life. I grew up, you know, during the run of the original run of Star Trek: The Next Generation so that was incredibly influential on me and my career, and my love of Star Wars is well known!"
Whether you're a huge fan of sci-fi or more of a casual viewer you'll likely notice some of the many homages, references, and influences that have shaped Avenue 5. And even if you weren't planning on watching the HBO comedy, make sure you check out some of the great sci-fi suggestions that the cast and creator offered up!
You can watch Avenue 5 episode one on HBO right now.