Features
Avenue 5: Josh Gad Shares His Real Life Inspirations for Herman Judd
Josh Gad discusses the space entrepreneur life on Avenue 5 and shares his thoughts on Star Trek, The Rise of Skywalker, and more.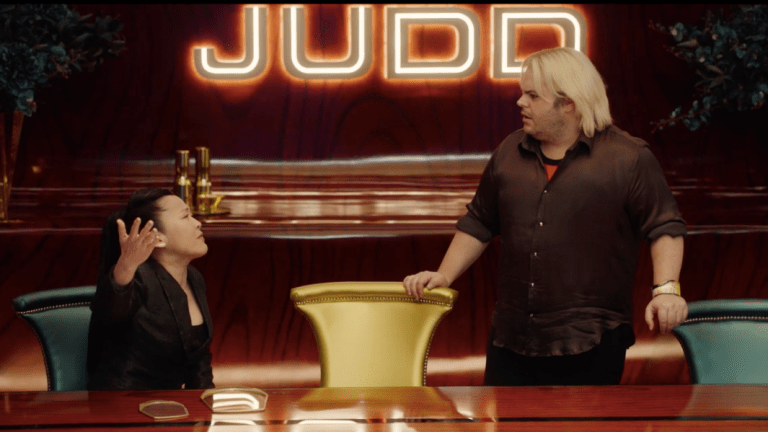 The following contains spoilers for Avenue 5.
As the abandoned denizens of Armando Iannucci's space satire Avenue 5 try to come to terms with their desperate new status quo, there's one passenger aboard who may be more dangerous than any intergalactic threat you can imagine. We are, of course, talking about Herman Judd, the owner and CEO of the space-pleasure-cruise corporation behind the disastrous mission. During a recent chat at a press junket for the show, we spoke to Gad about his love for genre fiction, his first time doing a sci-fi project (Pixels doesn't count, he informed us), and the real life scammers who informed his tech bro nightmare, Herman. 
read more: The Sci-Fi Inspirations Behind Avenue 5
"I am such a fan of sci-fi. Oh, I'm such a geek that literally when I saw Ethan Phillips (Nelix in Star Trek: Voyager, Spike in Avenue 5) come to set the first time, being a Star Trek: Voyager fan I was like, 'Ughhhh.' It's just been such a big part of my life. I grew up, you know, during the run of the original run of Star Trek: The Next Generation, so that was incredibly influential, and obviously my love for Star Wars is well known." 
Speaking of Star Wars, Gad also shared his feelings on the newest divisive entry into the franchise. "I loved it, I loved so many aspects of it. I cried so much. But the beauty of Star Wars is that really it is so subjective I did the screening at the El Capitan of all the films in a row because I have a tradition of doing it with all my friends. I'm the guy who waited in line for a day when Phantom Menace tickets came out and skipped school. So I you know I love finally getting to do what is essentially my first sci-fi project." 
The Frozen star also told us an anecdote about watching Return of the Jedi with his daughters for the first time and the tough conversations that it raised. "I had a very complicated conversation with my girls yesterday because we were randomly watching Return of the Jedi. They immediately started asking me all the right questions about why Leia is in that outfit and why Jabba has her on a leash, and I did not know how to answer." Well, in the immortal words of Carrie Fisher, "Tell them that a giant slug captured me and forced me to wear that stupid outfit, and then I killed him because I didn't like it. And then I took it off. Backstage."
read more: Avenue 5 and the Secret of the Big Episode 1 Twist
It's not just science fiction that has shaped Gad's career, passions, and performance in Avenue 5, as the actor shared some of the real life inspirations (both science-based and not) behind his strange, maniacal, and utterly useless CEO, Herman Judd. 
"When I signed on I'd just watched the first of two Fyre Festival documentaries and became immediately fascinated by it. I was obsessed with the idea of Herman Judd becoming the next iteration of Billy MacFarlane or an Elizabeth Holmes who created Theranos, these great salespeople who didn't necessarily take the time to build a product worthy of selling." 
read more: How Avenue 5 Keeps the Legacy of Gene Rodenberry Alive
Gad continued. "When I introduced that concept to Armando and the writers they ran with it, even down to the choice of hair. I was inspired by the idea that Elizabeth Holmes literally hired the person who designed the turtlenecks for Steve Jobs to do her turtleneck. The idea of having Judd literally go to a hairdresser and say, 'Make me look like Richard Branson' just sort of felt like that's sort of where we're headed. Obviously it's got elements of Trump in there as well, but I feel that they're all cut from the same cloth to a certain extent."
With Herman Judd wreaking havoc on Avenue 5 we'll be interested to see how much longer any of the crew survive, especially as we learn more about the truth behind the deep-space pleasure cruise. You can watch Avenue 5 every Sunday at 10pm on HBO.