Features
The Pressures of The Walking Dead's Final Season
The Walking Dead maestro Greg Nicotero wants the final season to "go out strong" and make everyone "remember why they fell in love with" the iconic horror TV series.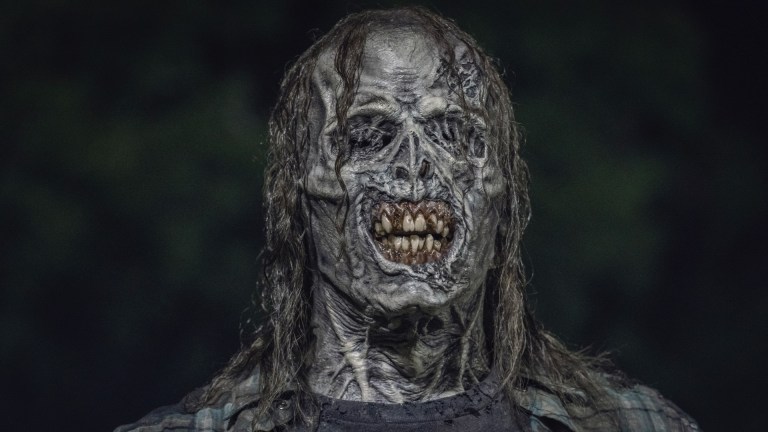 Most years, when the season's eighth episode of The Walking Dead airs, it would mark a midpoint. But not so for the eleventh season of the AMC zombie epic, which is due to roll out 24 episodes for the show's final outing.
With two-thirds of the show yet to air, and two-thirds completed on the production side, executive producer Greg Nicotero is feeling the pressure to bring it on home.
The director, writer, and special makeup effects maestro tells us in a recent interview he views the final season as a marathon. Specifically the fact that shooting a 16 episode season for a show of this scale requires considerable stamina.
"This isn't a 'two people in a room talking' show," Nicotero says. "This is a complicated show, with a lot of moving parts, and a lot of characters. It's challenging in a lot of ways."
Yet the biggest pressure Nicotero says he is feeling is due to the "responsibility" to deliver the best ending possible to fans.
"All of us, especially those of us who have been on the show since the beginning, want to go out strong," he says. "We want people to remember why they fell in love with The Walking Dead. It is no joke because we really want it to be amazing."
As he discussed his mission to "take the show out strong," Nicotero mentions he recently re-watched the first two episodes of the first season, and was "blown away." But he said one could see the entire arc of TWD in those stories.
"I really couldn't even imagine what would have become of the show, but when you watch those first two episodes, it's right there," he says. "When [Morgan, played by Lennie James] is sitting at the window with his gun trying to shoot his wife's walking corpse and he completely breaks down sobbing [it was] the minute I fell in love with the show."
Greg Nicotero's relationship with The Walking Dead runs deeper than another of his many, many jobs. Instead, the AMC series "completely changed my life." He reflects about the amazing opportunity original showrunner Frank Darabont gave to him.
"Up until the point we started Walking Dead, I had directed some second unit bits with Robert Rodriguez, and shot a couple things with [Quentin Tarantino], and Frank of course on The Mist," he recalls. "When we were developing this show, he relied on me a lot. He said, 'Well Greg knows the rules of the universe'."
As a result, Nicotero became Darabont's "eyes and ears on set" during the first season and — while also directing second unit — helped incoming directors grasp the basics of a world overrun with walkers because most weren't ravenous zombie fans like him, or Darabont.
"When the season ended, Gale Anne Hurd said they wanted to give me a consulting producer credit because I did more than just makeup," he says. "The next thing I know I'm a co-executive producer, and start directing episodes, and being second unit director, and indoctrinating incoming directors. It has changed me to the point where I've directed almost 40 episodes of the show. I've written, produced, directed, done the effects, designed costumes; I've been able to expand my love of the genre, and it's given me the opportunity to tell the stories I've wanted to tell."
Nicotero expresses much gratitude to Darabont and AMC for "seeing so much in me." But beyond the professional opportunities afforded to him as a result of his work on the series, such as serving as showrunner on Shudder's Creepshow, he credits The Walking Dead with changing his world personally. He says he forged relationships after being "in the trenches" with cast and crew, which won't fade even as the show concludes.
"It is going to be the weirdest in the world, knowing six months from now, the show will be over," Nicotero says. "It will have been 11 years, watching people get married, watching people get divorced, watching people have children, watching their children grow up, going on vacations together with them. No one can ever replace the experiences I've had, and the friendships I've made. I am, without a doubt, a different person."