Features
The Haunting of Elvira: Real-Life Ghost Stories From the Mistress of the Dark
Cassandra Peterson, better known as Elvira, reveals some real life hauntings that plagued her and Star Wars star Mark Hamill.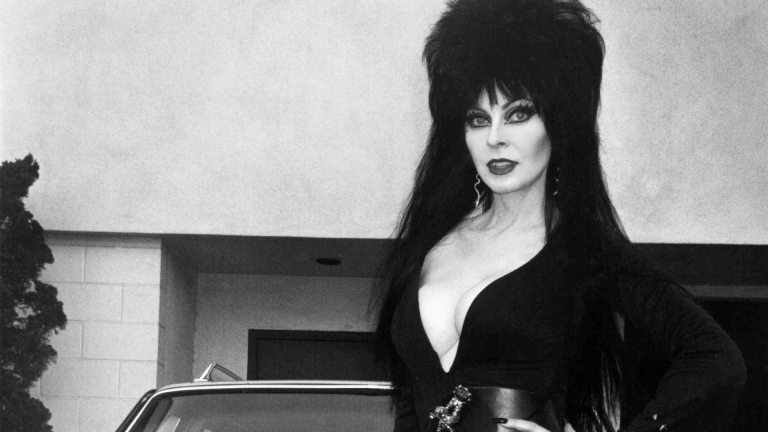 As Elvira, purveyor of puns and spooky sex appeal, Cassandra Peterson has literally draped herself in the macabre, and guided fans on a shlock and awe journey through horror cinema for 40 years. And in her new autobiography, Yours Cruelly, Elvira: Memoirs of the Mistress of the Dark, Peterson details her life before creating the Queen of Halloween and the wild ride after the fact. At times the book reads like a Forrest Gump-ian work of fiction as Peterson (and Elvira) encounters Elvis Presley and Johnny Carson, trains alongside fellow pop culture icon Paul Reubens (aka Pee-Wee Herman), and befriends fellow horror legend Vincent Price.
She also met a ghost or two, and lived in a haunted house once occupied by Star Wars' Mark Hamill.
The supernatural, paranormal, metaphysical and other "woo-woo" topics are a recurring theme throughout Yours Cruelly. The very first lines of the book recount a visit to a palm reader when Peterson was 17. She likewise details a paradigm-shifting discussion with The King of Rock n' Roll about spirituality, religion, numerology, and astrology. Peterson was philosophically influenced by the self-actualization ideas in The Power of Your Subconscious Mind by Dr. Joseph Murphy and The Science of Mind by Ernest Holmes. And though forced to attend Sunday school as a child, Peterson doesn't identify as religious, but does believe in a higher power.
But it was at her Briarcliff Manor home in the Hollywood Hills, California, that Peterson came face to face with the afterlife. After discovering the home in 1989, following nearly a decade as Elvira, Peterson happened upon the 21-room, 5,600-square foot mansion built in 1910 while walking her dogs. She knew she had to own it, and once she did, "things got strange the very first day we moved into Briarcliff Manor."
It began with hearing footsteps from the empty third floor. From there, Peterson recounts in her book, she witnessed an apparition of a woman dressed in a 1930s-style nurse's uniform, that warned she was going to "take" Peterson's sleeping ex-husband "into the pool." Another time, she encountered the spectre of a man in period clothing sitting by the fire.
Not only does Peterson report the house was the site of more than one suspicious death (including that of a Ziegfeld Follies girl who died in the pool, and wasn't discovered until the next day), she tells of a dinner party attended by Mark Hamill. The Star Wars actor revealed he had lived in Briarcliff in the 1960s, until one of his housemates died by suicide.
Peterson tells Den of Geek in a recent interview: "He drove in the gates, and he just got out of the car, and stood there going, 'Oh, my god, I can't believe it; this is the house I lived in when I was in college.'"
Peterson said Hamill proceeded to "drop this bomb" about his roommate who died in the home.
"We told [Mark] all about what had been going on there, so he was fully aware of that, and he told us that story because we told him about all of the creepy things that were happening," Peterson says. "We were like, 'Oh, my god, please don't tell us that'…of course it turned out to be the master bedroom closet right across from our bed."
Despite her personal beliefs, and misadventures as Elvira, Peterson said she doesn't encounter the strange and unusual all the time — even though she currently lives in a "very creepy" home that was previously the site of a "horrible, horrible violent death." However, she does recall a moment from her youth, "in the 50s, probably," that she ascribes to the paranormal.
"When I was a kid, I was in my basement room," Peterson tells us. "I had a little closet next to the bed, and I'd always try to get my friends to do the Ouija board with me. But when they weren't around, I didn't have anybody to do it, and my sisters were completely not interested. So I started doing the Ouija board on my own."
Peterson says she would put her fingers on the board, and it would start "zooming" around.
"I knew I wasn't doing it; I was the only one there."
Peterson says that the board started "talking" about Salem, Massachusetts, and the witch trials, as well as name "this person, that person." Around third or fourth grade, Peterson decided she didn't want to engage any further because she didn't know who was moving the planchette on the board.
"One night, I freaked out," she says. "I took the board, threw it in my closet, slammed the door, got in bed, turned off the lights, and then I laid there freaking out for a while. And then, as I'm ready to fall asleep, I hear the little planchette scritch, scritch, scritch, scratching on the board in my closet."
Peterson says she admits this could be the recollection of a child's imagination, but remembers sitting up the whole night, "frozen in that spot, too scared to get up and open the closet door or go anywhere near it."
The next morning, she told her mom. Peterson's mom grabbed the board and planchette, threw them both in the backyard incinerator, and burned it up.
"I was really sad about [it] but kind of relieved, too."
When this writer brings up the fact that the Ouija boards, now owned by Hasbro, at one point were promoting their manufacture from Salem, Massachusetts, the Mistress of the Dark replies:
"Oh, seriously? That's bizarre."
And that is a truly creepy tale from the Queen of Halloween. But watch this space for more from Elvira, Mistress of the Dark, as we celebrate her 40th Anniversary, and talk more about her memoir Yours Cruelly.