Features
The Office: The Farm Spin-Off Would Have Wrecked Dwight and Angela's Ending
Had NBC commissioned The Office spin-off The Farm, the main show's season nine finale would have played out completely differently. Spoilers.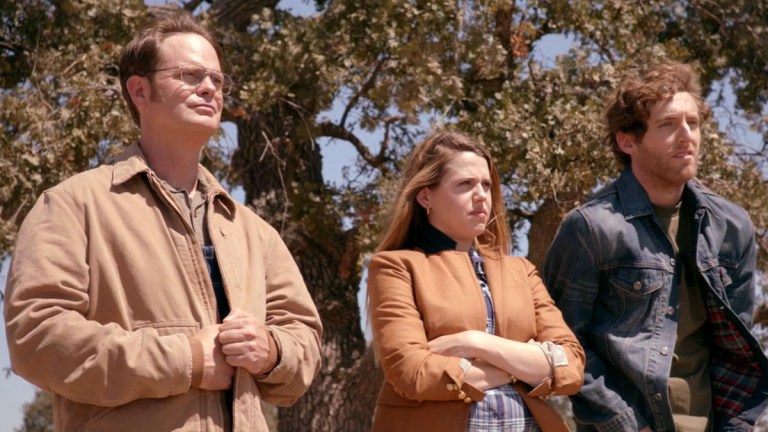 Warning: contains spoilers for The Office seasons 1-9.
"Geese and goats and Schrutes and hijinks at the Bed and Breakfast" is how Rainn Wilson, the actor behind The Office's Dwight K. Schrute, summed up proposed spin-off The Farm, which never went beyond its pilot episode. Speaking to fans on a Reddit AMA back in 2012, Wilson called the Dwight-focussed show a terrific, weird yet accessible rural family comedy. Had it been ordered to series, it would have told the story of the Dunder Mifflin paper salesman running a 1,600 acre farm and B&B with his brother and sister.  
"It would have been a really big hit," The Farm writer-director Paul Lieberstein told 'The Office Deep Dive with Brian Baumgartner' podcast in 2021. Lieberstein was co-showrunner on The Office for seasons five to eight, and played HR manager Toby Flenderson on the comedy. He told podcast presenter Brian Baumgartner how disappointed he was when NBC chose not to pursue the project in 2012, blaming a change in management. "I don't see how someone could not give The Farm a chance. Not give the Dwight spin-off a chance," he told the podcast.
The year before, Comcast had bought a controlling share in NBCUniversal, which resulted in a change of NBC Entertainment Chair. The new boss, says Lieberstein, did not champion The Office. "I have to say that they didn't even know all of the characters' names at that point, they weren't really following the show. I think we were just a disappointing line item at the time."
Lieberstein had planned for the spin-off to develop into a mockumentary about the hardships of running a small family farm "at a time when they're being squeezed out", he told The Daily Beast in 2018. "It would have old characters and new, and they'd have kept the B&B going. It would have been a lot of fun."
The spin-off's major new characters were introduced in the unaired pilot, 12 minutes of which were chopped up and edited into season nine The Office episode 'The Farm'. A pre-Silicon Valley Thomas Middleditch played Dwight's unlikely brother Jeb, a hapless drifter who'd stumbled into Californian weed farming. Roswell's Majandra Delfino played their pseudo-intellectual, amateur poet, Chicago-dwelling sister Fannie, single mother to nine-year-old city mouse Cameron, played by Mom's Blake Garrett-Rosenthal. The 12 minutes of the pilot shown laid the groundwork for Dwight to take 'Cammy' under his wing and school him in Schrute tradition.
'The Farm' episode also introduced a new love interest for Dwight in the form of Esther Bruegger (played by writer-director Nora Kirkpatrick). Bruegger's character was an attractive, younger-than-Dwight sprout farmer from a neighbouring farm, who recurred as Dwight's girlfriend on season nine of The Office until Dwight and Angela finally reunited and went on to marry in the series finale. If The Farm had come to fruition though, that series finale would have been entirely different.
Angela Kinsey – the actor behind The Office's uptight, judgmental accountant Angela, who had a long-running secret affair with Dwight – was not part of The Farm's cast. After the end of The Office, Kinsey was lined up to star alongside her real-life pal Rachael Harris in FOX sitcom pilot Dirty Blondes, a post-divorce female friendship comedy by Black-Ish's Stacy Traub. When that didn't happen, Kinsey starred alongside The Daily Show's Rob Riggle in the pilot for oddball family comedy The Gabriels. That one didn't go either, but if either had gone to series, then Kinsey obviously could not have also been part of The Farm, meaning that 'Dwangela' wasn't always destined to be Dwight's romantic endgame. Perhaps Kinsey would have made Lilith Sternin-in-Frasier-style guest appearances in the spin-off, but it seems that she and baby Philip weren't always intended to be Dwight's big story.
The original plan, if The Farm had gone to series, was for the backdoor pilot to have slotted in around episode five of The Office's final season. At that point, Dwight had given up on Angela after (wrongly) learning in the season premiere that he wasn't the biological father of her son. Rainn Wilson's character would have been written out of the show around the mid-season point, leaving Dunder Mifflin for an Angela-free future.
Somewhat counter-intuitively, Dwight would also be leaving for a Mose-free future. Mose Schrute was Dwight's strange cousin, a recurring character who lived at Schrute Farms and popped up to add weird vibes whenever the story ventured in that direction. Any fan would have expected Mose to be a cert for The Farm spin-off, but that was an impossibility. Mose's character was played by one of the show's writer-producers Michael Schur, and originally intended as a seldom-seen joke. The character though, proved a fan favourite, so the team kept finding ways to bring him back.
At the end of season four, Mike Schur and Greg Daniels left The Office to run its first ever spin-off, a city council-focused comedy that eventually became Parks & Recreation. In 2013, Parks & Rec was entering its fifth season, and there was no way that Schur would have time to run that show and continue playing Mose. Schur told Aint It Cool in June 2012 that Mose's absence from the series proper would be explained, "and that the explanation was too funny to reveal ahead of the pilot's airing." A tragic farm-related accident? Scouted for a new season of Amish in the City? Or perhaps Mose finally elopes with his lady scarecrow… we'll never know.
When NBC declined to pick up The Farm, the decision was made in good enough time for Dwight to be re-inserted as a lead into the last half of season nine, and for the series finale to be written around his and Angela's wedding. An unintended victim, showrunner Greg Daniels told fastcompany.com in 2013, was British actor Catherine Tate who played Nellie on The Office:
"The toughest part was for Catherine Tate. There was going to be this zone where Rainn had left and Ed Helms was doing The Hangover [Part III] and we had talked to Catherine about the character of Nellie kind of filling the gap and being the driver of comedy A-stories in that period. Then when The Farm didn't go, Rainn kind of came back and filled that role. So I think we kind of wasted a brilliant comedian this year a little bit with Catherine Tate."

Greg Daniels, 2013.
'The Farm' half-hour eventually aired as episode 17 of the season, which introduced Dwight's new girlfriend Esther just in time for Angela's marriage to her closeted gay husband Senator Robert Lipton to have fallen apart, creating a mini love triangle. Who would Dwight choose, a young teutonic beauty who knew her way around a combine harvester, or his 'Monkey'?
Dwight chose Monkey, and promised to raise her son Philip despite not being his biological father. That's when Angela told Dwight that she'd faked the DNA results and Philip was, as suspected, his son. 'Faked the results' isn't quite how editor-producer David Rogers put it in this 2013 interview with Office Tally. Rogers explained that lines had been cut from scenes suggesting that when Dwight took a used diaper from the garbage to test Philip's paternal DNA, he accidentally picked up one used by Jim and Pam's baby or another child, hence the lack of a match. In the end, that explanation was dropped to simplify things.
Dwight and Angela's one-year-later wedding story in the series finale gave The Office the perfect premise to reunite the show's cast, many of who had left Dunder Mifflin for pastures new. It let Steve Carell make a deliberately low-key cameo (he didn't want to draw focus from the main event) as Michael Scott, Dwight's surprise best man. It let Jim and Dwight show their brotherly affection for each other after years of enmity. And it gave Dwight and a partially redeemed Angela – who'd been brought low by the end of her marriage and lost some of her sharper edges in the process – a happy ending. Had The Farm happened, all of that would have been different.
Some think that that NBC's decision not to move forward with the spin-off was no bad thing. When writer of The Office: The Untold Story of the Greatest Sitcom of the 2000s Andy Greene was asked about the defunct series in this Jeremy Roberts interview, he clearly thought it was for the best:
"Everyone I spoke to felt it was a bad idea. I agree. You don't want to spend that much time with Dwight on the farm. He's funny at an office with people that are his total opposites. "The Farm" is a salvaged failed pilot that they chopped up into a regular episode because NBC didn't want to pick it up. The whole thing was just a colossally wrong-headed idea and one of the worst Office episodes ever."

Andy Greene, 2020.
Dwight works so well as a character in The Office because he's the chaotic element in Dunder Mifflin's everyday mix, the unpredictable wildcard in a place of crushing predictability. Surround Dwight K. Schrute with characters as unhinged as he is, and he loses his unique power. If The Office is ultimately about – as Pam says in the show's last ever line – seeing beauty in ordinary things, then The Farm, with its oddball characters and outlandish Schrute family traditions, would have been anything but ordinary, so maybe wouldn't have captured the same beauty.
The Office: An American Workplace is available to stream on Netflix in the UK, and on Peacock in the US.