Features
The Night Court Revival Isn't The First Time It Returned to NBC
Thanks to another beloved NBC sitcom, the cast of Night Court got the TV reunion they deserved well before the 2023 reboot.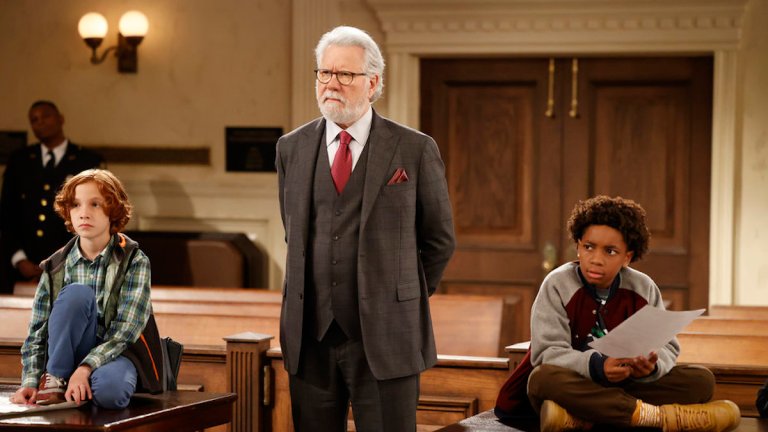 Nobody saw the success of NBC's 2023 Night Court reboot coming – not even the folks involved with the creation of the show.
"I was a combination of absolute stunned and unbelievably thrilled," Warner Bros. Television chairman Channing Dungey told The New York Times of seeing the show's ratings.
To be fair to Dungey, the show's ratings really are stunning. Per that same NYT article, the first three episodes of Night Court achieved the highest ratings of any network comedy in the past four years, averaging 6.6 million viewers per episode. Additionally, the series' first episode has drawn in more than 16 million viewers altogether when delayed and streaming views are taken into account. The show's success was overwhelming enough that NBC has already ordered a second season.
The original Night Court, which premiered in 1984 on NBC and ran for nine seasons consisting of 193 episodes, was broadly successful but not necessarily legendary by '80s sitcom standards. The show, created by Reinhold Weege, followed the legal shenanigans underway at the night shift of a Manhattan Criminal Court.
Night Court was both enjoyable and successful, with actor John Larroquette (who is the only original performer thus far to return for the reboot) winning so many "Outstanding Supporting Actor in a Comedy" Emmy awards in a row that he withdrew his name after four to give someone else a shot. Still, it comes across as charmingly hokey by today's network television standards and would have been very few TV industry experts' first choice for a modern reboot. Of course, the latest iteration of Night Court starring and produced by Melissa Rauch (The Big Bang Theory) has now made all of those TV industry experts (re: me) look like fools.
Truth be told, however, we should have known there was still life in the Night Court franchise all along. Because on Nov. 13, 2008, another NBC sitcom aired an episode that both featured and celebrated the venerated cast of Night Court.
To anyone who knows a thing or two about NBC sitcoms, it probably won't be a surprise to learn that the show that chose to honor Night Court before it was cool to do so was 30 Rock. The Tina Fey-created series, on top of one of the funniest television shows ever made, has a penchant for eerily predicting the future of media. It seems that more often than not, the "ridiculous" shows that 30 Rock had its fictional NBC create have provided a blueprint for the real TV industry. The latest example, of course, is the arrival of TLC's Milf Manor, which is uncomfortably close to 30 Rock's "MILF Island."
It's nice to know that 30 Rock's precognitive abilities extend to more wholesome shows as well, as its season 3 episode "The One With the Cast of Night Court" stealthily makes a case for the TV powers-that-be to reconsider the old sitcom's merits.
Though the title of 30 Rock season 3's third episode directly references the cast of Night Court, they don't actually feature in the half hour's main "A" plot. Instead, that honor goes to another, even more popular NBC sitcom alum. Yes, this one could have just as easily been called "The One With 1/6th of the Cast of Friends" as Jennifer Aniston guest stars as Liz Lemon (Tina Fey) and Jenna Maroney's (Jane Krakowski) old college buddy Claire Hopper.
Aniston quite simply kills it in this episode (as most 30 Rock guest stars do) as an intense and intensely beautiful woman who catches Liz's boss Jack Donaghy (Alec Baldwin) in her web of attraction. While Liz is moving heaven and earth to extract Jack from the mess he's made for himself, however, the "B" plot of the episode settles in for some satisfying night court action.
Kenneth Parcell (Jack McBrayer), an NBC page (and potentially an ageless celestial creature) opens the arc despondent because NBC has updated the official page jacket without his consent.
"What's wrong, Ken? You've got wife eyes," TGS star Tracy Jordan (Tracy Morgan) asks his friend.
Kenneth explains that there are certain things that money can't buy like a new page jacket, a child's smile, or a satisfying finale to the NBC television series Night Court.
In reality, Night Court did not get the satisfying ending it deserved. Some behind the scenes politicking between producer Warner Bros. Television and distributor NBC cut its run short after nine seasons (though that's obviously still a very good chunk of episodes). Poor Kenneth was devastated that the show would never get to end with the wedding of the characters Judge Harry Stone (Harry Anderson) and Christine Sullivan (Markie Post). Just like that, Tracy knows exactly what to do to cheer Ken up. He's going to get the cast of Night Court back to NBC and have them put on that wedding for Kenneth.
A total of three Night Court cast members guest star as themselves in this episode. In addition to the aforementioned Harry Anderson and Markie Post, Charles Robinson (who played court clerk Macintosh "Mac" Robinson) appears as well. Sadly all three actors have since died but their brief time together in this episode proves to be a fitting sendoff to the Night Court portion of their careers.
As is necessary for any 30 Rock guest star, all three actors are tremendously game. When Kenneth says it's his lucky day because he got to meet the cast of Night Court and he found a quarter, Robinson immediately says "Ummm I lost a quarter earlier" and Kenneth hands the coin over. Meanwhile, Anderson and Post immediately get under each other's skin when Anderson reveals that he's still in touch with their co-star John Larroquette while she isn't. Within moments of Kenneth almost getting to realize his dream, the fake wedding is off!
Further complicating matters is that Jenna Maroney wants to be a part of the Night Court reunion as she had a three-episode arc in season 9 as Sparky Monroe, a public defender … who just so happens to be a werewolf.
"You made us jump the shark! You're the reason we didn't get a 10th season," Anderson says.
All's well that ends well though when Kenneth uses the magic of television (and casual disregard to Warner Bros. Television intellectual property) to get Anderson and Post to get fake hitched. Not only that, but Anderson uses his power as a TV judge to declare the new page uniforms illegal.
"The One With the Cast of Night Court" is absolutely worth watching (or re-watching) for any fan of the new Night Court, old Night Court, and 30 Rock. Kenneth says it best. This episode gives America what it wants: "A reunion of Friends…from Night Court!"
30 Rock is available to stream on Hulu and Peacock in the U.S. and Freevee in the U.K.