News
The Luminaries Trailer and UK Release Date for Magical Gold Rush Drama
Adapted from Eleanor Catton's Booker Prize-winning novel, The Luminaries is a six-part New Zealand-set series starring Eva Green…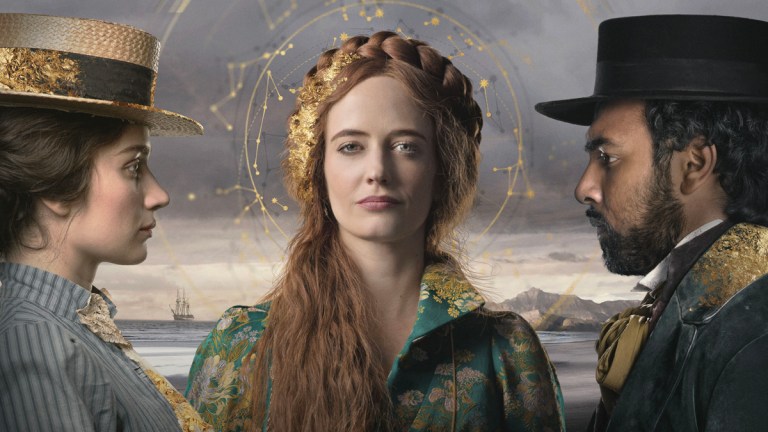 'Think of the sky like a looking glass, what you see is who you are.'
If the sight of Eva Green dressed in witchy velvet and hosting a 19th century séance doesn't prompt an instant 'oh yes' from the depths of your heart, then back to your Top Gears and your Linekers Gary, go.
Everybody else, settle down for The Luminaries, a new six-part adventure-romance arriving on BBC One on Sunday the 21st of June. After episode two airs the next day on Monday the 22nd at the same time, the hour-long instalments will come out weekly in the Sunday night slot.
If you prefer to binge though, the whole lot will also be available to stream on BBC iPlayer after the first ep.
The Luminaries stars Eve Hewson (Robin Hood, The Knick) and Himesh Patel (Yesterday, EastEnders) as Anna and Emery, two young emigrants seeking their fortune in the 1866 New Zealand Gold Rush. When their connection is severed in the new land, they each undertake a mystical and dangerous journey to find each other again.
Here's the full trailer:
The series aired in New Zealand in May 2020. Alongside Penny Dreadful's Eva Green, it also stars Klondike and Into the Badlands' Marton Csokas, and The Cry and Top of the Lake's Ewen Leslie.
Here's the official BBC synopsis:
The Luminaries tells an epic story of love, murder and revenge, as men and women travelled across the world to make their fortunes. It is a 19th century tale of adventure and mystery, set on the Wild West Coast of New Zealand's South Island in the boom years of the 1860s gold rush.
"The story follows defiant young adventurer Anna Wetherell, who has sailed from Britain to New Zealand to begin a new life. There she meets the radiant Emery Staines, an encounter that triggers a strange kind of magic that neither can explain. As they fall in love, driven together and apart by fateful coincidence, these star-crossed lovers begin to wonder: do we make our fortunes, or do our fortunes make us?
Eleanor Catton has adapted the series, which was filmed in New Zealand, from her Booker Prize-winning novel. As that ran to 900 pages, considerable changes have been made to the characters, structure and plot to create a six-hour version of the story.
Fans of the book won't be surprised that Catton has uprooted her original novel to reshape for television. The adventure tale is not only lengthy but also has a unique structure, with 12 sections, each half the length of the previous one, to symbolically mimic the waning of the moon. Astrology and divination are key to the novel's characters, and two heavenly bodies form the 'luminaries' of the title – the sun and moon.