Features
HBO's The Last of Us: The Changes to Bill's Story and the "Parallel Universe" of TV
Exclusive: Craig Mazin and Neil Druckmann share how The Last of Us' Bill and Frank episode came together and how it informs Joel and Ellie's own story on the show.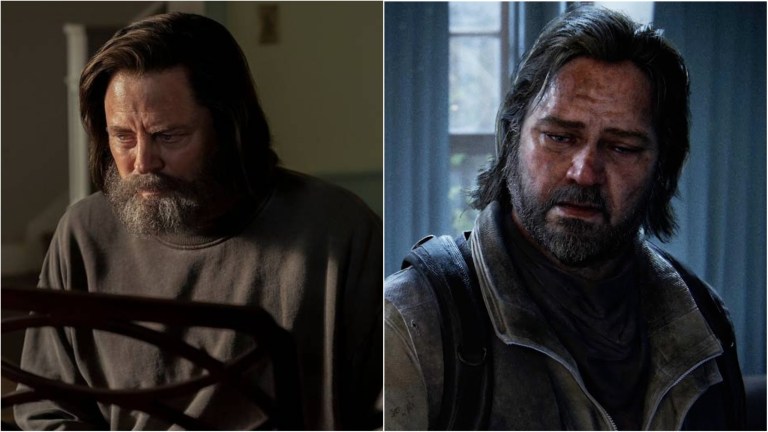 This Last of Us article contains spoilers.
For many longtime fans of the video game series, the third episode of The Last of Us will be a surprising shock to the system. Stepping away from Joel and Ellie's journey, "Long Long Time" instead follows 20 years in the life of Nick Offerman's Bill, a paranoid survivalist living on his own in the abandoned Massachusetts town of Lincoln. And the episode, a heart wrenching short story about love found at the end of the world, is a game-changer for the HBO series. It also changes what we know about this side character from the PlayStation classic.
In the 2013 game, Bill is Joel and Ellie's reluctant, gun-toting ally who helps them navigate his heavily booby trapped neighborhood as the infected horde closes in. Players don't learn very much about Bill's history in this early section of the game except that he used to have a romantic partner named Frank who disappeared before Joel and Ellie arrived in town. A bitter Bill assumes Frank has abandoned him, which he later learns is partially true — except Frank never escaped Lincoln.
On his way out of town, Frank was bitten by an infected and forced to commit suicide to stop himself from turning into a monster. In a suicide note discovered by players, Frank writes that he preferred to die than spend another day with Bill, which further enforces the scorned man's belief that caring about someone in this post-apocalyptic world will only get you killed, advice he tries to pass on to Joel about Ellie. While players never find out what became of Bill once they move on from Lincoln, the game suggests that he'll spend the rest of his days alone, locked away in an empty town with only the wandering infected as company. Bill will never let anyone else in.
Needless to say, the HBO series takes a very different approach. In the episode, we get to see how Bill and Frank (a brilliant Murray Bartlett) first met, an emotionally closed-off Bill learning to accept his own sexuality (his video game counterpart is never open about it), and the ups and downs of his relationship with Frank through the years and up to its tragic end. When a sickly Frank asks Bill to help him commit suicide before he succumbs to an illness that has left him largely bed-ridden, Bill chooses to take his own life too, deciding it's a better fate than living on without the man he loves.
It's a beautifully written hour of television full of intimate moments: Bill cooking and playing the piano for Frank, Frank planting a patch of strawberries for Bill, the two imbibing another bottle of sweet wine, and Frank filling their home with his paintings. And many trials: Bill and Frank fighting off raiders knocking at their door, a very uncomfortable double date with Joel and Tess, and a last supper before the end. The result is a fully realized portrait of love, anchored by stunning performances from Offerman and Bartlett, that turns these two side characters from the games into two of the most impactful on the show.
"I was nervous when I called Neil and I was like, 'Alright, I have a radical suggestion,'" Craig Mazin recalls with a laugh when we catch up with The Last of Us showrunner ahead of the episode's premiere. "Long Long Time," and the show as a whole, is the result of the creative partnership between Mazin (Chernobyl) and Neil Druckmann, who co-created the original game and has now made the jump to television to write, executive produce, and direct episodes of the HBO series. As you might expect, this collaboration included many conversations about which aspects of the game would and wouldn't work for the new medium. "Neil Druckmann is the rarest of collaborators, particularly collaborators who are responsible for the source material itself. He has a singular focus on what will make the best television show. He was not precious, there was never ego," says Mazin.
For Druckmann, who arguably knows the world and characters of The Last of Us better than anyone else on the planet, the TV series provided a great opportunity to try some new things within the story.
"We talked about a bunch of things we couldn't do in the game, like jump around in time and show a full relationship as much as we can dramatize in one episode," says Druckmann, who describes Bill and Frank's story as a pivotal moment that will inform Joel and Ellie's own relationship as it progresses in the series. "How does it reflect back to Joel and Ellie? And it did so in really interesting ways. And when you look at that relationship, and then where we go forward [with] a bunch of other relationships, it creates a more interesting palette for the whole season. That's why it felt like such a win for me. It was worth the deviation."
Mazin also felt the episode was "a place where we thought we had an opportunity to take a breath, to take advantage of the fact that Bill had created an oasis, solitude as sanctuary. And then start to, by drawing a thread that was in the game, explore the passage of time and some big themes that ultimately are going echo forth and inform pretty much every other relationship we see. It's all kind of packed in weirdly into that story, which in its own way, has a very happy ending."
The episode is so well-told, so complete in its depiction of the beginning, middle, and heartbreaking end of a relationship, it will entrance even those in the audience who are unfamiliar with the games. In fact, the writing and performances in "Long Long Time" make you care so deeply for these versions of Bill and Frank that it's hard to imagine even the most stubborn video game purists turning their noses up at the changes to the story.
When asked whether he was ever nervous about deviating from the story as told in the game, Mazin seems confident in his response: "All the changes that we made or the decisions made to keep things were based on our love for the story, and our general instincts about what should come through. And where do we have room to do something else that won't break the covenant between us and the viewer? We never want to lose anyone's trust, we want people to feel safe inside of the story. If they never play the game, we want them to feel like, 'Oh, this was inevitable. It should be this way.' And if they have, we want them to feel like all of it works in this parallel universe to where the game exists."
New episodes of The Last of Us air on Sundays on HBO and HBO Max.